Broad has 'no grudges' against Pakistan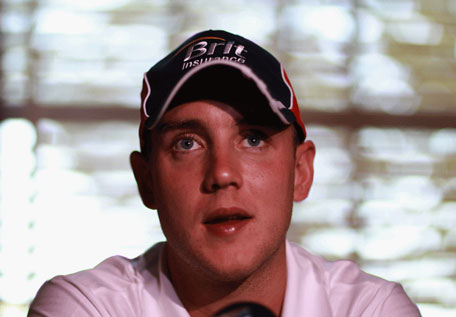 Stuart Broad was adamant he bore Pakistan no ill-will as he prepared to face them for the first time since a spot-fixing scandal overshadowed what should have been one of his best-ever seasons.
Broad, primarily a fast-medium bowler, scored a Test-best 169 against Pakistan at Lord's in 2010.
But rather than being remembered for Broad's innings, full of shots of which his father, former England opening batsman Chris, would have been proud, the match became infamous as the game where three Pakistan players were exposed in a spot-fixing scandal by now defunct British tabloid the News of the World.
Then Pakistan Test captain Salman Butt and pacemen Mohammad Asif and Mohammad Aamer were banned for a minimum of five years each by the International Cricket Council for conspiring to deliberately bowl no-balls as part of a betting scam.
And the case took a dramatic twist when the trio were all jailed by a British court in November.
For pretty much all his innings it appeared Pakistan were bowling 'properly' to Broad, who made his runs batting at No 9.
But as soon as the spot-fixing story emerged, there were many who questioned the worth of an achievement that gave Broad a place on the coveted Lord's honours board.
England are now preparing to face Pakistan in a three-Test series in the UAE starting on January 17.
Broad, speaking before they arrived in the Gulf state, said the past was the past.
"I think it's important that we move on from that. Of course there's always going to be that bitterness because it was a very ugly end to what was actually a really nice summer's cricket.
"I thought we actually played very good cricket and it was quite an interesting Test series (England won 3-1), but it was completely overshadowed by what followed.
"But there is water under the bridge from there. The strength of this England team is that we've been able to deal with circumstances like that and actually focus on what we do well.
"It's important we do that in this series.
"It's important we don't go there with aggression and anger in us from what's happened in the past. It's important we are as logical as we have been over the past two years and get the job done. You don't do that by holding old grudges."
The upcoming series marks Broad's return from a shoulder injury that meant the 25-year-old missed England 5-0 one day series thrashing in India before Christmas.
"I feel like it's the first day at school almost," added Broad, who later this year is due to captain England in the defence of their World Twenty20 title in Sri Lanka, although Andrew Strauss remains Test skipper.
Last year Broad, sidelined from the climax of England's Ashes series win in Australia by injury, suffered a slump that almost saw him dropped from the home series with India after, having been clumsily designated the 'enforcer' in a rare slip-up by England's management, he started bowling too short.
But England persevered and Broad, reverting to a fuller length, responded with 25 wickets at just over 13 apiece in a 4-0 Test rout of India which included a Trent Bridge hat-trick.
"It was a huge learning experience for me," recalled Broad, who struggled in England's early season home Tests against Sri Lanka.
"I had my first real awful set of form for two months. The Sri Lanka series, I couldn't buy a wicket.
"Then I had a complete upturn and probably the best series of my career so far. It was something I learned from. I feel a much better player for it."

Follow Emirates 24|7 on Google News.