Celebration of young talent at Nissan Gulf Cup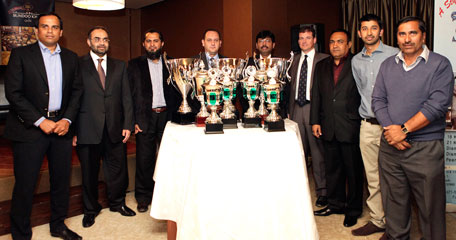 It will be a celebration of young cricket talent when the 10th annual Nissan Gulf Cup held under the auspices of the Dubai Cricket Council gets underway on Wednesday at three venues in Dubai.
A premier event for schools, clubs, colleges and universities from around UAE, organisers Young Talents Cricket Academy (YTCA) claim it will be the biggest cricket tournament ever with over 1,700 participating.
This year's event has attracted 46 teams who will be playing 100 matches over a period of a month.
Apart from the regular cricket that is to take place (under 9, -11, -13, -17, -19, Inter-Collegiate and Sponsors Cup), the hosts have introduced a new 6-a-side tournament for the masses - kids to adults which is sure to attract another 1,000 participants from across the UAE taking the tally to over 1,700.
"This fun-filled event will be played in different categories - under 12, -15, -18 and Seniors. We hope all the students, parents, patrons and our well-wishers come forward and take part in the event," said tournament director Manish Dhakan at the launch of the Nissan Gulf Cup on Monday at a hotel in Dubai.
"The organisers have highlighted the several aspects of a cricket tournament, and we will yet again strive to offer the best facilities and conditions to all the cricketers to show off their talent. The teams will play in coloured clothing and with white balls," he added.
Matches will be played at The Sevens, Skyline University College and DPS Schools.
The success of this tournament was highlighted by the fact that two players who part in the Nissan Gulf Cup, Ben Stokes and Scott Borthwick, went on to represent their national team.
Stokes made his debut for the England team in the one-off One Day International vs Ireland and then was also included in the T20 and ODI squads to face India in England last year. Borthwick on the other hand made his debut against India in England's return ODI Series tour to India last year.
"As organisers of this tournament, YTCA is proud that players that have participated in the Nissan Gulf Cup are reaching milestones. This emphasises the importance of a professionally organised tournament for the youngsters," said Dhakan.
"It is encouraging that our hard work is being shown in the form of the progress that our participants make around the world. We will continue to promote this tournament for it to make a difference in the careers of all our participants," he added.
English county cricket club Durham have endorsed the Nissan Gulf Cup by returning to participate for the sixth year.
"This is a top quality tournament and the boys get a chance to experience sub-continent conditions," said Durham's Head Coach John Windows.
Stokes and Borthwicks are both products of Durham as are several others who have graduated to the national level.
Jamie Atkinson captained Hong Kong in the Under 19 World Cup in 2010,
Rami Singh is currently playing for England U-19 while Benjamin Raine is currently playing for Durham CCC.
Other success stories are Andri Berenger who played for YTCA (then known as Insportz Cricket Academy) in the Gulf Cup 2003 and went on to represent Sri Lanka in the Under 19 World Cup in 2010, Rameez Aziz also represented Pakistan in the Under 19 World Cup in 2010 while Rameez Shahzad another product of YTCA (then known as Insportz Cricket Academy) is currently playing for Tynemouth Cricket Club in England and also represents Durham CCC 'B' teams for local matches.
Besides them, several local young cricketers that have taken part in this tournament have gone on to represent UAE on different levels.
The tournament is sponsored by Nissan Middle East, UniCare Medical Centre, Sana Jewellers, Winterhill Largo, Clover Hotel Apartments, SPORT360 and Suno1024.
"We are very proud and honoured to be sponsors of the Nissan Gulf Cup for the eighth year," said Hakam Kherallah, a senior manager of Nissan Middle East.
"We are happy to see the growth of the tournament over the years and Nissan are committed to be a part of it in the future as well," he added.
Dr Raj Kumar of Unicare Medical Centre in Burjuman said sports promotes a healthy lifestyle. "It not only promotes confidence but youngsters accept defeat with grace," he said.
Following are the participating teams:
Under 9 - YTCA Falcons, YTCA Hawks, YTCA Tigers
Under 11 - YTCA Falcons, YTCA Lions, YTCA Warriors, Desert Cubs Cricket Academy, Elite Cricket Academy
Under 14 - YTCA Falcons, YTCA Leopards, YTCA Tigers, Desert Cubs Cricket Academy, Elite Cricket Academy, Al Ain Sportplex Cricket Academy
Under 17 - YTCA Hawks, YTCA Stallions, Durham CCC, Desert Cubs Cricket Academy, Elite Cricket Academy
Under 19 - YTCA Warriors, Delhi Private School, Sharjah, G Force Cricket Academy, Desert Cubs Cricket Academy, Al Ain Sportplex Cricket Academy

Universities
Group A - Skyline University College, University of Wollongong in Dubai, Ajman University of Science and Technology, Middlesex University
Group B - London American City College, MAHE Manipal University, Heriott Watt University, Pakistan Education Academy
Group C - BITS Pilani Dubai, American University of Sharjah, American University in Dubai, Emirates Aviation College

Sponsors Cup
Group A - SUNO1024, Clover Hotel Apartments, JST Fanatics, Sport360, Winterhill Largo
Group B - Interface Transworld, India Club, Oudh Al Anfar, HSBC, Nissan Middle East
Follow Emirates 24|7 on Google News.