Chawla spins India to victory over Australia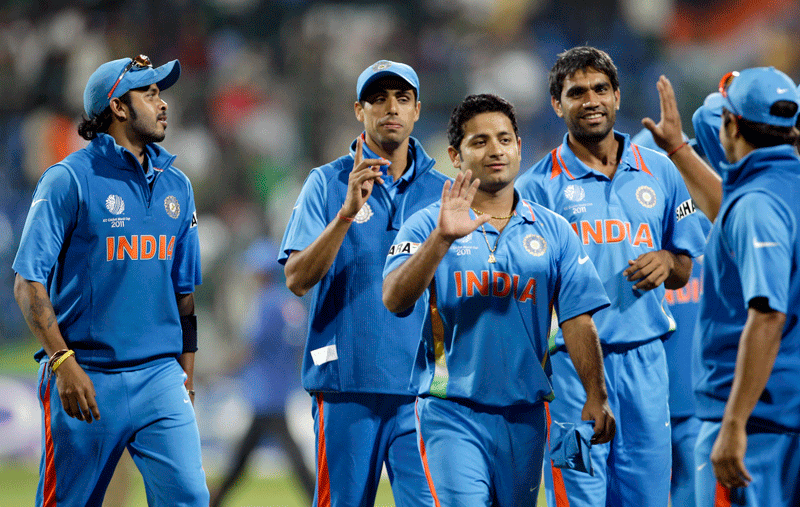 Piyush Chawla spun India to a remarkable 38-run win over defending champions Australia in a high-profile World Cup warm-up match on Sunday.
The leg-spinner took 4-31 as Australia collapsed to 176 chasing a modest 215-run target, after being strongly placed at 118-1 in the day-night match before a sizeable crowd at the Chinnaswamy Stadium in Bangalore.
"It will be difficult to chase anything over 230 on such kinds of tracks. I would be pleased if the wicket turns slightly less in future matches," said India captain Mahendra Singh Dhoni.
"Piyush has a good googly and turns the odd one. It's not about winning these warm-up games, as the real task starts when we get into the tournament."
Chawla, 22, also upstaged Australian paceman Brett Lee, who earlier gave a superb exhibition of fast bowling to rock India and finish with 3-35 off 10 impressive overs.
Australia skipper Ricky Ponting, who missed a recent home one-day series against England due to a finger injury, top-scored with a solid 57 off 85 balls with four boundaries.
"It was hard to bat on right through the day. It spun a lot in the second innings. Hopefully, as the tournament goes on, we will get better wickets than this one. This one looked a bit underprepared," said Ponting.
"It was nice to spend time in the middle. I had three-four training sessions before this game and it was nice to spend time there."
The tourists' chances receded sharply after the dismissal of their captain, stumped while attempting to slog-sweep off-spinner Harbhajan Singh (3-15), who brilliantly supported Chawla.
Ponting and Indian fast bowler Shanthakumaran Sreesanth exchanged words after an appeal for caught behind was turned down in early stages of the Australian skipper's knock.
There was no hint of collapse following fine knocks from openers Shane Watson (33) and Tim Paine (37). Paine added 51 for the opening wicket with Watson and 67 for the next with his captain.
But Chawla started the slide with Michael Clarke's dismissal for a duck as the tourists lost their last nine wickets for 58 runs, with spinners doing the maximum damage.
Lee was in the limelight in the first session, dismissing Suresh Raina (12), Harbhajan and Chawla in his second spell to prove he is bang in form for the World Cup, which starts on Saturday.
Lee was backed by John Hastings (2-24). Australia's only bowling concern was 25 runs they conceded in wides, with off-song paceman Mitchell Johnson giving away 10.
Hard-hitting opener Virender Sehwag gave a good account of himself in India's below-par batting performance, top-scoring with a 56-ball 54 with one six and eight fours.
He fell soon after reaching his half-century with a six over long-off, inside-edging off-spinner Jason Krejza's delivery on to his stumps.
India, who rested batting superstar Sachin Tendulkar, struggled against pace. Yusuf Pathan (32), Ravichandran Ashwin (25 not out) and Virat Kohli (21) were the only other batsmen to cross the 20-mark.
Scoreboard
India:
G. Gambhir c White b Bollinger 6
V. Sehwag b Krejza 54
V. Kohli c Hussey b Hastings 21
Yuvraj Singh c Paine b Johnson 1
MS Dhoni b Hastings 11
S. Raina c Paine b Lee 12
Y. Pathan c Krejza b Hussey 32
Harbhajan Singh b Lee 4
P. Chawla b Lee 0
R. Ashwin not out 25
A. Nehra c Krejza b Hussey 19
Extras (lb3, nb1, w25) 29
Total (for all out; 44.3 overs) 214
Fall of wickets: 1-12 (Gambhir), 2-54 (Kohli), 3-63 (Yuvraj), 4-101 (Dhoni), 5-113 (Sehwag), 6-132 (Raina), 7-136 (Harbhajan), 8-138 (Chawla), 9-187 (Pathan), 10-214 (Nehra).
Bowling: Lee 10-1-35-3 (nb1, w4), Bollinger 6-0-29-1 (w2), Johnson 9-0-42-1 (w10), Hastings 6-0-24-2 (w4), Krejza 10-0-56-1 (w2), Hussey 3.3-0-25-2 (w3).
Australia:
S. Watson b Chawla b Sreesanth 33
T. Paine c Patel b Yuvraj 37
R. Ponting st Dhoni b Harbhajan 57
M. Clarke b Chawla 0
C. White c Ashwin b Chawla 4
D. Hussey st Dhoni b Chawla 0
C. Ferguson c Kohli b Chawla 8
M. Johnson st Dhoni b Harbhajan 15
J. Hastings not out 1
J. Krejza lbw b Harbhajan 0
B. Lee c Ashwin 1
Extras (b3, lb6, w11) 20
Total (for all out; 37.5 overs) 176
Fall of wickets: 1-51 (Watson), 2-118 (Paine), 3-120 (Clarke), 4-138 (White), 5-138 (Hussey), 6-148 (Ferguson), 7-166 (Ponting), 8-175 (Johnson), 9-175 (Krejza), 10-176 (Lee).
Bowling: Nehra 2-0-12-0, Sreesanth 5-0-21-1, Patel 2-0-22-0, Ashwin 9.5-0-47-1, Chawla 9-0-31-4 (w6), Yuvraj 5-0-19-1, Harbhajan 5-0-15-3 (w5).
Result: India win by 38 runs
Toss: India
Umpires: Aleem Dar (PAK) and Richard Kettleborough (ENG)
TV umpire: Amiesh Saheba (IND)
Match referee: Ranjan Madugalle (SRI)
Follow Emirates 24|7 on Google News.