Danube Lions win on debut in Bukhatir League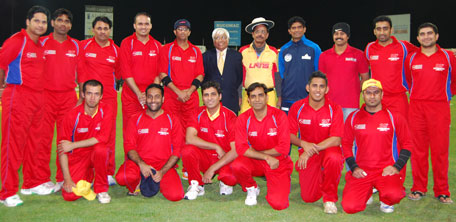 Debutants Danube Lions registered their first win in the 39th Bukhatir League 'A' Division Tournament organised by the Sharjah Cricket Council but not before they were given a tough time from Emirates Cricket Board Green team consisting mainly of the under-19 players.

ECB Green, chasing a competitive 268 to win, had their moments but lacked in experience against a side, which features a handful of UAE players, before succumbing to a 41-run defeat at the Sharjah Cricket Stadium.

Danube Lions, who are competing for the first time this year, were lucky with the toss and opted to bat first.

UAE opener Bakthiyar Palekar was at his usual best scoring 36 runs from boundaries during his 29-ball stay that fetched 45 runs before he was run out.

Haroon Ifthikar was a tad cautious taking his time to settle down as he notched up 39 from 55 balls. Vikranth Shetty (24, 25b, 2x4, 1x6) and Rohan Mustafa (27, 47b) further boosted the score but it was a quick 36 from 33 balls from Andri Berrenger and Prashanth Braggs' late surge of 44 from 30 deliveries studded with three boundaries and four sixes that gave Danube Lions a healthy score of 267.

Shuriya Chopra and Justin James shared two wickets each to ensure Danube Lions did not last till the end losing all their wickets in 47.4 overs.

Chasing a stiff target, the young openers made a positive start carefully pacing their innings to milk a sedate 59 runs for the opening wicket in 16 overs.

While Rohit Singh took 50 balls to achieve 25, Dane Savie D'Souza hit 32 from 62 deliveries with the help of four boundaries.

Charagh Suri (34, 44b, 3x4) and Shouriya Chopra (60, 64b, 2x4, 2x6) did a fine job that saw a surge in the runrate.

But a few quick wickets put ECB Green in a state of bother before Tahir Ahmed lightened up the situation hammering a 13-ball 26 with two huge sixes and as many boundaries.

He looked threatening but was unlucky to be run out which put paid on any hopes of an ECB Green victory who were all out for 226 in 46.4 overs.

For Danube Lions, Rohan Mustafa claimed three wickets while Asif Iqbal and Vikranth Shetty accounted for two each.

Brief scores:

Danube Lions bt ECB Green by 41 runs
Danube Lions 267 all out in 47.4 overs (Asif Iqbal 16, Bakthiyar Palekar 45, Haroon Ifthikar 39, Vikranth Shetty 24, Rohan Mustafa 27, Andri Berrenger 36, Prashanth Braggs 44; Shoriya Chopra 2 for 47, Justin James 2 for 41)
ECB Green 226 all out in 46.4 overs (Rohit Singh 25, Dane Savie D'Souza 32, Charagh Suri 34, Shoriya Chopra 60, Tahir Ahmed 26; Rohan Mustafa 3 for 46, Asif Iqbal 2 for 38, Vikranth Shetty 2 for 38). Man of the Match: Prashanth Braggs of Danube Lions. Umpires: Ifthikar Ali and Naveed Ismail. Scorers: Zameel Hameed and M.S.Mohamed Ramees.
Follow Emirates 24|7 on Google News.