David Warner fined over 'speak English' spat with Rohit Sharma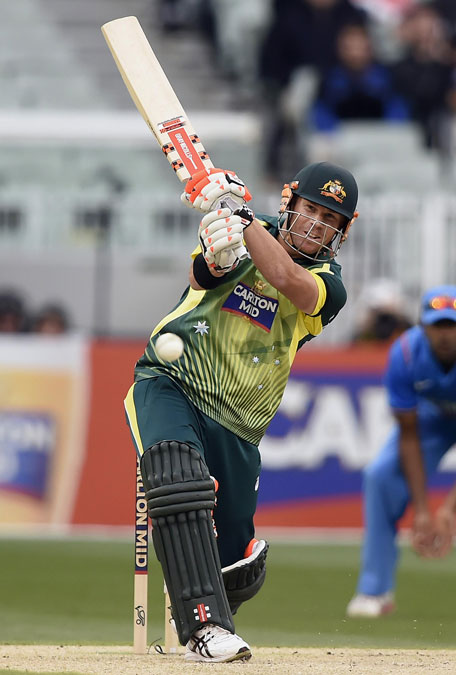 Australia batsman David Warner says he has been fined half his match fee over his verbal altercation with India's Rohit Sharma during Sunday's tri-series one-day cricket international at the Melbourne Cricket Ground.

Warner revealed the punishment in an interview Monday with Sky Sports Radio in which he said he accepted the sanction but defended Australia's aggressive playing style.

"I was in the wrong ... I shouldn't have engaged him," Warner said. "If people get on the wrong side of me, I'm not going to back down.

"We're always there to play hard aggressive cricket, but you know what comes with that — sometimes you are going to get fined," he added. "We've just got to keep trying not to cross that line, because we're all about playing cricket the right way."

The altercation between Warner and Sharma flared when Australian players believed the India batsmen had breached an unspoken convention by running an overthrow after the ball had struck the batsman.

Sharma was the striker and was called through for the run by his batting partner Suresh Raina. The ball had appeared to pass between the batsman's pads and bat while his back was turned.

Warner objected to the single which was taken from the last ball of the 23rd over. As he passed Sharma and his Raina, who were conversing mid-pitch, he appeared to make a comment to the batsmen.

Sharma seemed to reply and Warner stopped and spoke angrily to the batsman before umpires and players intervened to separate the pair.

Stump microphones did not pick up the exchange but it has been alleged from studies of television replays that Warner said "speak English" to Sharma.

"When I went over to say something to him, he sort of said something in their language and I said 'speak English' because, if you're going to say something, understand that theoretically I cannot speak Hindi," Warner said. "I did the polite thing and asked him to speak English, therefore he did and I can't repeat what he said."

In a Twitter post, New Zealand's Martin Crowe said Warner's behavior was "thuggish" and "appalling" and called for umpires to be given red and yellow cards to deal with bad behavior. He said Warner should be "removed" from the game.

India captain MS Dhoni played down the incident at a post-match news conference.

"He (Sharma) didn't react inside the dressing room so I think he was fine," he said. "I didn't even bother to ask what really happened.

"It was an argument between two grown men. I hope it was sorted out in the middle."
Follow Emirates 24|7 on Google News.