Dhoni aims to emulate West Indies, Australia's World Cup glory in 2015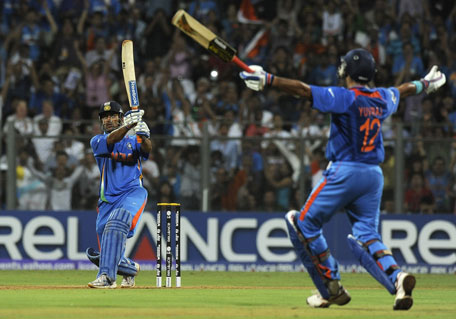 Captain Mahendra Singh Dhoni has said that India is on course to become only the third country after Australia and West Indies to clinch back-to-back Cricket ICC Cricket World Cups.

"It is amazing to think that it is just one year until we defend our ICC Cricket World Cup title as that means it is almost three years since we won the trophy on that amazing night in Mumbai. The memories of that night and of the whole tournament are as fresh and as special as ever," said Dhoni, in an ICC release to mark one year to go to the start of the 2015 ICC Cricket World Cup.

"We know that defending the ICC Cricket World Cup is something that only the West Indies and Australia have done over the whole history of the tournament but with the quality we have in and around our squad we believe we can become the third side to do it," he said.

The tournament will be staged in Australia and New Zealand from February 14 to March 29, with India to open its title defence against arch rival and 1992 champion Pakistan in Adelaide on February 15.

Dhoni, who hit the winning runs in Mumbai when India won the title in front of a full-house in 2011, added that his side had players who were capable of handling the pressure of a global event, and that the victory in ICC Champions Trophy in the UK last year proved that his team has the firepower and ability to excel outside its own territory.

"We have a group of players who are experienced at playing in high-pressure situations and we have already shown we are capable of dealing with the dual pressures of being world champions and coping in overseas conditions at a major ICC event by winning the ICC Champions Trophy in the UK last year," Dhoni added.

While India won its first title in 1983 under Kapil Dev, Clive Lloyd led the West Indies to titles in 1975 and 1979, and Steve Waugh (1999) and Ricky Ponting (2003 and 2007) were at the helm when Australia won the tournament in England, South Africa and the West Indies.

Dhoni, who occupies sixth position in the Reliance ICC Player Rankings for ODI Batsmen, said the New Zealand tour has allowed his side to experience the conditions it will face during the ICC Cricket World Cup 2015, which, in turn, has helped his side to prepare for next year's tournament.

"Although we did not win our latest ODI series in New Zealand, it has given us valuable experience of what we can expect in 12 months' time.

"The next year is now all about getting our plans in place and remaining confident and if we can do that we will be in a good place by the time the action starts next February. I remember the joy that winning Cricket World Cup brought to all Indians all over the world in 2011 and we want to do the same again by playing to the best of our ability in 2015," he said.

AUSTRALIA

Australia captain Michael Clarke, who was just 11 years old when Australia last hosted the Cricket World Cup in 1992, said he was thrilled the event was returning to his country.

"The ICC Cricket World Cup is the pinnacle of one-day cricket and we're thrilled that it's going to be held in our own backyard," said Clarke, whose side will lock horns with England on the opening day of the tournament in Melbourne.

"The best players in world will be coming to Australia and New Zealand and we're looking forward to playing good entertaining cricket. I encourage as many Australians and New Zealanders as possible to get behind this amazing event," Clarke added.

Brendon McCullum, whose men will go head to head with Sri Lanka in the tournament opener in Christchurch, hoped his country will get behind it as New Zealand eyes its maiden World Cup title.

"We're travelling well at the moment with a number of young guys having stepped up against the West Indies and India. The team has had tremendous support over the summer, so we're keen to continue our current form into the World Cup and get the whole country behind us," said McCullum.

SRI LANKA

Angelo Mathews, who missed the final against India in Mumbai in 2011 due to an injury, said Sri Lanka was aiming to be in the best possible shape when they take on New Zealand in Christchurch on February 14.

"We need to peak at the right time, and we need to peak going into the World Cup, so that's going to be the main challenge for all of us. We need to stay positive and play our brand of cricket. I think the mental approach is going to play a vital role, because going into a World Cup, we don't need to put a lot of pressure on ourselves.

"We all know that it's probably the biggest event that you can participate in. So it is a privilege, and we need to take it like that and enjoy our game."

PAKISTAN

Pakistan captain Misbah-ul-Haq said he was looking forward to leading his side in Australia and New Zealand for the tournament that the green shirts won in 1992 under Imran Khan.

The 39-year-old middle-order batsman believed his side had the ability and potential but emphasised that the team that peaks at the right time will win on March 29.

"Pakistan won its only ICC Cricket World Cup in Australia and New Zealand in 1992. So, you can well imagine my excitement and anxiousness. I'm sure a lot of cricketers, like me, will have their eyes on the World Cup and will be hoping that they're selected for this prestigious tournament.

"You don't require extra motivation when you represent your country, but returning to the environment or territory where you reached the zenith of glory 22 years ago can provide that extra confidence and boost you need to excel in a high-pressure tournament like the World Cup.

"Past records and current form are good discussion points but as the Pakistan side showed the world in 1992, the team that peaks at the right time, whose players remain fit and fire in key matches, and wins the most important matches, will emerge as the champion in 2015," Misbah said.

Previewing his side's opener against India, Misbah said: "It is interesting that our last game in the 2011 World Cup was against India and the first in the 2015 will be against the same opposition. We lost in Mohali and then again in Colombo and Birmingham in the ICC World Twenty20 2012 and ICC Champions Trophy 2013, respectively. But, we're a side that is capable of winning big matches and high-profile tournaments.

"I'm confident that the ICC Cricket World Cup 2015 will be a tournament that will provide the thrill and excitement any spectator would want to see in a truly global event."
SOUTH AFRICA

South Africa captain AB de Villiers, the number-one ranked batsman in One-Day Internationals, said that like any other cricketer, he was also looking forward to playing in the ICC Cricket World Cup 2015.

"If everything goes according to plan, I'm looking forward to the tournament. I think it's going to be a very exciting event and will be my first one as captain. Obviously, it will be a huge honour and privilege to play in the World Cup, represent your country and have lots of success.

"Representing your country in a tournament like that is a proud moment in the life of any cricketer. So, that's the way I see it and I'm really excited to go out there and enjoy myself," said de Villiers, whose side will take on neighbour Zimbabwe in Hamilton on February 15 in its opening match.

Talking about his team's chances and the title contenders, de Villiers said: "I truly believe, without saying it in a negative way, we're certainly one of the most dangerous teams but I don't believe we are the favourites.

"We know we have to get things in order. We have to get a few things in place and a few to go our way for us to win the tournament. But there's no reason why things shouldn't go our way.

"I'm just very happy with the side I've got at the moment. The squad hasn't been finalised yet, but I'm very happy with what I've seen leading up to this tournament, and very excited and confident that we're going to have a good tournament.

"You always have to mention the home countries. New Zealand has been playing good ODI cricket of late and I don't think they can definitely call themselves underdogs anymore and Australia, certainly, is the number-one ranked side in the world. Then, India is the defending champion, the Champions Trophy winner and the number-two ranked side in the world. An outsider that always does well in World Cups is Sri Lanka," said de Villiers.
WEST INDIES

West Indies captain Dwayne Bravo said he was looking forward to appearing in his third World Cup and aimed to arrive for the tournament with a number of victories under his belt.

"The ICC Cricket World Cup is every cricketer's biggest dream and if everything goes well this will be my third World Cup and I'm really excited about it," he said, adding: "I know everyone else in the West Indies team and associated with it is very excited about it. You get excited to be involved in such a huge international event and I'm looking forward to doing something very special as a player and as a team.

"I just want us to play together as a group and develop a squad of players who will make up the core of the team for the World Cup. We need to start winning more matches and series, while at the same time enjoying each other's success and enjoying each other's company. That would give us the confidence to know that we can do well come the time of the World Cup next year. We need some wins under our belt."

West Indies opens its campaign against Ireland on February 16 in Nelson and previewing the pool that also includes India, Pakistan, South Africa, the UAE and Zimbabwe, Bravo said: "This is a very good group. I had a look at it and I saw when and where we play our games.

"It's a tough group but I expect us to do well and qualify. We have to take it one step at a time. We will come up against some great teams and some dangerous teams but we believe we will make it to the quarter-finals and beyond.

"Conditions will be testing but the team we have is good enough in any condition – we have good fast bowlers, good spinners, good batsmen – we have quality in every department. So, it's a matter of putting it all together when the time comes.

"In New Zealand you can expect the ball to do a bit – a bit more than you will get in Australia – where the ball will bounce a bit more, but it will be 'straight-on' bounce, while in New Zealand you can expect 'side-way' movement. I expect the tournament to be great – two great countries for cricket."
BANGLADESH

Bangladesh captain Mushfiqur Rahim, who side squares off against Afghanistan in Canberra on February 18, said the top ODI sides were evenly matched and it will be difficult to pick a clear winner for the ICC Cricket World Cup 2015.

"The pitches and conditions will be a lot different. For the players who are not accustomed to playing there, it will be a big challenge. As I have said before, the teams are more evenly matched and you cannot pick out an outright favourite. That is unique about this World Cup.

"I believe the CWC 2015 will be an excellent competition on and off the field. The ODI nations are closer than ever in terms of strength and that promises some great cricket," said the wicketkeeper-batsman.

The 14 sides have been equally divided into two pools, which are:

Pool A - England, Australia, Sri Lanka, Bangladesh, New Zealand, Afghanistan, Scotland

Pool B - South Africa, India, Pakistan, West Indies, Zimbabwe, Ireland, UAE

The top four sides from each pool will progress to the quarter-finals, followed by the two semi-finals and the final. All the knock-out matches will have reserve days.

A total of 49 matches will be played in the 44-day tournament across 14 venues in the two countries. Australia will stage 26 matches in Adelaide, Brisbane, Canberra, Hobart, Melbourne, Perth and Sydney, whilst the 23 matches in New Zealand will be held in Auckland, Christchurch, Dunedin, Hamilton, Napier, Nelson and Wellington.
Follow Emirates 24|7 on Google News.