Dhoni backs besieged Indian coach Fletcher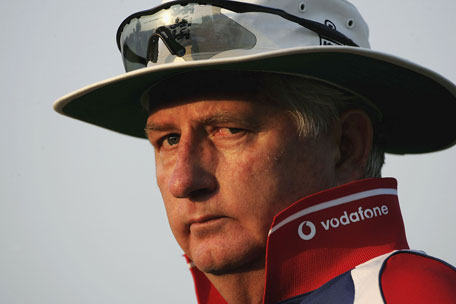 Suspended captain M.S. Dhoni has backed coach Duncan Fletcher as the right man to turn around the fortunes of the beleaguered Indian cricket team, despite a run of dismal overseas tours.
Down 3-0 after successive innings defeats in Sydney and Perth, the Indians have already lost the series but have one final chance to redeem themselves in the fourth Test in Adelaide, starting on Tuesday.
But another loss will condemn them to two clean sweep 4-0 defeats in a row on foreign soil after an embarrassing tour of England.
They will be without their skipper for the last Test, following his one match suspension by the International Cricket Council for his second slow over rate infraction in 12 months during the third Test at the WACA Ground.
Pressure is not only mounting on India's misfiring and ageing top order, but also on the feisty Fletcher, who has seen his team win just two of nine Tests during the early part of his two-year tenure.
Both wins were at home against the lowly West Indies and are not enough to gloss over seven straight overseas defeats, four by an innings, since Fletcher took over last year.
India was the top-ranked Test side in the world when Fletcher took the reins, but will drop to third when the official ICC rankings are next released.
His first series at the helm saw the Indians lose all four Tests in England and Fletcher's record as a coach in Australia is even worse, with 12 losses from 13 Tests including his time at the helm of England.
As Indian greats like Kapil Dev, Bishan Bedi and Sourav Ganguly lined up to lambast India's insipid performances, Dhoni said Fletcher was the right man for the job.
"He's a great guy to have," Dhoni said.
"He's one of the most experienced coaches around, the small technical things he knows about bowling and batting, it's very crucial to have.
"It's not like he has become the coach and we have lost two series and he's to be blamed for all the defeats, it's up to the 11 players to go out and perform."
However, former Australian Test batsman Marcus North wrote in an internet column this week that the Indians had gone backwards under Fletcher.
"Team India has been unravelling ever since the departure of Gary Kirsten who, to his credit, found a way to relate and bond this team of champion individuals into a champion team," North wrote.
"Kirsten's replacement, Duncan Fletcher, on the other hand, has managed to undo all of Kirsten's hard work.
"Team unity looks low and relationships are being tested."
Both Bedi and Dev said India's Test performances were suffering due to the Board of Control for Cricket in India's obsession with Twenty20 cricket and its financial rewards.
Ganguly said the Indian Test team needed a major overhaul.
Follow Emirates 24|7 on Google News.