Dhoni, Smith warn against Spidercam interference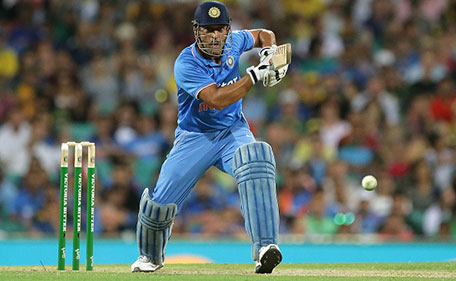 India's Mahendra Singh Dhoni knows the introduction of broadcast technology has enhanced the viewing experience for fans but the skipper has called for restraint after the overhead 'Spidercam' interfered with play in Saturday's one-dayer against Australia.
Virat Kohli upper-cut John Hastings for a boundary in the 19th over of India's innings but it was declared a dead-ball after hitting the camera.
India managed to chase down a 331-run victory target to end their losing streak but Dhoni warned that such interference could affect the outcome of tight contests.
"I am quite a traditional guy," he said after the tourists avoided a whitewash by winning the fifth and final ODI. "Anything that disturbs the game of cricket I don't like it.
"It all started right from the Twenty20 where people would be like, 'Why don't you wear a mic?', 'Why don't you wear a camera?'"
Dhoni said the camera, which travels along cables and gives a bird's eye view of the action, had to be used more carefully.
"I always feel there is always a need for a balance. At the end of the day, it's a spectators' sport, people watching on television, but at the same time four runs can really matter.
"Especially when it's a 310-320 game, those four runs can be crucial," he said.
On a lighter note, he said there should be some form of penalty for Spidercam if it gets in the way.
"Everyone gets penalised, why not have the same system for the Spidercam? Say, 'Okay if you get hit, $2,000 per hit.' Let's make it interesting," he joked.
His counterpart Steven Smith also saw the funny side of the incident at the Sydney Cricket Ground.
"He was probably our best fielder tonight, Spidercam. He saved four," said Smith, who was not best pleased with his team's fielding display after Shaun Marsh and Nathan Lyon dropped simple chances.
Smith was also a Spidercam victim last year when he was distracted by the camera's movement and spilled a catch at the same ground.
"I just think we need to make sure it's away when the ball is coming," the home captain said after his team's 4-1 victory in the ODI series.
"We don't need to see things like that where it's a dead ball. Something like that can really change the course of the game.
"So I just think we need to make sure we get him out of the way when the bowler is coming in to bowl."
The teams will next play a three-match Twenty20 series.
Australia will be without allrounder Glenn Maxwell, who is nursing a hamstring injury, for the first game at Adelaide on Tuesday.
Melbourne hosts the second game on Friday before the teams return to Sydney for the final match next Sunday.
Follow Emirates 24|7 on Google News.