Dhoni, Tendulkar among top 20 in new ODI index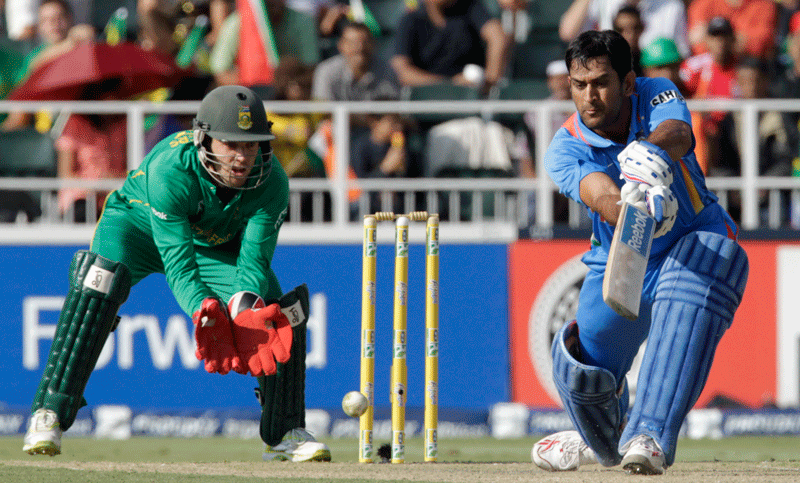 Five of the 20 greatest ODI (one-day international) cricketers of all time will be in action during the World Cup starting next month and India will be the only team to have two of them.
Dubbed the Impact Index, the new system values performance based on the match context in which they happen rather than against an absolute yardstick. Thus, a 50 in a match where both teams score, say, 300-plus, will count for a lot less than one in a low-scoring match.
The Impact Index has been developed by a team led by Jaideep Varma and Jatin Thakkar; www.impactindexcricket.com and launches on Tuesday, the Times of India newspaper reported.
The best ODI cricketer of all time, in a soon to be announced list, is West Indian great Vivian Richards followed by World Cup winning Pakistan captain Imran Khan, former New Zealand all-rounder Richard Hadlee, Australia's Adam Gilchrist and England's Ian Botham.
The Indians in the top 20 of the ODI Impact Index who are still playing are Mahendra Singh Dhoni at No. 13 and Sachin Tendulkar at No. 18.
The only other active cricketers in that category are South African Jacques Kallis at No. 8, Australia's Shane Watson at No. 16 and West Indian Chris Gayle at No. 19.
Apart from Dhoni and Tendulkar, Kapil Dev is the only Indian in the top 25, ranked at No. 9.
The new system does not rate cricketers by aggregates, but by how much of an impact the player has had in his team winning matches, which is factor is Tendulkar's low ranking.
The basic philosophy behind the new performance measurement system is that in a team game how well you have done has to be seen in the context of how much it helped your team win, which after all is the ultimate objective of whatever you do as a cricketer.
Hence, it measures performance in a match on a 0 to 5 scale, which roughly translates into saying that someone who gets a score of 3 on this scale contributed the equivalent of what three people did in that particular game and so on.
With the exception of Gilchrist, a wicketkeeper, everybody in the top 25 of the list is either a batsman who was more than just an occasional bowler or a bowler who was more than just a useful batsman.
The only one who makes it almost entirely on the strength of a single skill is the West Indian Joel Garner, universally acknowledged as one of the most effective ODI bowlers ever and the master of the yorker in the death overs.
The system has been applied to all forms of the game, but with the ODI World Cup just round the corner, its creators have understandably decided to start by revealing their findings for the 50-over version.
Follow Emirates 24|7 on Google News.