DRS recommended for all internationals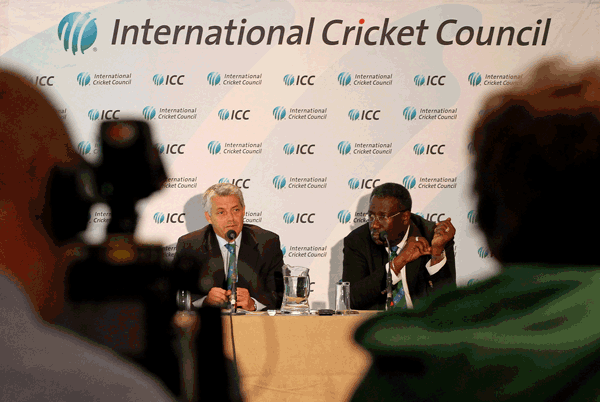 The International Cricket Council's rule-making committee recommended unanimously on Wednesday the adoption of the Decision Review System (DRS) in all international matches.
The DRS, under which teams have two appeals against an umpire's decision, has been implemented in 31 Tests as well as this year's 50 overs World Cup.
Former West Indies captain Clive Lloyd, the chairman of the ICC's cricket committee, told a news conference at Lord's a two-day meeting had agreed the DRS should be used in all international matches. He said the committee also recommended that teams should be allowed only one unsuccessful appeal in each innings.
The recommendations will be sent to the Chief Executives Committee and the ICC Board for approval.
Both committees will meet in Hong Kong from June 26-30 and, if they accept the proposal, the DRS will then be used in the four-Test series between England and India starting the following month. The Indian board has been opposed to the system since it was introduced in October, 2009.
"The committee unanimously recommended that the DRS be used in all Test matches," Lloyd said. "It also recommended it be used in ODIs (one-day internationals) and T20 series with each side allowed one unsuccessful review per innings.
"This recommendation was made following what the committee agreed was a successful application during the ICC Cricket World Cup 2011."

"The committee's recommendation that the DRS should be used in all formats of the game confirms two key conclusions that came from our discussions. It shows the group's confidence in the system and it also highlights the committee's view that it does aid the umpires in making correct decisions."
The committee also agreed that a pink ball was likely to be the most effective colour in proposed day-night Test cricket under floodlights.
"However the committee believes that the ball which was trialled by the Marylebone Cricket Club required further testing in first-class cricket to confirm its durability before it could recommend its adoption as a Test match ball as part of a move towards day-night Tests in the future," Lloyd said.
He said ICC member boards would be encouraged to trial the ball in at least one round of first class matches.
"We want to make sure that the pink ball is sufficiently durable to stand up to the rigours of first-class cricket," added ICC general manager Dave Richardson.
The committee also recommended using a different ball from each end in one-day cricket. At present the ball is changed after 34 overs.
Follow Emirates 24|7 on Google News.