England desperate to avoid whitewash on Friday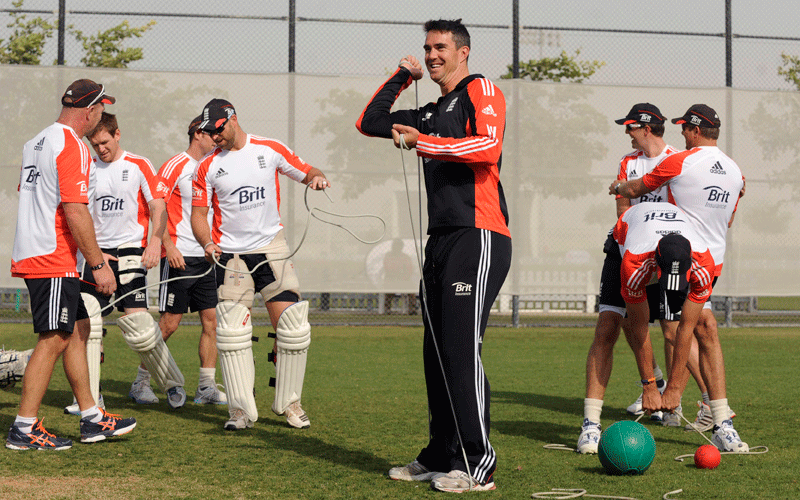 Spin-weary England will be desperate to avoid the humiliation of a series whitewash against Pakistan in the third and final Test which starts at Dubai Stadium on Friday.
Andrew Strauss's men, pulverised by Pakistan spinners Saeed Ajmal and Abdul Rehman, are also in danger of losing their world number one spot after a dismal 10-wicket defeat in Dubai and the 72-run capitulation in Abu Dhabi.
Pakistan have never inflicted a Test series whitewash on England, who topped the Test rankings in August last year with an unbeaten nine series sequence, but have seen 34 of their 40 wickets tumble on tour to Pakistan's spinners.
Off-spinner Ajmal has led the destruction with 17 scalps while left-armer Rehman has claimed 12 wickets and Mohammad Hafeez five.
England need to win to guarantee their top spot on April 1 -- the cut-off date for a $175,000 award to the side sitting at the top of the ICC Test championship table.
But their celebrated batting order has so far failed to answer the challenge laid down by Pakistan's wily spinners.
Jonathan Trott (141 in four innings) tops their batting chart, while Andrew Strauss (68) and Alastair Cook (109) have failed to provide strong starts.
Key batsmen Kevin Pietersen (17 in four innings), Ian Bell (36) and Eoin Morgan (41) have also struggled to cope with the slower ball as England lost the first Test in three days and the second in four.
The tourists will resist the temptation of replacing Morgan with Ravi Bopara whose last Test innings was a 44 not out, against India at The Oval.
Speaking after the Abu Dhabi defeat Strauss said his chastened team needed to bounce back after two dismal performances.
"Pakistan have thoroughly deserved their victory in the series," he said. "We've been below where we want to be and we need to come back and bounce back strongly from this.
"As a batting unit we have to hold our hands up and say we haven't been good enough, it's been pretty apparent, we need to be better than that," said Strauss, whose last hundred came 30 months ago.
The defeats have left no doubt about England's vulnerability to the slow ball on subcontinental wickets, a weakness they will need to address before tours to Sri Lanka and India later in the year.
"If you take the point of view, which I think you've got to, that you learn as much from your defeats as you do from your victories then I think we've learned some valuable lessons going forward," Strauss said.
"It's not easy in these conditions, in these circumstances but we're good enough players to be able to adjust to the conditions we've encountered."
Under Strauss' stewardship England have won only twice on the subcontinent -- both times against minnows Bangladesh.
Pakistan are chasing the whitewash as they look to climb the Test rankings and captain Misbah-ul Haq has vowed his team will be going for the jugular in Dubai.
"We will try our level best to do the same we did in the first two Tests, we have the best team up against us so they can come back in the series, but what is in our control we will do," said Misbah, who has not lost a series since taking over in October 2010.
"We need to to do our hundred percent and be focused for good cricket."
The Dubai Stadium pitch, which provided help to spinners from the first day of the opening Test, is likely to continue its assistance to slow bowlers.
Pakistan may consider replacing left-arm seamer Junaid Khan with Wahab Riaz, who has been part of the squad without taking the field.
Anderson upbeat despite spin-friendly pitches
England spearhead James Anderson has denied seamers were discouraged by the spin-friendly pitches here, saying he was fully focused on how to win the third and final Test against Pakistan starting from Friday.
Spinners have dominated Pakistan's wins in Dubai in the first Test and in Abu Dhabi in the second with 34 of the 40 wickets going to slow bowlers.
Off those, Saeed Ajmal has taken 17 wickets, Abdul Rehman 12 and Mohammad Hafeez five.
England's left-arm spinner Monty Panesar took seven wickets in the second Test while his spin partner Graeme Swann has fetched nine.
But despite these statistics, Anderson refused to accept the spin-friendly nature of the pitches was discouraging for fast bowlers.
"I don't think so," Anderson said on Wednesday.
"Seamers have got plenty wickets, (Stuart) Broad bowled well in the last game and Umar Gul got four wickets in the first, so it is just that the spinners have outshone us in the first two Tests."
Broad, who took 4-47 in the first innings of the second Test, has taken eight wickets in the series while Anderson's tally stands at five.
Anderson said he was happy with England's bowling performance to date.
"Our job is to get 20 wickets in any Test match and we thought it might be a difficult job here but probably we have exceeded our expectations in that department, so we are pretty pleased," said 29-year-old Anderson
Anderson said he believed England had some issues to address, the priority being their batting weakness against spin bowlers, before this year's tours to Sri Lanka and India.
"I think there are a few important issues we are trying to come across in the next Test, the biggest thing for us is that we have two nother tours in the subcontinent and that's for us a big thing.
"We also have a one-day series coming up so to take a bit of momentum into that will be useful as well," said Anderson of the four match one-day and three Twenty20 series which follow the Tests.
Anderson insisted that the mood in the England camp was good despite the two losses.
"I think the mood is very good considering the position we are in, in this series. We are concentrating on how to go about winning this last game. We are open on this group and the guys have been open and honest," said Anderson, who has so far taken 245 wickets in 65 Tests.
Follow Emirates 24|7 on Google News.