England vs West Indies T20: Sammy steers Windies home after Gayle heroics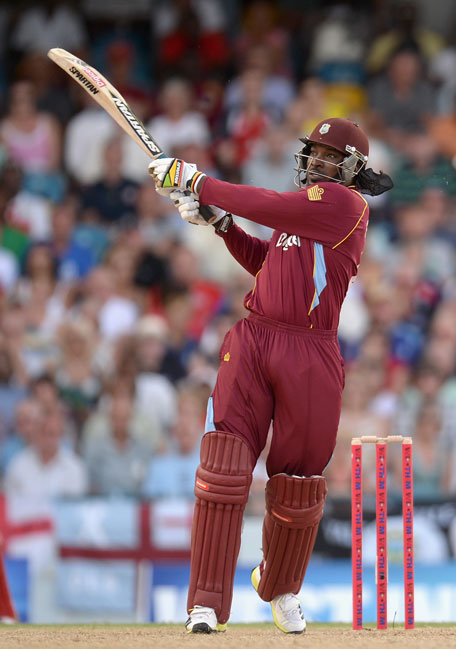 West Indies cruised to a five-wicket win over England in the second Twenty20 at the Kensington Oval in Barbados on Tuesday to take an unassailable 2-0 lead in the three-match series.

The hosts overhauled England's total of 152 for seven with five wickets and seven balls to spare.

Jos Buttler provided the backbone of the England innings, blasting 67 off 43 balls highlighted by five fours and three sixes.

He was well supported by opener Alex Hales, who hit 40 off 36 deliveries, but only one other batsman made double figures.

Left-arm seamer Krishmar Santokie was the pick of the West Indian bowlers, capturing four for 21 from his four overs to win the man of the match award, while Dwayne Bravo chipped in with two vital scalps.

"Feels good. It's a while since we won a series," captain Darren Sammy said at the presentation ceremony after ending the match in spectacular fashion with an unbeaten 30 off nine balls containing three sixes.

"This is preparation for the T20 World Cup. We have one more game and we want to give the fans something to celebrate - it's good that all the guys are firing."

Opener Chris Gayle, more watchful than normal, top scored for the West Indies with 36 off 30 balls. He batted patiently but punished any loose deliveries, slamming four sixes.

He shared a first-wicket partnership of 48 with Dwayne Smith, who raced to 30 off 16 balls, that put the home team on the road to victory.

"I think we were about 15, 20 runs short," said England captain Eoin Morgan. "Starting at 26 for three wasn't ideal and we had to work on a balance between trying to score runs and not lose wickets.

"I thought (Buttler and Hales) kept us in the game with a great effort. They showed a lot of fight and towards the end we were always in the game but we had to continue to take wickets."

The teams meet again in Barbados on Thursday before heading to Bangladesh for this month's Twenty20 World Cup.

West Indies are the defending champions after winning in 2012. England won the previous edition in 2010.

WEST INDIES INNINGS

Captain Darren Sammy smashed 30 runs off just nine deliveries as the West Indies beat England by five wickets to take the Twenty20 series 2-0 with a game to spare.

Sammy's blitz ensured the hosts reached the 153-run target with seven balls to spare after Dwayne Smith and Chris Gayle had given them a 48-run opening stand in under five overs.

Tim Bresnan gave England hope of squaring the series with two wickets in two balls of the 17th over with the hosts needing 37 off 22 deliveries.

However, Sammy blasted two fours and three sixes to confine England to their fifth Twenty20 loss in a row.

Earlier, Jos Buttler smashed 67 off 43 balls and Alex Hales 40 off 36 as England recovered from 18-3 to post a competitive 152-7 off their quota.

Krishmar Santokie picked up 4-21 off his four overs as none of the other England batsmen were able to contribute significantly to the total.

The final match of the series takes place at Kensington Oval on Thursday.

WEST INDIES INNINGS

West Indies batting did the trick again. Sammy blasted two sixes as West Indies went past the target with a ball to spare. Sammy remained unbeaten on 30 from just nine balls.

Great batting from both Sammy and Bravo. A six and a boundary from Sammy takes West Indies closer. WI 136-5 in 18 overs.

West Indies are 122 for five in 17 overs.

Another wicket goes for Windies. Russell goes for a naught. Trouble for the hosts. WI 116-5 in 16.2 overs.

Andre Russell c Hales b Bresnan 2 (4b 0x4 0x6)

England are gaining advantage here. Samuels goes for a big one but does not get the distance. WI 116-4 in 16.1 overs.

Marlon Samuels c Hales b Bresnan 28 (35b 1x4 1x6)

Brilliant spell from Bopara. His bowling reads 4-0-10-1. WI 116-3 in 16 overs.

England celebrate as they pick a wicket at a crucial time. Simmons gets an edge to the keeper. WI 111-3 in 14.4 overs.

Lendl Simmons c Buttler b Wright 19 (13b 3x4 0x6)

West Indies are 100-2 in 14 overs.

Simmons is going great. Getting those odd boundaries to keep the score within reach. WI 96-2 in 13 overs.

Simmons scores superb back to back boundaries as the target gets easier for Windies. WI 89-2 in 12 overs.

Another superb over from Bopara. His three overs have conceded only 7 runs. WI 76-2 in 11 overs.

Bopara provides the breakthrough. A big wicket as Gayle played on. WI 75-2 in 10.2 overs.

Chris Gayle b Bopara 36 (30b 1x4 4x6)

A towering six from Gayle and WI are 74-1 in 10 overs.

Gayle on 29. WI 66-1 in 9 overs.

No big hits as runs comes form singles. Hosts need 91 from 72 balls. WI 62-1 in 8 overs.

A rare good over for England. Bopara just concedes one run. WI 59-1 in 7 overs.

Gayle has already got three sixes in his 26. WI 58-1 in 6 overs.

Samuels joins Gayle. WI 52-1 in 5 overs

England finally have something to celebrate as Smith departs. A top edge and it's taken easily. WI 48-1 in 4.3 overs.

Dwayne Smith c Bresnan b Dernbach 30 (16b 2x4 3x6)

This time it's Gayle and he gets a big six and a boundary. England bowlers look clueless. WI 44-0 in 4 overs.

Brilliant hitting from Smith. Two sixes and West Indies are already 34 for no loss in 3 overs.

A stunning six from Gayle and the ball travels out of the ground. West Indies looking good. WI 20-0 in 2 overs.

Smith could have been out if Smith had caught that running backwards. But he survives and then Smith cuts loose to hit a boundary and a six. A fine start for Windies. WI 12-0 in 1 over.

Chris Gayle and Dwayne Smith open for West Indies. If both spend some time in the middle they can take the game away for the hosts. Tim Bresnan to bowl for England.

ENGLAND INNINGS

Jos Buttler hammered a 43-ball 67 while Alex Hales scored 40 earlier on as England posted 152 for seven in 20 overs in the second Twenty20 International against West Indies.

For West Indies, Krishmar Santokie claimed four wickets in his four overs giving away only 16 runs while Dwayne Bravo took two.

resnan succumbs off the last ball. But England still managed a good total to reach 153-7 in 20 overs.

Tim Bresnan c Ramdin b Bravo 7 (3b 0x4 1x6)

Terrific bowling from Santokie as he claims his fourth wicket off his last ball of the spell. Bopara departs. Eng 143-6 in 19 overs.

Ravi Bopara c Bravo b Santokie 14 (15b 1x4 0x6)

Santokie bowling his last over strikes in his first ball to pick up his third wicket. Buttler was in rocking form before he offers a simple catch to Sammy. Eng 137-5 in 18.2 overs.

Jos Buttler c Sammy b Santokie 67 (43b 5x4 3x6)

Buttler in pristine touch. A straight six off the last ball and England race to 130-4 in 18 overs.

Buttler gets a boundary of the last ball of Russell's over. Three overs remain and England should eye 150. Eng 125-4 in 17 overs.

Good over from Bravo conceding only singles after an early boundary. Eng 117-4 in 16 overs.

Play begins and Buttler scores a fine half century. His 50 comes off just 33 balls including three boundaries and two sixes. Eng 109-4 in 15 overs.

Hales was lucky when Bravo dropped a catch off his own bowling. But removes him immediately caught in the deep. Eng 102-4 in 13.5 overs.

Alex Hales c Simmons b Bravo 40 (36b 1x4 2x6)

A great partnership going on for Engalnd. 16 runs off the over as both put on 66 runs for the fourth wicket. Buttler on 44, Hales on 38. Eng 98-3 in 13 overs.

Eventful over with Gayle attempting a stunner but fails to latch on to the catch. Hales makes good use smashing two boundaries and a six. Eng 82-3 in 12 overs.

Rampaul bowls a fine over. No room for the England batsmen to free their arms. Eng 65-3 in 11 overs.

Hales moves to 26 after hitting the first six of the match. Eng 61-3 in 10 overs.

Hales gets a life here. Ramdin drops a high catch completely misjudging it. Eng 49-3 in 9 overs.

England are 39 for 3 in 8 overs.

Badree finishes his quota of four overs giving away only 16 runs. Windies bowlers are doing an exceptional job. Eng 34-3 in 7 overs.

Santokie has given 15 runs from his three overs and snapped two wickets. Great bowling from him. Eng 30-3 in 6 overs.

England lose another. They are in serious trouble here. Morgan attempts a big shot but holes one in the deep. Eng 26-3 in 5 overs.

Eoin Morgan c Simmons b Badree 3 (7b 0x4 0x6)

Santokie bowls another fine over. West Indies keeping up the pressure here. Eng 23-2 in 4 overs.

Moeen Ali gets a boundary but Santokie deceives him with a slower one next ball to trap him in front. England in trouble again. Eng 21-2 in 3.3 overs.

Moeen Ali lbw b Santokie 5 (7b 1x4 0x6)

A good over from Badree with just two runs coming off it. Eng 15-1 in 3 overs.

Santokie strikes in his first over. Lumb is unlucky there. West Indies have the early advantage as there is a slight shower. Eng 13-1 in 2 overs.

Michael Lumb lbw b Santokie 4 (4b 0x4 0x6)

Hales gets a boundary through backward point. Eng 8-0 in 1 over.

Lumb and Hales open for England as Badree takes the ball. Same plot used like the first T20.

Playing XI:

England: Michael Lumb, Alex Hales, Moeen Ali, Eoin Morgan, Jos Buttler, Ravi Bopara, Luke Wright, Tim Bresnan, James Tredwell, Stephen Parry, Jade Dernbach

West Indies: Dwayne Smith, Chris Gayle, Marlon Samuels, Lendl Simmons, Dwayne Bravo, Denesh Ramdin, Darren Sammy, Andre Russell, Ravi Rampaul, Krishmar Santokie, Samuel Badree

PREVIEW

England all-rounder Ravi Bopara and West Indian duo Darren Sammy and Marlon Samuels were all fined for their on-field confrontation on Sunday, the International Cricket Council (ICC) said on Monday.

The three players were found to have breached the ICC's Code of Conduct during Sunday's first Twenty20 International in os, won by the West Indies.

Bopara was fined 25 per cent of his match fee while Sammy and Samuels were fined 20 and 10 per cent respectively. The ICC said no formal hearing was required after all three players pleaded guilty to the charges.

The confrontation took place in the 12th over of England's innings when Bopara made insulting comments towards Samuels, who responded, according to the ICC statement.

Sammy joined in the spat, also trading insults with Bopara, before the on-field umpires Joel Wilson and Peter Nero intervened.

ROOT OUT

England batsman Joe Root will miss the World Twenty20 in Bangladesh after fracturing his thumb, with Ian Bell replacing him, the International Cricket Council (ICC) confirmed on Monday.

Root suffered the injury during England's one-day series clincher in the West Indies and the ICC said in a statement that it has approved Bell as his replacement ahead of the tournament, which begins on March 16.

Root scored his first international limited-overs century during the three-match series in the West Indies, which England won 2-1.

He played all three games and was injured in the series decider after being struck on the thumb by a Ravi Rampaul delivery.

Test veteran Bell has represented England in seven T20 matches, in which he scored 175 runs, and will join up with the squad ahead of their first match of the tournament against New Zealand on March 22.

The news comes as another injury blow for England after captain Stuart Broad was ruled out for the remainder of their T20 series against the West Indies, which began with a 27-run defeat in Barbados on Sunday.

Broad is suffering from an ongoing knee injury, but hopes to be fit for the World T20 opener.

West Indies are the defending World T20 champions and the three-game series against England, who won the title in 2010, is a precursor for the fifth edition of the tournament.

The series resumes on Tuesday, with the West Indies leading 1-0.
Follow Emirates 24|7 on Google News.