First T20I West Indies v England: Windies secure easy win to take 1-0 lead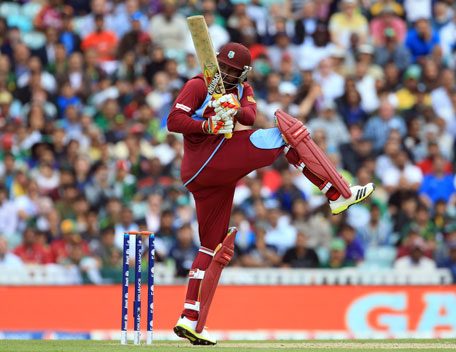 Marlon Samuels blasted an unbeaten 69 off just 46 balls to spur West Indies to an easy 27-run victory over England in their first Twenty20 international at Kensington Oval in Barbados on Sunday.

Samuels helped West Indies compile an impressive total of 170 for three after Chris Gayle got the innings off to a flying start with a quickfire 43.

"I've been working hard, but the hard work is paying off," Samuels said in a post-match interview.

"I love to play cricket in Barbados, the pitch was one you could play your shots on, so we had to back ourselves."

England, who beat the West Indies 2-1 in their three match one-day series, could only muster 143 for nine in reply and never really looked like getting to their target.

All-rounder Tim Bresnan top scored for England with 47 not out off 29 deliveries but his late blast counted for little after the tourists had slumped to 73-6 in the 12th over.

Spinner Samuel Badree was the pick of the West Indian bowlers, taking 3-17 off four overs, including the stumpings of Alex Hales and Luke Wright in successive balls after Sunil Narine only managed two overs because of injury.

"We didn't get going today, but that can happen in T20 when you a chasing a good score," said England captain Stuart Broad, who also struggled with a sore knee.

"I've got a touch of patellar tendonitis and may not play the next two games to get ready for the World T20."

The teams will meet again at Bridgetown on Tuesday and Thursday as part of their preparations for the fifth Twenty20 World Cup, starting in Bangladesh later this month.

West Indies are the defending champions after winning the last World Cup in 2012 while England won the previous title in 2010, defeating Australia in the final at Kensington Oval.

ENGLAND INNINGS

At the end it was an easy finish for West Indies to secure 27-run victory to go up 1-0 in the three-match series. Eng 143-9 in 20 overs

Tredwell is run out as well. Eng 133-9 in 19 overs.

James Tredwell run out 1 (1b 0x4 0x6) S

Broad is run out. He looks to be limping. Eng 123-7 in 18 overs. Eng 123-8 in 18 overs.

Stuart Broad run out 5 (12b 0x4 0x6)

Two boundaries for Bresnan and England are 119 for 7 in 17 overs.

England are 107-7 in 16 overs.

Broad joins Bresnan. They have a huge task in the middle. Eng 102-7 in 15 overs.

Bopara departs and England now in serious trouble. Just the tailenders to play for. Eng 101-7 in 14.3 overs.

Ravi Bopara c & b Bravo 42 (24b 5x4 1x6)

The equation getting tougher for England. Bopara is the key for England but Windies bowlers have been good so far. Eng 96-6 in 14 overs.

Good over for England. Three boundaries coming off it. Bopara on 36 as England reach 91-6 in 13 overs.

England are 76-6 in 12 overs.

Another wicket down for England. Samuels gets his second wicket as Stokes departs. Eng 73-6 in 11.4 overs.

Ben Stokes st Ramdin b Samuels 4 (5b 0x4 0x6)

Bopara looks to be in fine touch. He slams a six off Sammy as he reaches 24. England need 101 from 54 balls. Eng 70-5 in 11 overs.

Morgan was looking good but a swat shot to midwicket goes horribly wrong as he is caught comfortably by substitute Charles. Eng 55-5 in 9.3 overs.

Eoin Morgan c sub (J Charles) b Samuels 19 (18b 4x4 0x6)

Two cracking boundaries from Bopara and England fans celebrate. Eng 53-4 in 9 overs.

Ravi Bopara joins Morgan. This pair is important for England and their partnership can help England recover. Eng 43-4 in 8 overs.

England are losing the plot. Another wicket and Butler goes for a duck. Narine picks the wicket but is facing trouble with his leg. Medical help is rushed to the middle. Eng 40-4 in 7.3 overs.

Jos Buttler c sub (J Charles) b Narine 0 (3b 0x4 0x6)

Badree could have made it four but he could not latch on to a powerful shot from Morgan. Nevertheless a superb spell comes to an end as he heads to the dressing room to nurse his finger. His spell is 4-0-17-3. Eng 40-3 in 7 overs.

Another one for Badree. Lumb offers a simple catch to Rampaul in the deep. England in doom. Eng 36-3 in 6.3 overs.

Michael Lumb c Rampaul b Badree 18 (19b 3x4 0x6)

Narine into the attack. Gives away a boundary but still keeps the pressure on. Eng 36-2 in 6 overs.

Badree finishes his third over. Fine bowling as he has given just 13 runs from it. Eng 31-2 in 5 overs.

Lumb gets his third boundary but England precariously placed. Eng 24-2 in 4 overs.

That's another one for Badree. Similar fashion and another brilliant work from Ramdin. England in trouble. Eng 13-2 in 2.4 overs.

Luke Wright st Ramdin b Badree 0 (1b 0x4 0x6)

Badree strikes. A beauty of a ball and Ramdin does a fantastic job behind the stumps. Eng 13-1 in 2.3 overs.

Alex Hales st Ramdin b Badree 3 (7b 0x4 0x6)

Two boundaries from Lump and England are 11-0 in 2 overs.

Good start from Badree. Just two runs. Eng 2-0 in 1 over.

Michael Lumb and Alex Hales open for England. Windies start with Samuel Badree

WEST INDIES INNINGS

Marlon Samuels scored a fine 68 not out as West Indies posted 170 for three in 20 overs in the first Twenty20 International.

Dwayne Smith (27) and Chrish Gayle (43) provided the foundation before Samuels took over. Samuels also shared an unbroken 58-run stand with Andre Russell (24 not out).

The partnership has already fetched 53 runs. Last over as West Indies look to be in a great position.

A six from Russell and a boundary from Samuels as Windies reach 165-3 in 19 overs.

Samuels survives there as Tredwell drops a simple catch at cover. Proving to be costly as Samuels hammers two boundaries to reach a fine half century. He adds another three boundaries as Windies score 152 for 3 in 18 overs.

West Indies are 132 for 3 in 17 overs.

Samuels reaches 42 from 32 balls. With four overs, Samuels has to carry on if they were to get a big total. WI 122-3 in 16 overs.

Simmons never found form and perished attempting a big one. WI 112-2 in 14.1 overs.

Lendl Simmons c Lumb b Bopara 3 (7b, 0x4, 0x6)

West Indies 111 for 2 in 14 overs.

Two boundaries and a six from Samuels. WI 109-2 in 13 overs.

Lendl Simmmons comes to bat as Windies reach 90-2 in 12 overs.

That's a big wicket for Tredwell. He was bowling well and has been rewarded. Gayle is trapped in front. WI 87-2 in 11.3 overs.

Chris Gayle lbw b Tredwell 43 (35b 5x4 2x6)

Gayle on 43 from 33 balls. Samuels taking his time there. WI 86-1 in 11 overs.

Gayle gets a big six off Tredwell but still a tight over from him. WI 78-1 in 10 overs.

Runs suddenly have dried up for West Indies. Bopara and Tredwell doing a good job. WI 69-1 in 9 overs.

Tredwell bowls a brilliant over giving just two runs off it. WI 65-1 in 8 overs.

A good over from Bopara but Samuels makes a bright start. Gayle is on 29 from 22 balls. WI 63-1 in 7 overs.

Ravi Bopara comes into bowl and tastes success immediately. Ball swings in sharp to rattle the stumps. WI 57-1 in 6.2 overs.

Dwayne Smith b Bopara 27 (18b 5x4 1x6)

Stunning shots from Gayle. A massive six followed by a pull to the boundary. WI 56-0 in 6 overs.

Gayle opens up as he smashes three impressive boundaries off Bresnan. WI 45-0 in 5 overs.

Another good over from Dernbach. Gayle still struggling. Smith is making up for it with those frequent boundaries. WI 32-0 in 4 overs.

A fine over from Bresnan. Gayle is struggling. Understandable since he comes back from a break. WI 24-0 in 3 overs.

A quiet start from Gayle. Smith gets another fine boundary on the cover. WI 24-0 in 2 overs.

Dernbach bowls tot Gayle.

An amazing start for West Indies. Smith opens with a six followed by three successive boundaries. Smith on 18 from six balls. WI 19-0 in 1 over.

What a start for West Indies as Smith smashes a huge six in the very first ball. WI 6-0 in 0.1 over.

This should be great preparation for both the teams as they head to the World Cup in Bangladesh after this series. Chris Gayle and Dwayne Smith open for West Indies. England begin with Stuart Broad.

The wicket looks flat and a fine one for batting. West Indies should be eye a big total.

Playing XI:

West Indies: Chris Gayle, Dwayne Smith, Marlon Samuels, Lendl Simmons, Dwayne Bravo, Denesh Ramdin, Darren Sammy, Andre Russell, Sunil Narine, Ravi Rampaul, Samuel Badree.

England: Michael Lumb, Alex Hales, Luke Wright, Eoin Morgan, Jos Buttler, Ravi Bopara, Ben Stokes, Tim Bresnan, Stuart Broad, James Tredwell, Jade Dernbach

West Indies will look to dominate in the Twenty20 Internationals against England after a 2-1 defeat in the one-day Internationals.

The hosts play the first of the three Twenty20 International followed by the next two on March 11 and 13 all at Bridgetown.

Windies have a powerful batting lineup led by Chris Gayle, while England will rely on openers.
Follow Emirates 24|7 on Google News.