Flintoff reveals strain of leading England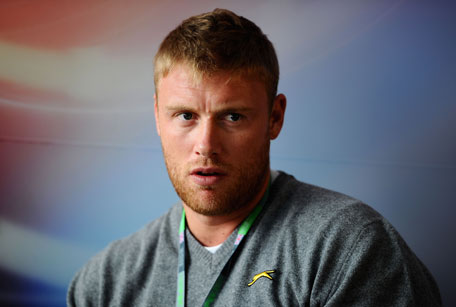 Andrew Flintoff has spoken of the emotional anguish he experienced leading England during their Ashes thrashing in Australia five years ago and how he wanted to retire at the subsequent World Cup.
The former all-rounder talks about his personal struggles and those of other leading sportsmen, including some of his team-mates, in a BBC programme entitled 'Freddie Flintoff: Hidden Side Of Sport,' due to be broadcast a week on January 11.
Flintoff was England's captain when they were whitewashed 5-0 by hosts Australia in the 2006/07 Ashes, a series where they surrendered their grip on the urn before Christmas.
"I was having a quiet drink with my dad Colin on Christmas Eve 2006 and as we made our way home I started crying my eyes out," said Flintoff, in an extract from the programme quoted on the Daily Mail website on Sunday.
"I told him I'd tried my best but that I couldn't do it any more, I couldn't keep playing. We talked and, of course, I dusted myself down and carried on.
"But I was never the same player again," added Flintoff, who in 2009 retired from Test cricket with a batting average of 31 and bowling mark of 32 - figures many pundits felt failed to reflect his immense natural talent.
"I was captain of England and financially successful. Yet instead of walking out confidently to face Australia in one of the world's biggest sporting events, I didn't want to get out of bed, never mind face people."
It later emerged Flintoff had been drinking so heavily at one point in Australia he was ordered away from a practice session by then England coach Duncan Fletcher.
Further alcohol-related problems for the now 34-year-old Flintoff ensued at the World Cup in the Caribbean where he took a drunken pedalo trip near England's hotel in St Lucia.
It was an incident that cost Flintoff the England vice-captaincy.
"The whole time I was on the field and throughout that World Cup all I could think about was that I wanted to retire," Flintoff said.
"I didn't understand what was happening to me. I knew when I got back to my room I couldn't shut off, which is why I started having a drink. It got to the stage where I was probably drinking more than I should.
"All I wanted was for the doctor to tell me what was wrong but no one suggested it was depression," added Flintoff, a key figure in England's home 2005 and 2009 Ashes triumphs.
Fast bowler Stephen Harmison, a close friend of Flintoff, who at one stage in his career admitted to struggling with 'homesickness', said in the programme he too had suffered from depression.
"At one point I was the number one bowler in the world - yet I was struggling inside," explained Harmison who, recalling a worrying moment during a tour of South Africa, added: "I couldn't breathe and I was hyperventilating."
Former England batsman Marcus Trescothick's international career was ended by a stress-related illness that made it all but impossible for the opener to tour even though he continues to play for Somerset.
And last year Sussex spinner Michael Yardy cited depression when he withdrew from the World Cup in the sub-continent days before England's quarter-final loss to co-hosts Sri Lanka, although he too has since resumed his county career.
Follow Emirates 24|7 on Google News.