Flower confident of swift England comeback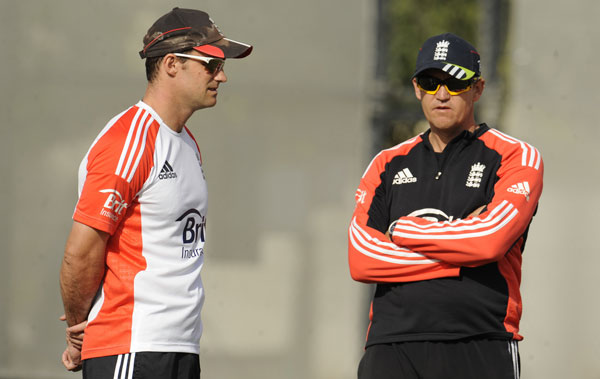 Andy Flower on Friday expressed his confidence in England staging a swift comeback against Pakistan after losing the first Test by ten wickets inside three days.
England crumbled to 160 all out in their second knock on Thursday to go 1-0 down in the three-match series -- their first Test as world number one, a position they attained in August last year following a 4-0 rout of India.
Flower, who was named UK coach of the year in 2011, said beating Australia in Australia was a bigger test, but coming back in the second Test will also be a big task.
"Pakistan certainly outplayed us by a long margin in this Test. We underperformed, poorly. However, we can come back from this. Is it a real test? Yes it will be," the 43-year-old England coach told reporters.
"Beating Australa in Australia was a big test. This team has done great things in the recent past, but you have to move on from the past and live in the present, and this is a very good indication that you have to live in the present," said Flower.England have not lost a series since losing to the West Indies in 2009 -- Flower's first after he took over from Peter Moores.Flower disagreed that England playing their first Test since August last year were under-prepared or lacked application.
"I don't think it's either of those. Our preparation were excellent," said Flower of the two wins inside games here. "It might be fair to say that the lay-off we've had probably means people aren't quite up to speed as we usually are.
"However we needed that break, the players needed a mental and physical break and you can't have it all ways. Our challenge now is to get up to speed for the second Test," said Flower the match starting in Abu Dhabi from January 25.
Dubai will stage the third Test from February 3-7 followed by four one-day and three Twenty20 internationals.
Flower backed captain Andrew Strauss and struggling batsman Kevin Pietersen.
"He's a pretty calm bloke and I wouldn't say he's in poor form at all," said Flower of the England captain who made 19 and six against Pakistan.
"Strauss looks very composed and compact at the crease. He got out in the first innings to a shot he wouldn't want to repeat, and he was unlucky in the second, so that's how it goes sometimes. He will come back," said Flower of Strauss who has only one fifty in the last 12 innings.
"As Strauss said, there's no point in panicking. What we've got to do is play better."
He added: "All batsmen are under pressure to make good decisions and it's unfair to single out one batsman.
"In a number of instances in both innings where there were soft dismissals and poor decisions, and if you make poor decisions in Test cricket, you get severely punished for it."
Flower added that he hoped his team adapts quickly as they also have two tough tours of Sri Lanka and India later in the year.
"We've got this tour then Sri Lanka, then India, so we'd better get up to speed very quickly."
Follow Emirates 24|7 on Google News.