Fresh scandals haunt cricket as tennis reels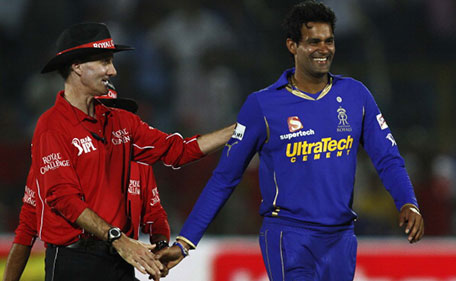 As the tennis world reels from match-fixing claims, fresh scandals have embroiled cricket, sparking scepticism of efforts to tackle corruption that has plagued the "gentleman's game" in recent years.
An explosive report this week claimed match-fixing in tennis was repeatedly going unpunished, while world number one Novak Djokovic said he was once offered $200,000 to fix a match in Russia.
The report came after the sports world was stunned by allegations of doping cover-ups in athletics and a string of scandals engulfing football's governing body FIFA.
But corruption claims have also returned to haunt cricket, threatening once again to sully the sport which has been battling to curb the influence of illegal bookmakers on matches.
Sri Lanka this week suspended their fast bowling coach amid a police investigation into alleged attempts to bribe players to underperform in a Test match against the West Indies in October.
In one of the biggest cases last year, New Zealand star Chris Cairns was acquitted of perjury charges in November linked to a match fixing case.
Lawrence Booth, editor of Wisden Cricketers' Almanack, warned that the case could deter players from coming forward to report wrongdoing.
Although the result was vindication for the all-rounder, the treatment of witnesses in the case such as New Zealand's Brendon McCullum could make players think twice about coming forward, he argued.
Players who cooperated with investigators had confidential testimony leaked and could have their characters assassinated by defence lawyers.
"I think the concern over the outcome of the Cairns trial is that it may dissuade other cricketers to come forward and testify against their former team-mates, which is a crucial element of the battle against corruption," Booth told AFP in an email.
"Grassing up a colleague goes against the dressing-room grain, but without whistleblowers cricket would be even more trouble than it already is."
In a sign that cricket fans are unwilling to stomach any more scandals, Pakistan paceman Mohammad Amir, 23, was booed by the crowd in New Zealand this month when he made his international comeback after serving a five-year ban and being jailed for bowling no-balls to order in a 2010 spot-fixing scandal.
International Cricket Council CEO Dave Richardson said this week that "no stone will be left unturned to make sure" that allegations of fixing in the sport are investigated.
But Richardson also told India's Hindustan Times newspaper on Monday "that is not to say that we can guarantee there will be no fixing of matches".
Richardson was speaking on the same day that India banned off-spinner Ajit Chandila for life over a fixing scandal that erupted over the 2013 edition of the Indian Premier League (IPL).
Batsman Hiken Shah was also suspended for five years for a separate incident ahead of last year's lucrative Twenty20 tournament.
Chandila's ban for cricket's breaching anti-corruption code was imposed despite that fact that he, former Test bowler Shanthakumaran Sreesanth and another teammate from the IPL's Rajasthan Royals franchise, were acquitted last year after a police probe into claims of deliberately underperforming in return for cash from bookies.
Corruption has also surfaced in South Africa, with Indian-born former Proteas one-day international player Gulam Bodi named this month as the person charged with contriving to fix or improperly influence a match in the country's domestic Twenty20 competition last year.
Although the ICC and national bodies have worked hard to tackle fixing, some experts say the sport's governing body needs powers akin to a worldwide crime agency such as Interpol to halt the scourge.
"The ICC's anti-corruption unit is hampered by limited mandate and powers," New Delhi-based cricket writer and author Pradeep Magazine told AFP.
"There are enough reports to suggest that the nexus between the bookies and players could be much bigger than thought, but you need a thorough police investigation to get to the bottom of it all," said Magazine, whose book "Not Quite Cricket" details bookmakers' influence on the game.
India, cricket's financial powerhouse which accounts for more than half of the game's global revenues, has long been mired in spot and match-fixing allegations.
India's investigations into fixing date back to the explosive scandal of 2000 that ensnared three Test captains - South Africa's Hansie Cronje, Mohammad Azharuddin of India and Pakistan's Salim Malik - who all received life bans from the game.
Follow Emirates 24|7 on Google News.