Gayle fires Big Bash parting shot, tells critics to kiss his 'Black Rass'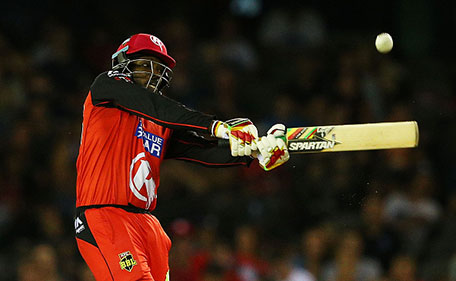 Controversial West Indian batsman Chris Gayle has hit back at critics of his allegedly sexist behaviour, telling them to kiss his "Black Rass".
His Twenty20 team Melbourne Renegades fined the star opener US$7,000 two weeks ago after an attempt to flirt with a female presenter on live TV was condemned as "completely out of line" by Cricket Australia.
Gayle told the Renegades' website after his final game that he would like to return for next season's Big Bash League, where he has been one of the top scorers.
"Definitely - always got a soft spot for Australia," he said.
"And the fans here have been very supportive. They have been really, really tremendous.
"Hopefully I get a chance to entertain you guys again."
However, he also unleashed a rant against "haters" on Instreaming late Tuesday amid questions over whether has played his last innings in Australia.
"I think a lot of past and present cricketers who smile in front my face could've have there (sic) say In the public when my so call issue was going on, but y'all don't have the BALLs to stand firm when it matters," the post said.
"But yet when u see me you're like, Chris that's BS against you, it was blown out of proportion.
"The past cricketer who say I make myself look like a chop, the other who claim I was no good to the youngsters while playing for the thunder, the next one who said he expect that sort of behaviour from Chris - Y'all can kiss my 'Black Rass'."
The former cricketer was ex-England captain and television commentator Andrew Flintoff who tweeted, "Big fan of @henrygayle but he made himself look like a bit of a chop there."
Former Australia opener Chris Rogers accused Gayle of setting a poor example for young players while all-rounder Shane Watson said asking a TV reporter out for a drink in a live interview was the sort of behaviour to be expected from Gayle.
On the field, Gayle went out in a blaze of glory, smashing 50 off just 12 balls to equal the fastest half-century in T20 history, although the Renegades failed to make the weekend's finals.
"When I'm on a momentum, when I'm on a roll, it's gonna be difficult for bowlers out there to actually try and contain me, it doesn't matter who you are," he said in a post-season interview with the club, predicting further records.
Follow Emirates 24|7 on Google News.