Huge security clampdown for World Cup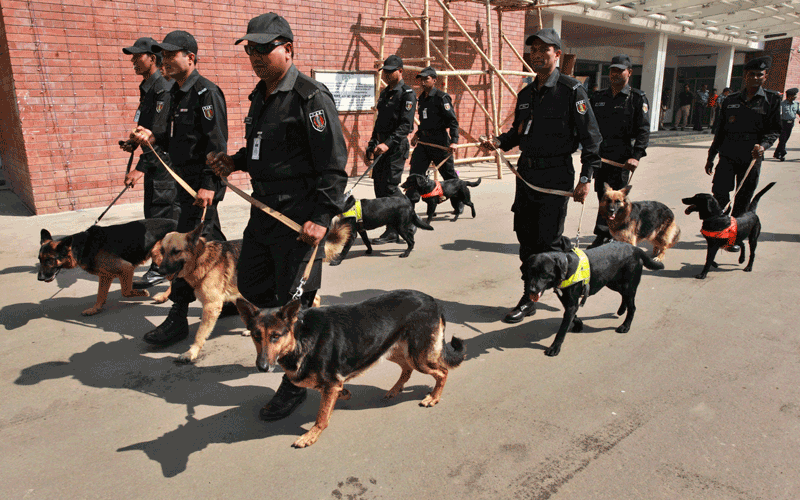 The opening game of the World Cup on Saturday sees a huge security operation swing into action designed to prevent any repeat of the deadly 2009 attack on the Sri Lankan team that still haunts the sport.
Around 20,000 members of Bangladesh's elite paramilitary force the Rapid Action Battalion and regular officers have been deployed in Dhaka for the first match, police spokesman M Sohail said.
"All cricket venues, airports, the nine official hotels and transport for all the teams and officials fall under our security blanket," Sohail said as India and Bangladesh prepared to open the event.
Memories are still fresh of the attack in Lahore in March 2009 when gunmen ambushed the team bus carrying Sri Lanka's Test squad in the Pakistani city of Lahore.
Eight people were killed and seven Sri Lankan players and their assistant coach injured.
The attack led to Pakistan's removal by the International Cricket Council (ICC) as a co-host of the World Cup.
The Federation of International Cricketers' Associations (FICA) in a statement on Friday said its security consultants - Eastern Star International (ESI) - had "found proposed security arrangements to be sound."
"ESI informed they were confident that provided the plans are implemented in a professional manner the risk to the players in this event will be minimised as far as possible," the Australia-based association added.
It said that security was "a massive challenge" with 14 teams moving around the co-hosts Bangladesh, Sri Lanka and India, South Asia's biggest country, which has a long history of militant violence.
Tim May, the FICA chief executive, said security was still a major concern for players despite reported comments from ICC chief executive Haroon Lorgat that security was a "non-issue."
"I have spoken to Haroon, so as to gain an understanding of the context of his comments, and remain confident that the ICC shares FICA's concerns regarding the importance of security measures at the World Cup," said May.
The World Cup in India has so far avoided much of the anxious discussion that surrounded the hosting of the Delhi Commonwealth Games in October, which saw leading countries question India's suitability as a location.
India has a host of home-grown militant groups from Maoists to separatists and is also targeted by Islamists from neighbouring Pakistan who reject New Delhi's presence in the disputed region of Kashmir.
Gunmen in November 2008 laid siege to Mumbai, India's financial capital, leaving 166 people dead in attacks on two luxury hotels, a rail station and a Jewish centre.
"Security concerns will always be there but how you plan to face it is the issue," said security specialist Medha Chaturvedi of the Delhi-based Institute of Peace and Conflict Studies think-tank.
The United States on Thursday urged its citizens to be vigilant about terror risks if they are in the three host countries of India, Bangladesh and Sri Lanka during the World Cup.
Bangladesh has a history of political violence, but far less militancy than India, while Sri Lanka is now at peace for the first time in decades after the end of its ethnic war.
India's celebrated police officer KPS Gill, who crushed a Sikh rebellion in Punjab state in the 1990s, said his country was ready for the task.
"India proved it during the Commonwealth Games that it can handle mega-events and in my opinion Bangladesh has handled the issue of terrorism in a much better fashion than Pakistan," Gill told AFP.
International experts say that the handling of security was essential, pointing out that there is no shortage of manpower.
"The implementation of a security plan is the most critical aspect," Jake Stratton of London-based Control Risks security consultancy firm told AFP.
"Some of the venues have been planning it for years and so they had plenty of time to put the necessary security into place and train the security staff," he added on the eve of the six-week tournament.
Sri Lanka, where government troops last year defeated ethnic Tamil Tiger rebels, ending the island's 37-year-old separatist war, said it was ready with its plan for the tournament.
"We are giving maximum security and we want to have an incident-free tournament," said Sri Lankan police chief Mahinda Balasuriya.

Follow Emirates 24|7 on Google News.