Hughes 'the one' for Australia in India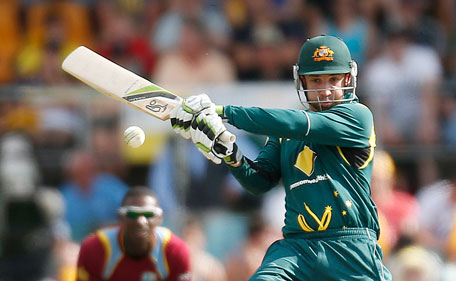 Rejuvenated batsman Phillip Hughes can be a key player for Australia in their four-Test series in India starting later this month, teammate Peter Siddle said on Thursday.

Siddle, who left in an advance party of eight players to help acclimatise to Indian playing conditions, pinpointed the diminutive left-hander as a player to have a major role in setting India big targets to chase.

"If we look at Phillip Hughes, the form he's had since he came back into the Australian side, he showed he'd changed his game for the best," Siddle told reporters at Melbourne Airport before departure.

"His form in the one-dayers has been outstanding.

"If he can translate that over to the Indian conditions, which will be a little bit different, he's the one.

"If he can get going and support Pup (Michael Clarke) and Davy (David Warner) and Watto (Shane Watson) we can get those big totals."

Hughes missed the opportunity to score his third ODI century this season when he was out for 86 off 93 balls in Australia's 39-run series-deciding win over the West Indies in Canberra on Wednesday.

While admitting that taking wickets through pace will be hard on the dry and spin-friendly Indian pitches, Siddle said the Australian team needed to stick with what had produced results in the past.

"The way we've won Test matches for years now has been with our pace," Siddle said.

"That's going to play a big role but (off-spinner) Nate (Lyon) is probably going to play a big role at the other end and I think that's where his game will flourish even more.

"He'll get a lot of assistance over there so I think combined the line-up will do well."

Siddle said the side had a basic plan but would emphasise patience in India.

"We have to bowl as straight as we can and be as patient as we can be," he said.

"It's always been the case, even for a spinner, to have patience. Indian wickets are hard work, the games go a little bit slower because the wickets are hard to score on."

Siddle said the Australians would be wary of Test cricket's greatest run-scorer Sachin Tendulkar in the Test series, beginning in Chennai on February 22.

"He's finished up one-day cricket and Twenty20 to concentrate on Tests so he'll be looking to come out hard," Siddle said.

"The last series over in Australia we got on top of him a bit but he'll be looking to fire back.

"He's going to be a tough contest but hopefully one we can get early enough more times than not."

Siddle said the Australians had a point to prove after losing five of their past seven Tests in India. They have not won a series in India since 2004.

"It's been a tough stomping ground so I guess this is a time with a new-look team and hopefully we can go over there and stamp our authority and go from ball one and get stuck in," he said.

The remaining nine players in the Australian touring party will leave for India on Saturday and Monday.


Follow Emirates 24|7 on Google News.