Hussey warns Australia to avoid angering Kohli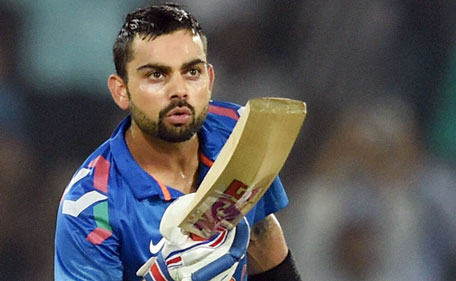 Australia need a clear strategy to keep Virat Kohli in check and refrain from getting into verbal confrontations with the India captain during the four-test series starting this month, former batsman Mike Hussey has said.
Under leading batsman Kohli, India are unbeaten in their last 18 tests, registering series wins in Sri Lanka and West Indies, while thumping South Africa, New Zealand and England at home.
The captain's form has been key to India's rise to number one in the test rankings, with the 28-year-old scoring three double hundreds and averaging almost 76 in tests in 2016.
Kohli, who is often very demonstrative on the field, has said in the past that he does not mind on-field skirmishes and Hussey believes it is that fire in his belly that inspires the Indian skipper to perform better.
"I wouldn't try and fire him up," Hussey told the Cricket Australia website (cricket.com.au) ahead of Australia's tour, which starts in Pune on Feb. 23. "I think he thrives on that and he's a real competitor.
"He loves being in the fight and loves the contest out in the middle. There's no need to get involved in that sort of verbal barrage because I think that fires him up even more."
Kohli has polarised opinion over his regular run-ins with the opposition and fans, and was fined half of his match fee in 2012 for responding to barracking from the crowd by gesturing at them with his middle finger during a Sydney test.
Hussey, one of the former Australia batsmen who has tasted considerable success on the spinning tracks in South Asia, does not feel there is much need for verbal duels.
EXECUTING PLANS
"I'd make sure we have some very clear plans and we try and stick to them as best as we possibly can," the 41-year-old Hussey added.
"You don't want to get carried away with too much talk and lose your concentration of what's important, which is executing your skills.
"The team that wins will be the one that can execute their skills at the highest quality and for the longest period of time. It's not going to be the team that's the most verbal or the most aggressive."
Australia were beaten 4-0 the last time they toured India in 2012 and were also whitewashed 3-0 in Sri Lanka last year.
Hussey thinks the touring side will need to keep Kohli quiet with the bat if they are to enjoy any success.
"From an Australian point of view, Kohli is public enemy number one and we have to get him out cheaply," Hussey said. "If he gets in, he'll go big and score big runs.
"He's very confident at the moment, he knows the conditions so well and generally if he plays well, India win."
Follow Emirates 24|7 on Google News.