ICC bans top Sri Lankan cricket official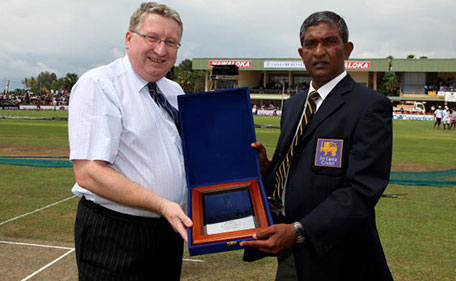 The International Cricket Council on Wednesday imposed a three-year ban on top Sri Lankan official Jayananda Warnaweera for failing to cooperate with an anti-corruption investigation.
The world governing body said Warnaweera, a former Test player who was already facing a two-year domestic ban over allegations of involvement in match-fixing, had failed to attend interviews with its anti-corruption unit (ACU).
"Warnaweera failed, on two separate occasions, to attend a scheduled interview with the ACU in relation to an ongoing investigation and failed to provide documents required from him in connection with the investigation," the ICC said in a statement.
There was no immediate comment from Warnaweera, the former curator of the Galle International Stadium.
Sri Lankan players and umpires have been accused of match fixing in the past, but this is the first time a high ranking official has been implicated.
Soon after his suspension by the local board in October, there was an alleged attempt at bribing two Sri Lankan players to engineer a batting collapse and allow a shock victory for the West Indies at a Test match in Galle.
The ICC announcement came a day after Sri Lankan police questioned skipper Angelo Mathews over an attempt by another cricket official to bribe players during the Galle Test against the West Indies in October.
Mathews said the police Financial Crimes Investigation Division had questioned him on an approach to two Sri Lankan players to arrange a shock defeat at the hands of the West Indies.
Mathews said the players, Kusal Perera and Rangana Herath, had themselves reported the approach. However, the police investigation was launched after Sports Minister Dayasiri Jayasekera lodged a formal complaint.
On Monday the Sri Lanka cricket board suspended its fast bowling coach Anusha Samaranayake for two months and sacked a part-time employee, net bowler Gayan Vishwajith, for their alleged roles in trying to bribe players.
Sports Minister Jayasekera told AFP last month that an unnamed man linked to a bookmaker had offered the two players some 10 million rupees (around $70,000) to lose the match.
Although no big-name Sri Lankan player has ever been convicted of corruption, several former stars have made allegations of either match fixing or spot-fixing - when players deliberately bowl or field badly to give away a set number of runs.
Follow Emirates 24|7 on Google News.