ICC gives support to cricket-starved Pakistan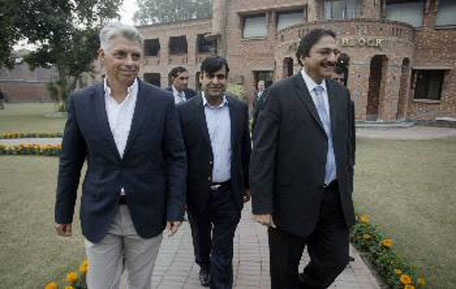 Cricket's governing body will continue to support Pakistan in its efforts to bring back the international game, but much depends on the security situation, an official said Saturday.
International cricket has been suspended in Pakistan since terrorists attacked the Sri Lankan team bus in Lahore in 2009, leaving eight people dead and seven visiting players wounded.
It led foreign teams to shun tours to Pakistan due to security fears.
David Richardson, chief executive of the International Cricket Council (ICC) said Pakistan will continue to be supported.
"The ICC views Pakistan as a very important part of international cricket," Richardson told a media briefing in Lahore.
"It's our role to support Pakistan in its efforts to make sure that international cricket returns to the country."
But Richardson, a former South African wicket-keeper and batsman, said it was tough to give any time-frame for the return of the game.
"We want to support the return, whenever that may be... but its difficult to say exactly when and I think that's about as far as we can go at this stage."
He added that any decision by a team to play would depend on "a serious assessment of the risk".
"ICC is not in a position to do (security assessment) when it comes to teams touring and countries make their own decisions," he said.
"It will be up to Pakistan in convincing that it is safe to come to the country, and tourists will make up their own minds in this regard."
Bangladesh has twice refused to tour Pakistan because of security fears after initially agreeing to play a short limited-over series, with its latest refusal coming last week.
Richardson hailed Pakistan's decision to stage a multi-national Twenty20 league in March this year, a move announced by the Pakistan Cricket Board on Thursday, with 30 foreign players likely to participate.
"The announcement of the Twenty20 competition where foreign players will be entitled to come is an initiative on the right path, because what you've got to do is regain the confidence of the cricketing world," said Richardson.
Follow Emirates 24|7 on Google News.