ICC hopes bans will stave off corruption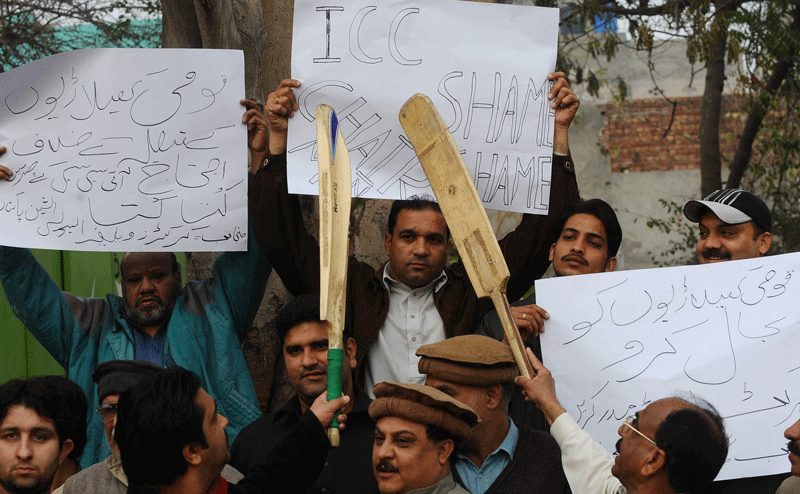 The bans given to Pakistan trio Salman Butt, Mohammad Asif and Mohammad Amir for spot-fixing "will act as a strong deterrent" to others from corrupting the sport, the International Cricket Council (ICC) said on Sunday.
The trio were found guilty of corruption by an ICC tribunal on Saturday and former Pakistan captain Butt, 26, was banned for 10 years, five of them suspended.
Asif, 28, was banned for seven years with two suspended, while 18-year-old Amir was given a straight five-year ban.
"While I am deeply saddened that this case happened in the first place, I acknowledge and commend the decision to deliver lengthy bans to all three players," ICC chief executive Haroon Lorgat said in a statement.
"Corruption in our game will never be tolerated and, once again, I reiterate our zero-tolerance approach.
"I hope this investigation, and the verdicts delivered, makes that message crystal-clear."
A three-man tribunal considered the case for six days last month following allegations in a British newspaper that the trio had arranged for deliberate no-balls to be delivered in the fourth Test at Lord's last year.
The start of the bans would be backdated to September 2 to include the period of provisional suspension already served by the players, the ICC said.
The length of the punishment has divided the cricketing world.
While some players and pundits believe teenager Amir should not have been treated so harshly as he was coerced into following the orders of senior team mates, others felt the ICC should have taken a stronger stand and imposed life bans.
Pakistan's sports minister Aijaz Hussain Jakhrani backed the ICC's decisions but said he thought Amir should have been treated more leniently.
"We fully support the ICC decision and any steps taken to root out corruption from sports," Jakhrani told Reuters in Karachi on Sunday.
"This decision...will go a long way to discouraging players from adopting the short-cut to riches.
"My reservation stems from the fact that he (Amir) is just 18 years old and at such a young age you can make mistakes or come under pressure. I think the ban is too harsh for him."
As a result of a separate investigation, Britain's Crown Prosecution Service (CPS) charged the trio and 35-year-old sports agent Mazhar Majeed on Friday with conspiracy to obtain and accept corrupt payments and with conspiracy to cheat.
"We are...aware of and fully respect the decision of the United Kingdom's CPS to charge the players with criminal offences in the UK and, with that in mind, we will carefully review the full decision and take proper legal advice before making any decision on publishing the reasoned determination," Lorgat said.
All three players deny spot-fixing, the offence of pre-arranging individual events within a match which may not affect the result.
Butt and Amir flew home to Pakistan on Sunday and pledged to clear their names. Both players said they would appeal against the ICC bans once the details of the judgement were released.
Pakistan's former Test captain Wasim Akram, who was himself censured by a judicial commission investigating match-fixing a decade ago, said the players had to accept their punishment.
"It will be very difficult for them to live with this stigma but they made mistakes and they must face the consequences," he added.
"I think it is responsibility of every board and their management to educate and groom the players, especially those from humble backgrounds, about their better future," the former fast bowler said.
Follow Emirates 24|7 on Google News.