ICC rejects Eden Gardens World Cup plea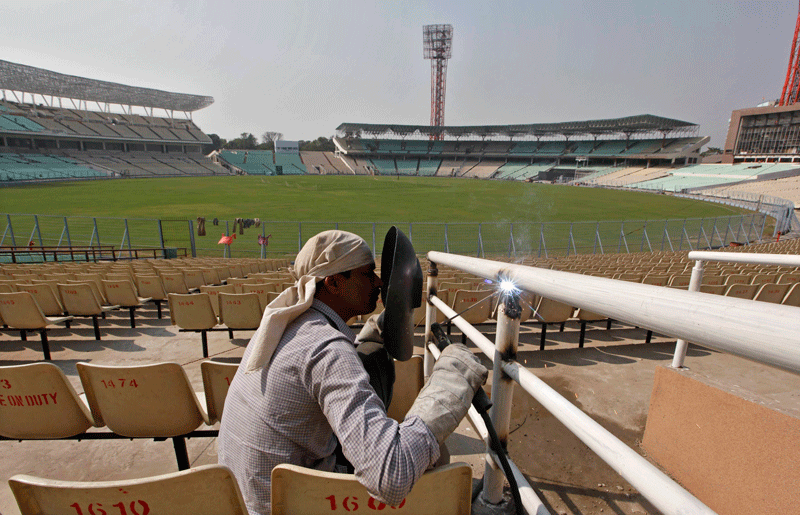 The International Cricket Council (ICC) on Saturday rejected a request to keep Eden Gardens in Kolkata as the venue for next month's World Cup clash between India and England.
The ICC sparked a logistical nightmare for organisers on Thursday by asking for an alternative stadium for the February 27 match because of concerns about unfinished renovation work at the venue.
The Cricket Association of Bengal (CAB), which runs the stadium, had asked the ICC to reconsider its controversial ruling on Friday.
CAB chief Jagmohan Dalmiya, a former ICC president and himself a construction company owner, wrote to the Indian cricket board on Friday to convince the governing body to stick to the original schedule.
"(The ICC's decision) comes as a shock because when their inspection team was in Kolkata, we were given to understand that they were happy with the progress of the work and had suggested only a few minor modifications," said the letter, seen by AFP.
CAB chiefs promised they would hand over a completed Eden Gardens to the ICC on February 7, "provided we are given an extension."
"Finally, we also state that we will address the bulk of the ICC concerns by January 31, 2011 itself and the remaining little, if any, in another seven days," the letter said.
But ICC chief executive Haroon Lorgat said CAB's request could not be accepted due to logistical issues.
"The ICC cannot accommodate the request," Lorgat was quoted as saying by Cricinfo website. He said there were too many planning and logistical issues that would need to be involved.
The game's governing body has also asked the Board of Control for Cricket in India (BCCI) to confirm an alternative venue for the tie by the end of this month.
The Chinnaswamy Stadium in Bangalore has now emerged as the front-runner to host the Pool B game. The ground is already set to host four World Cup matches, starting with England versus Ireland on March 2.
Eden Gardens, which hosted the World Cup final in 1987 and a semifinal in 1996, is due to host three other matches. A decision on whether they will go ahead will be taken by the ICC at a later date.
The World Cup is being co-hosted by India, Bangladesh and Sri Lanka from February 19 to April 2.
Follow Emirates 24|7 on Google News.