ICC suspends trio for minimum five years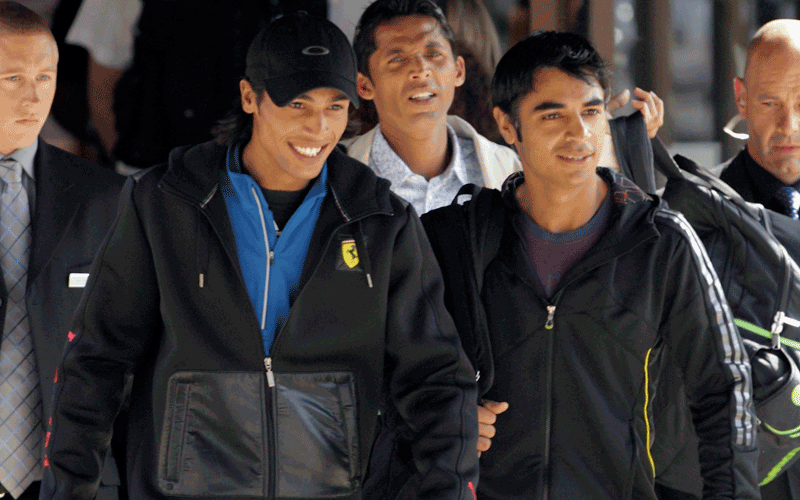 Former Pakistan Test captain Salman Butt and pace bowlers Mohammad Asif and Mohammad Amir were banned for a minimum of five years each on Saturday after being found guilty of corruption by an ICC tribunal.
Butt, 26, was banned for 10 years with five of them suspended if he does not re-offend and takes part in a Pakistan Cricket Board (PCB) anti-corruption campaign
Asif, 28, was banned for seven years by the International Cricket Council with two suspended under the same terms as Butt while 18-year-old Amir was given a straight five-year ban.
Only Amir, whose lawyer said he would appeal, has a realistic chance of playing international cricket again.
Five-year bans were the minimum an independent three-man tribunal could impose under the ICC's anti-corruption code once it had concluded that Butt, Asif and Amir were guilty of spot-fixing in the fourth Test against England last August.
The trio have denied being involved in spot-fixing, which is the offence of pre-arranging individual events within a match which may not affect the result.
They can appeal to the independent Lausanne-based Court of Arbitration for Sport (CAS) but PCB chairman Ijaz Butt said the national board would not be appealing against the bans.
"The PCB does not have the jurisdiction to challenge the bans on these three players because this is a matter directly between the players and the ICC anti-corruption tribunal," Butt told Reuters.
Amir's lawyer Shahid Karim said his client would appeal to CAS, adding: "Even his young age and his prior clean record didn't convince the tribunal to be leninent with him".
First reaction from Pakistan was overwhelmingly critical of the cricketers although there was some sympathy for Amir.
"It is really sad for Pakistan cricket that we have to face such embarrassment," said former captain Moin Khan.
Student Amina Khalid said the players should be banned if they were guilty of spot-fixing.
"But perhaps the ICC should have gone soft with Amir because he is very young..." Khalid said.
Butt, an elegant left-handed opening batsmen, led Pakistan to Test victories over Australia and England last year after he was thrust into the captaincy following the sudden resignation of Shahid Afridi.
Asif has tested positive twice for steroids and was caught with a recreational drug in his wallet at Dubai airport. On the cricket field he was a master of late swing and seam while Amir was the most exciting young cricketer in the world.
On Friday, Britain's Crown Prosecution Service said the trio, along with 35-year-old sports agent Mazhar Majeed from Croydon, England, had been charged with conspiracy to obtain and accept corrupt payments and with conspiracy to cheat.
Follow Emirates 24|7 on Google News.