India aren't finished, Dhoni warns Australia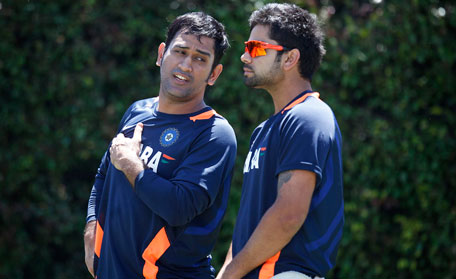 India captain Mahendra Singh Dhoni has warned Australia not to get too carried away with their victory in the first test and backed his team to battle back in the second in Sydney this week.
If the nature of last week's 122-run defeat in Melbourne had rattled the tourists, the ice cool Dhoni certainly showed no signs of it when he addressed the media at the Sydney Cricket Ground on Monday.
Asked whether India's 4-0 series drubbing in England earlier this year, and the match in Melbourne, had proved his team was "not much good when there was something there for the bowlers", Dhoni calmly rebuffed the question.
"That's what you think," he replied during a news conference. "If you see the kind of players that we have got, that would be very a premature statement to make.
"Because what we have seen is that we have always bounced back. Australia will have to keep the pressure on the batting line-up and the bowlers as well.
"It's just that we haven't performed in the first Test and we look to improve in the second."
Wicketkeeper Dhoni's own form with the bat overseas has been of much a concern to Indian cricket fans and scores of six and 23 in Melbourne left him averaging just 17 in Australia.
The 30-year-old was not about to push the panic button, though, and said his ability to adapt to different conditions was one of his strengths .
"I won't look to make too many adjustments because what I've learned over the last 15 years since my school days is it's very difficult to changes in just one series," he said.
"What's important is to adapt well, look for where you are weak and try avoid the deliveries that can get you out."
One player who has never had any trouble scoring runs, particularly at the SCG, where he has an average of 221 in six tests, is Sachin Tendulkar.
The batting master's 10-month quest to notch up his 100th international hundred may have been frustrating for cricket-mad India but Dhoni said it has little impact on the player or his team mates.
"It's not the first time Sachin's approached a milestone," he said.
"We all know it will happen. It may happen in this Test match, it may happen in the next Test match or in this series. You can't really stop it from happening.
"I don't think he thinks about it a lot ... it never really feels like he's under any sort of pressure when it comes to scoring the 100th hundred.
"As a team, we would like him to score it as quickly as possible for no other reason than that it's a big milestone and we would love to enjoy and celebrate it with him.
"It's also a big distraction for the media, which is good for us."
Dhoni will not name his side until just before the start of the match on Tuesday and would therefore not comment on whether Rohit Sharma would make his debut in place of the out-of-form number six batsman Virat Kohli.
Having lost the number one test ranking after the injury-ravaged side lost in England and now on a run of five successive defeats outside India, Dhoni admitted their confidence had been dented slightly.
"It does effect it a bit," said Dhoni. "But we all know the reasons for what exactly has happened and you learn from your mistakes.
"In the last five Tests we have lost, there were also plenty of positives. We are looking at the positives."

Follow Emirates 24|7 on Google News.