India challenge excites Pakistan coach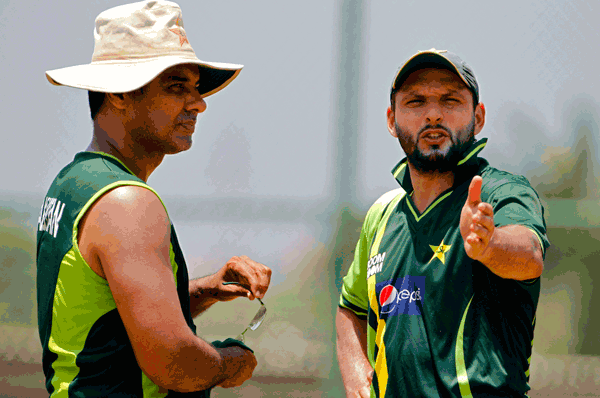 Pakistan coach Waqar Younis relishes the prospect of playing the last two matches in India to win the World Cup as his team continued its ruthless march in the tournament.
Pakistan, led from the front by inspirational captain Shahid Afridi, crushed the West Indies by 10 wickets on Wednesday to advance to their first semi-final since 1999.
The easy win set up a potentially explosive semi-final against arch-rivals India in Mohali on March 30, if the co-hosts beat defending champions Australia in Ahmedabad later on Thursday.
Waqar said it would be "awesome" if Pakistan was to play India for a place in the final at the Wankhede stadiun in Mumbai on April 2.
"I would love to play India in India," the fast bowling great said. "There is no bigger rivalry in the game than that. We have not played each other in our own country in recent years.
"So it should be very exciting. The two are cricket-loving countries. If it happens it will be awesome."
Waqar said it did not matter whether they play the semifinal against India, or Australia whom they beat by four wickets in the league to end the defending champions' unbeaten 34-match streak in the World Cup.
"I have no preference whom we play," he said. "We have to concentrate on what we have to do.
"All I know is that we are going to be playing in India. There will be a lot of pressure. Not only on us, but probably on the other side as well. Whoever holds their nerves better will come out on top."
Waqar was delighted at the emphatic win over the West Indies, and hoped more such games were to follow.
"A comfortable win is always a good thing," he said. "Hopefully we will get another comfortable win. That's the aim. But we know our opponents are going to be a lot stronger."
Waqar was not worried his team may not get the kind of support in India that came its way in the league in Sri Lanka or in Dhaka on Wednesday.
"Hopefully there will be a few people coming across the border from Lahore and they'll be supporting us in Mohali," he said.
"I know it won't be like what we got here in Dhaka or in Sri Lanka. That was amazing. The people were right behind us. When we played against Sri Lanka, the crowd was not with us. So we are really comfortable with that.
"Look, we have to go wherever the tournament takes us. Mohali or Mumbai, we have to play the best we can."
Afridi's 4-30 against the West Indies took his tally as the tournament's leading wicket-taker to 21, but Mohammad Hafeez stole the show with his all-round display.
The off-spinner, asked to share the new ball with Umar Gul, picked up two early wickets and then hit an unbeaten 61 off 64 balls in the company of opening partner Kamran Akmal (47 not out).
"Hafeez is a smart cricketer," the coach said. "He is very confident when it comes to bowling. He has got such self-belief that whenever he is given the ball, he delivers.
"Bowling was never the issue in this tournament for us, it was the batting. We struggled with the openers, so it was really pleasing to see them getting runs."
Follow Emirates 24|7 on Google News.