India crush UAE to warm up for Asia Cup T20 final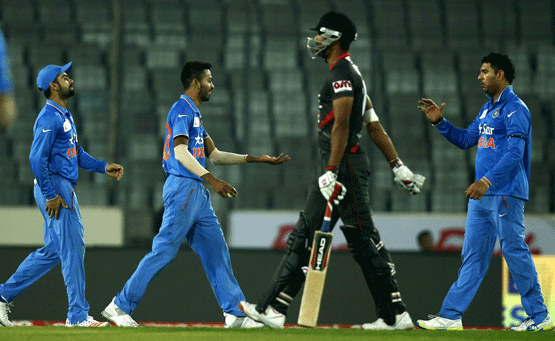 India warmed up for the Asia Cup final against Bangladesh with a crushing nine-wicket win over minnows United Arab Emirates in Dhaka on Thursday, their last league match in the competition.
A disciplined Indian attack restricted the UAE to a meagre 81-9 before they reached 82-1 in just 10.1 overs to complete the rout, their fourth victory in as many matches in the tournament.
Opener Rohit Sharma made the highest 39 runs with 28 balls, hitting seven fours and six, while Yuvraj Singh made good use of his promotion in one-down position with an unbeaten 25.
"The wickets here have been challenging, not the easiest," said man of the match Rohit. "I am glad we have put up a performance like that.
"Initially, you have to see the conditions. Once you get a hang of it, you can probably play your shots," he added.
Rohit put on 43 runs in the opening stand with Shikhar Dhawan before he was caught by Mohammad Naveed of Qadeer Ahmed in third man area, in what turned out to be the UAE's only success in the game.
Dhawan, who scored just three runs in his previous two matches in the tournament, carefully protected his wicket to remain 16 not out.
"I wanted that innings," he said after the match. "I have spent some time in the middle. It was important to get the feel of the wicket for the final. "Shaiman Anwar was the UAE's top scorer, making 43 runs before he was the last man dismissed.
Bhuvneshwar Kumar claimed 2-8 playing his first match in the series, while all of the other bowlers used by India skipper MS Dhoni were rewarded with a wicket.
India rested Ravindra Jadeja, Ravichandran Ashwin and Ashish Nehra ahead of the March 6 final and brought in uncapped Pawan Negi, Harbhajan Singh and Bhuvneshwar Kumar.
UAE captain Amjad Javed said they were looking for a total of around 120 runs.
"We were playing the favourites of the tournament and it was difficult for us," he said.
"When you face top quality bowlers, it is difficult. They have got experience and they will come back hard. "The league phase of the tournament will end with Pakistan facing Sri Lanka on Friday.
Romp
India enjoyed a romp before the Asia Cup final in accounting for the United Arab Emirates by nine wickets on Thursday.
The bowlers paved the way to the easy victory, restricting UAE to 81-9 in 20 overs.
India took 10.1 overs to win with 82-1, and seal its fourth straight victory in the tournament.
Opener Rohit Sharma hit 39 while Yuvraj Singh was 25 not out and hit the winning boundary.
Fast bowler Bhuvneshwar Kumar led the way for India with 2-8.
Shaiman Anwar scored 43 after UAE captain Amjad Javed elected to bat first. Opener Rohan Mustafa, on 11, was the only other batsman to reach double digits.
India, who have already qualified for the final, made three changes to their squad handing over a debut to Pawan Negi and bringing in Bhuvneshwar Kumar and Harbhajan Singh for Ravindra Jadeja, Ravichandran Ashwin and Ashish Nehra.
The UAE brought back Qadeer Ahmed for Usman Mushtaq.
India:
MS Dhoni (capt), Shikhar Dhawan, Rohit Sharma, Virat Kohli, Suresh Raina, Yuvraj Singh, Hardik Pandya, Pawan Negi, Harbhajan Singh, Bhuvneshwar Kumar, Jasprit Bumrah.
UAE:
Amjad Javed (capt), Shaiman Anwar, Ahmed Raza, Rohan Mustafa, Swapnil Patil, Mohammad Naveed, Mohammad Shahzad, Qadeer Ahmed, Fahad Tariq, Muhammad Kaleem, Muhammad Usman.
Umpires: Sharfuddoula Ibne Shahid (BAN) and Shozab Raza (PAK)
TV umpire: Ruchira Palliyaguruge (SRI)
Match referee: Jeff Crowe (NZ)
Follow Emirates 24|7 on Google News.