India face huge task in final Test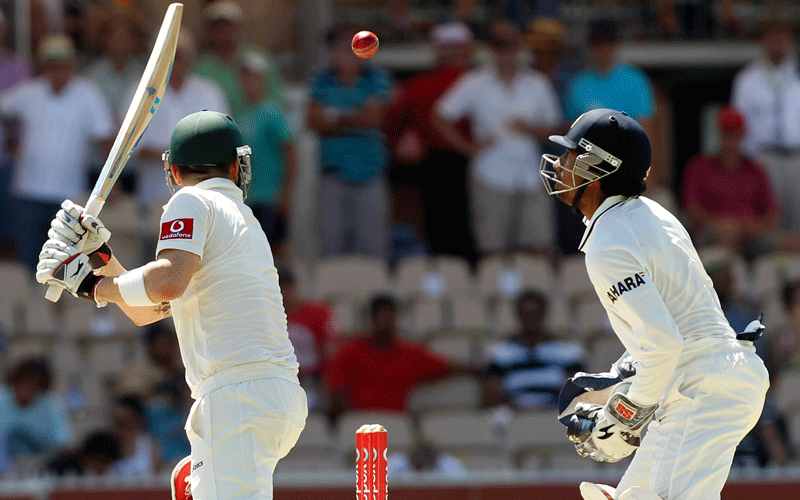 Double centuries by Michael Clarke and Ricky Ponting and another shaky start by India's stuttering batsman left the visitors under pressure in the fourth Test in Adelaide on Wednesday.
Skipper Clarke declared for the second time in the one-sided series -- this time at 604 for seven -- before his bowlers claimed two early wickets to put Australia well on top at the end the second day.
India were 61 for two at stumps in reply with Sachin Tendulkar, chasing his elusive 100th international century, unbeaten on 12 and Gautam Gambhir 30 not out.
Clarke hit 210 and Ponting 221 in an Australian innings that had the beleaguered Indians toiling in the field under a hot sun for 10 and a half hours.
They then grabbed the key wickets of under-fire opener Virender Sehwag and Rahul Dravid in the 21 overs to stumps to have the tourists reeling with three days left and a mountain to climb to avoid a 4-0 series defeat.
"It was probably more about the runs, to be honest, trying to get to 600," Clarke said on the timing of his declaration.
"We still had plenty of time left in the day as we scored quite quickly in our innings and to take those two key wickets is a really good start for us but there's a lot of work still to be done."
Sehwag, captaining India in place of the suspended M.S. Dhoni, again fell cheaply, out to the first ball of Peter Siddle's opening over for 18.
He played a leading edge to a low full toss and leaping Siddle plucked the ball with his outstretched right hand.
The normally prolific batsman, who averages over 50 in Tests, has scored just 136 runs at 19.42 in the Australia series.
Dravid, Test cricket's second all-time leading run-getter, was bowled for the sixth time in the series, this time off Ben Hilfenhaus.
"In 2003 here Australia scored 550-odd runs and we won the game from there," India paceman Ishant Sharma said.
"I think there is a positive you can take out of that, everyone is positive and looking forward to a good next three days."
Earlier Clarke called a halt to Australia's run onslaught midway through the final session after Ryan Harris clouted Umesh Yadav for six.
Clarke and Ponting shared in Australia's fourth-highest ever partnership of 386. The top three stands all featured the great Don Bradman.
"The wicket is very flat to bat on and both Ricky and I spoke early in our innings, once we'd got in, and today was about scoring a big one," Clarke said.
Their stand also eclipsed the highest overall partnership at the Adelaide Oval of 341 made by South Africans Eddie Barlow and Graeme Pollock in 1964.
Clarke, who scored an unbeaten 329 in the Sydney Test, was out on the third ball after lunch bowled by Yadav ending his 380-minute and 275-ball stand, which included 26 fours and one six.
So far in this series Clarke has amassed 589 runs at 147.25 with Ponting following up his 134 in Sydney to have 484 runs at 96.80.
India removed Ponting short of his highest score of 242 at Adelaide when he was caught in the deep by Sachin Tendulkar off Zaheer Khan.
The former Test skipper was at the crease for 516 minutes and faced 404 balls, hitting 21 fours for his sixth Test double-century.
Mike Hussey was run out by a slick piece of close-in fielding by Gambhir for 25 and Siddle became wicketkeeper Wriddhiman Saha's first catch in Test cricket off Ravi Ashwin for two.
Brad Haddin (42) and Harris (35) remained not out at the time of the declaration.
Follow Emirates 24|7 on Google News.