India ready to make history: Dhoni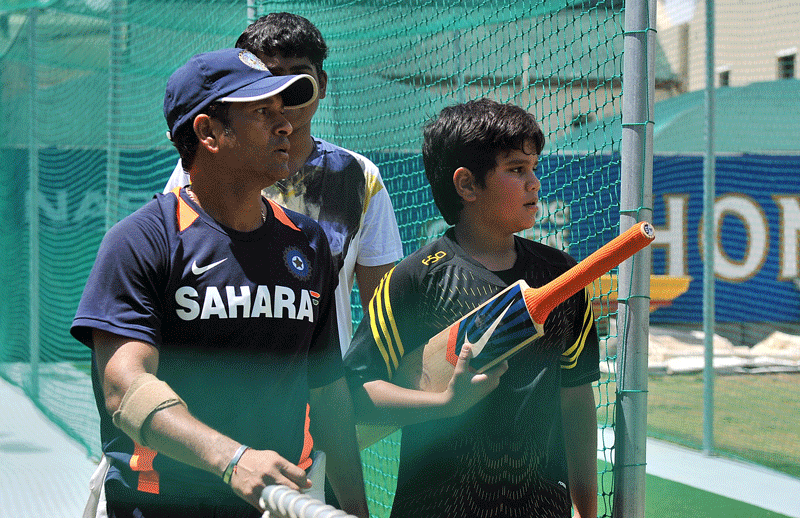 Indian captain Mahendra Singh Dhoni said on Saturday that his team were ready to make history when they face South Africa in the series-deciding third and final Test starting at Newlands in Cape Town on Sunday.
"The good thing with this side is that we know why we can win a series in South Africa," said Dhoni.
India were in the same situation four years ago when they came to Newlands with the series level at one-all - but Dhoni said the mood in the side was much more confident this time around. South Africa won by five wickets on that occasion and India have yet to win or even share a series in South Africa.
"The dressing room is much better now," he said. "It doesn't mean that it was bad four years ago but I can say this is the best dressing room that I have felt in the last five years. Most of the guys have achieved a lot in their long Test careers.
"They enjoy their cricket and they enjoy each and every practice session. It feels a very complete dressing room, a very happy dressing room. A lot of credit must go to everyone, including each and every one of the support staff."
Dhoni said India's success in reaching number one on the Test rankings was based on attention to detail. "We focus on the small things, we prepare well, we make good plans and then we go out to execute those plans."
It is India's fifth Test tour of South Africa and Dhoni acknowledged: "It's a chance to create history. We did that when we won the first Test in Johannesburg in (December) 2006 when we won in South Africa for the first time.
"We have the talent and the temperament to achieve success in South Africa, although I always say it's not about the past, it's all about the next five days."
Dhoni said South Africa would be under some pressure. "They are feeling a bit of it because they are the home team and we won the last match."
South African captain Graeme Smith said his team needed to perform better than they did in the second Test in Durban, which India won by 87 runs. "We were not as focused as we should have been and we lacked a bit of discipline at key moments."
Smith said the main reason for the loss in Durban was the failure of the batsmen but he said he was confident they would bounce back. "We have had a lot of success as a batting unit but in Durban we seemed to lose our minds. We have spoken a lot about what needs to be done."
Unseasonal rain swept across Newlands on Saturday morning and South Africa were forced to cancel a scheduled practice although the sun came out later when it was India's turn to train.
There is a 30 percent possibility of more rain on Sunday morning but the weather is expected to be clear for the rest of the match.
Groundsman Evan Flint said he had hoped for a full day of sunshine to finalise his pitch preparation. "The pitch might be a bit slower and softer than usual at the start of the game but it should be a good batting wicket," he said.
Probable teams
South Africa - Graeme Smith, Alviro Petersen, Hashim Amla, Jacques Kallis, AB de Villiers, Ashwell Prince, Mark Boucher, Dale Steyn, Morne Morkel, Paul Harris, Lonwabo Tsotsobe.
India - Gautam Gambhir, Virender Sehwag, Rahul Dravid, Sachin Tendulkar, Vangipurappu Laxman, Cheteshwar Pujara, Mahendra Singh Dhoni, Harbhajan Singh, Zaheer Khan, Ishant Sharma, Shanthakumaran Sreesanth.
Follow Emirates 24|7 on Google News.