India v Australia 1st Test: Henriques delays India's victory bid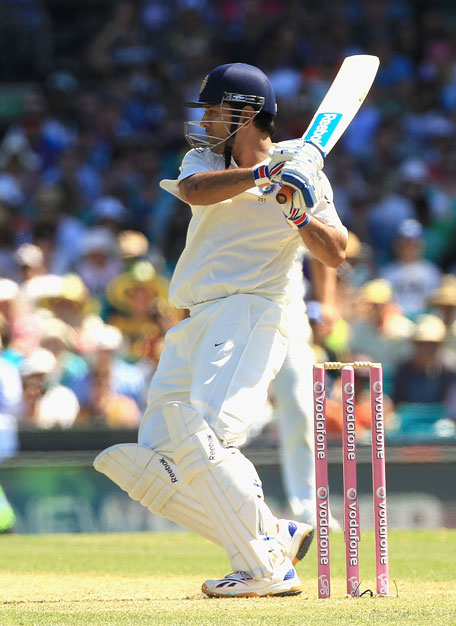 A defiant unbeaten half century by debutant Moises Henriques (75) during an unbroken last wicket stand of 57 with Nathan Lyon has delayed India's victory charge with Australia enjoying a lead of 40 runs.

Australia made 232-9 after 83 overs at stumps on the fourth day in their second innings after having bowled out India for 572 - a deficit of 192 - in the first Test at MA Chidambaram Stadium on Monday.

CLICK HERE FOR 'LIVE' REPORT OF DAY FIVE

India appeared to cruising to an innings victory inside four days but the last wicket pair had other ideas having come together when 17 runs were needed to make India bat again.

But Henriques showed character to spearhead a magnificent rearguard recovery which brought some respectability to their total and helped Australia avert the ignominy of an innings defeat with the help of some lusty blows from tailenders Pattinson, Starc and Lyon.

Henriques who completed his twin fifty by swatting Harbhajan for one of his two sixes, the other coming off Ashwin, faced 124 balls and hit six boundaries during his fighting knock.

Ravichandran Ashwin was the scourge of the Australians once again claiming five for 90 and match bag of 12 for 193 so far opening the attack after the spinners were thrown the new ball by Dhoni.

Harbhajan and Jadeja bowled in tandem with Ashwin to exploit the rough edges on a pitch which turned from day one to pick up two wickets apiece.

Earlier, a majestic double century by skipper MS Dhoni (224) gave India a matchwinning lead of 192 after the hosts were dismissed for 572 in the morning session.

The Australian batsmen displayed a positive approach with Shane Watson leading the way by hammering a six off Harbhajan as India employed an attacking field.

But his dismissal in the last ball before lunch with the ball looping in the air for Sehwag to take a catch running from slip off Ashwin gave an indication of what was to come in the remainder of the day.

Cowan (32) and David Warner (23) played watchfully while Clarke (31) batted aggressively as they made a bold bid to thwart India's victory charge.

Phillip Hughes fell for a duck caught by Sehwag as he hung his bat to avoid a nasty bounce from a Jadeja delivery.

But Ashwin perhaps put the final nail in the Australia coffin when he trapped the Australian skipper leg before.

It was all over bar the shouting after Australia half their batsmen for 121 followed by Clarke ten runs later.

But Henriques has fashioned a miraculous recovery and restored Australia's dented pride.

India took the second new with Australia on 216-9 but pacer Ishant Sharma failed to dislodge the last pair.

However, with three sessions remaining, he may have only delayed the inevitable which is an Indian victory.

AFTERNOON SESSION

Henriques has smashed Ashwin for a massive six over long on into the stands to bring up the 50 partnership for the 10th wicket with Lyon which has come in 97 balls.

Henriques has pulled a short delivery from Ashwin to the midwicket boundary and another to square leg off Jadeja in the next over as he continues to defy the Indian attack which has employed Ishant Sharma in a bid to mop up the innings.

Debutant Moises Henriques completes his second half century of the match in style hoisting Harbhajan for a six with a classic shot.

His half century came off 95 balls and contained four boundaries and a six.

Last man Lyon has driven Harbhajan for his second boundary as Australia overhauled the deficit of 192 and averted the humiliation of an innings defeat.

Nathan Lyon drives Harbhajan straight down the ground as Australia move within nine runs of making India bat again.

Ashwin has picked up his fifth wicket and has 12 for the match having figures of 7 for 102 and 5 for 73 so far.

Starc attempts another hefty blow off Ashwin but only succeeds in holing out to Tendulkar in the deep as Australia lose their ninth wicket.

Henriques has pulled Ashwin to square leg for his first boundary.

Mitchell Starc has hit a couple of lusty blows to through midwicket off Ashwin as Australia bid to avoid the humiliation of an innings defeat.

Ashwin has picked up his fourth wicket as Pattinson nicks one to Sehwag taking a low catch at slip after facing 26 balls for 11 and hitting one boundary.

He added 24 runs for the ninth wicket with Henriques in 45 balls.

Pattinson and Henriques survive close calls for leg before wicket from Harbhajan and Ashwin as India tighten the noose.

Pattinson has despatched a low full toss from Ashwin for a boundary through mid off.

India are scenting victory while Australia are battling to avoid an embarassing innings defeat still trailing by 55 runs with just three wickets in hand.

The end is in sight for Australia with Peter Siddle being bowled by Jadeja after surviving 20 balls for two runs.

Ashwin has struck a major blow trapping Australian skipper Michael Clarke leg before in the first over after the tea interval.

Clarke departs for 31 without any addition to the total in the third ball after the break.

The tourists are batting for survival with skipper Michael Clarke unbeaten on 31 off 50 balls with four boundaries and a six.
AFTERNOON SESSION

Debutant Moises Henriques has just joined him after Australia lost their top five batsmen.

India attacked with their spin trio of Ashwin, Harbhajan and Jadeja, all of whom picked up wickets.

Harbhajan strikes again bowling Mathew Wade who attempts to sweep but misses the line completely as Australia lose half their side still facing a deficit of 71 runs.

Wade made eight off 22 balls with one boundary.

Mathew Wade has swept Harbhajan to square leg for his first boundary.

Harbhajan strikes in the first over of a new spell with David Warner being adjudged leg before being rapped on the front pad playing a defensive shot.

Warner made 23 facing 61 balls with two boundaries adding 36 runs for the fourth wicket with Clarke.

There is a flurry of boundaries from Australia with Clarke following Warner by attacking Jadeja for a couple of boundaries through mid on and mid wicket punctuated by yet another unsuccessful lbw appeal.

David Warner gets his first boundary after facing 51 balls slamming Ashwin to mid wicket and sweeps him for another boundary to mid wicket.

Clarke shrugs off an appeal for leg before by whipping Jadeja through mid wicket for another boundary.

Michael Clarke has launched a counter attack by lofting Ashwin for a six over long-on and then swung him to midwicket for another boundary.

Ravindra Jadeja has struck with Phillip Hughes surving just three balls going for a duck caught by Sehwag to slip with the ball looping to him.

Ashwin strikes again trapping Cowan leg before for 32 after facing 97 balls which contained three boundaries.

Cowan survives a confident appeal for a catch behind off Harbhajan with the ball bouncing awkwardly before sweeping the off spinner two balls later to fine leg for his third boundary.

Ashwin strikes with the first over of his second spell in the last ball before lunch as Watson playing a defensive shot pops a catch to Sehwag who takes it comfortably running from slip.

Watson goes for 17 off 46 balls having hit a six off Harbhajan and driven the previous delivery from Ashwin to the mid off boundary.
It is a dramatic breakthrough for India who handed the new ball to the spin trio in the second innings on a deteriorating pitch which produced low awkward bounce and sharp turn.

India added 57 runs after continuing from their overnight 515-8 with Dhoni attacking before becoming Pattinson's fifth victim caught behind for 224.

Bhuvneshwar Kumar also hit out before being dismissed for 38.

Pattinson finished with the best figures of five for 96.
MORNING SESSION

Watson has whacked a six off Harbhajan who is straying in line having conceded four byes in the previous delivery.

Left arm spinner Ravindra Jadeja who Australia spin legend Shane Warne would be the key on this surface has replaced Ashwin who bowled five overs without success and begins with a maiden over.

Cowan has smacked a full toss from Ashwin to midwicket for his second boundary.

Cowan has swept Harbhajan to fine leg for the first boundary in the sixth over the Australian innings.

Left-hander Cowan survives a confident leg before appeal in Ashwin's second cover being rapped on the pads on the back foot.

This is perhaps the first time in Test history that two off spinners are opening the bowling in tandem, according to cricket statistician Mohandas Menon.

Harbhajan Singh playing his 100th Test has also been given the opportunity to make maximum use of the rough patches on the pitch as he opens bowling with Ashwin.

Australia open with Cowan and Shane Watson.

Off spinner Ravichandran Ashwin opens the attack with the new ball in a not so surprising move by Indian captain MS Dhoni.
Ashwin captured a career-best seven for 103 in the first innings.

India are all out for 572 after 154.3 overs continuing from their overnight total of 515-8 enjoying a first innings lead of 192 on day four of the first Test against Australia at MA Chidambaram Stadium in Chennai on Monday.

Bhuvneshwar Kumar is the last man out caught by Clarke at mid off off Peter Sidle having added 26 runs for the last wicket.

Kumar made 38 off 97 balls with four boundaries .

Pattinson had the best figures of five for 96 off 30 overs while Lyon finished with three for 215 from 47 overs.

Siddle and Henriques picked up a wicket each.

Bhuvneshwar Kumar has lofted Lyon over cover for his fourth boundary as the Indian tail wags.

Pattinson strikes to get his fifth wicket as Dhoni gloves a bouncer to be caught behind by Mathew Wade for 224.

Dhoni gets a standing ovation having made the highest score by an Indian captain surpassing the 217 made by Sachin Tendulkar.

Dhoni's epoch-making innings which was eight short of the highest by a wicket keeper came off 265 ball and containted 24 fours and six sixes.

Dhoni's ninth wicket partnership with Bhuvneshwar Kumar was worth 140 runs and the highest of the Indian innings.

There is no respite for Australia with Dhoni continuing his assault hammering Pattinson to the mid off fence for his 24th boundary.

Dhoni has swatted Lyon over long-on for his sixth hit over the ropes making his intentions clear.

Bhuvneshwar Kumar has edged Lyon past slip for a boundary to third man in the third over of the day.

MS Dhoni has opened with a reverse sweep to the vacant third man boundary off spinner in the second ball of day four.

India will aim to drive home the advantage when they resume on 515 for eight on day four, enjoying a first innings lead of 135, in the first Test against Australia at MA Chidambaram Stadium in Chennai on Monday.

Mahendra Singh Dhoni's epoch-making double century and Virat Kohli's patient century have given the hosts the upper hand.

CLICK HERE FOR REPORT OF DAY THREE

India scored 333 runs on day three to frustrate the Australian attack.

"Dhoni played brilliantly and it was unbelievable. Most of the younger players are in the sub-continent for the first time and we can learn a lot from the way the Indian batsmen played today. It is a learning curve," Wade told reporters after day's play.

"If we can take anything about the day today the last part of the innings and the partnership, there are runs in the pitch. I know that for sure. Of course the pitch will deteriorate and we expected it. We came here ten days before the Test and the pitch looked to be getting final finishes and we knew what is there for us," he added.

Bhuvneshwar Kumar's contribution of 16 in the record unbroken ninth wicket partnership with Dhoni of 109 is invaluable considering the fact that India have taken a significant lead.

Wade said their performance on Monday will have bearing on the outcome of the opening match of the four-Test series.

"If there is anything for us in this Test, it is coming tomorrow and getting those two wickets. If we take some quick wickets and bat on as long as we can, is important for us in the whole series. It is about how we back ourselves tomorrow as a team," he said.

Meanwhile, Indian off-spinner Ravichandran Ashwin has been fined 10 per cent of his match fee for breaching the ICC Code of Conduct relating to clothing and equipment while batting on the third day of the opening Test against Australia.

Ashwin, who grabbed a career-best 7-103, was imposed the sanction for wearing a batting pad, which had more manufacturers' logos than permitted under ICC rules, when he batted on the third day.

He was found to have breached Article 2.1.1 of the ICC Code of Conduct for Players and Player Support Personnel which relates to "breach of the ICC's Clothing and Equipment Regulations during an International Match".

"The player exceeded the permitted number of manufacturers' logos when he walked onto the field with four logos on the straps of his batting pads," a statement from the ICC said.

Ashwin accepted the Level 1 charge and the sanction proposed by Chris Broad of the Emirates Elite Panel of ICC Match Referees.

The charge against Ashwin was brought by on-field umpires Marais Erasmus and Kumar Dharmasena and third umpire Vineet Kulkarni.
Follow Emirates 24|7 on Google News.