India v Australia 1st Test: India win by 8 wickets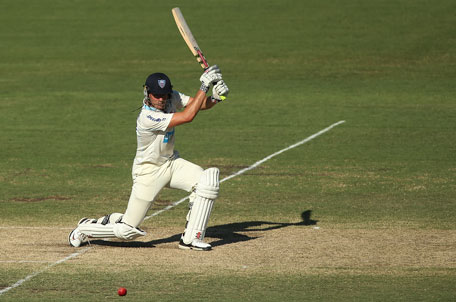 India romped to an eight-wicket victory with more than two sessions to spare on the fifth day of the first Test against Australia at MA Chidambaram Stadium on Tuesday.

India made 50-2 in 11.3 overs after being set a meagre target of 50 after having dismissed Australia for 241 on the fifth morning.

Pujara hit the winning run edging Lyon past keeper Wade after Tendulkar had been denied by Pattinson in the previous over as India took a 1-0 lead in the four-match Test series for the Border-Gavaskar trophy.

Chasing a meagre target of 50 after dismissing Australia for 241 in the second innings, India were home for lunch for the loss of Murali Vijay (6) and Virender Sehwag (19).
Tendulkar entertained the crowd by sweeping the first two balls he faced from Lyon over long on to remain unbeaten on 13.

Pujara was not out eight hitting the winning run.

Pattinson claimed one for 13 and Lyon one for 29.

Earlier, Lyon was the last man out for Australia with Murali Vijay at forward short leg holding bat-pad catch off Jadeja to end a defiant 66-run last wicket stand with Moises Henriques who remained unbeaten on 81.

Ashwin returned best figures of five for 95 to finish with a match haul of 12 for 198.

Australia captain Michael Clarke gave "full credit to India" especially Dhoni for his "oustanding" knock of 224.

"That innings changed the game from our perspective. And Ashin's bowling," said Clarke who is determined to bounce back in the next match.

"Moises' debut is a positive, but we have got to turn things around. Work hard in the nets and get ready for the next Test match in three days time," he said.

He was full of praise for the wicket.

"It was a good wicket. The wicket looked a lot worse than it played. In the second innings, it played tougher, but that's what you expect in the subcontinent. No excuses, we got outplayed," said Clarke.

Man of the match MS Dhoni who considers Chennai his second home praised the crowd for coming out in large numbers.

"I love the people out here. Fantastic crowd. Good to see people come for Test matches in India," said Dhoni to thundering roars.

Asked what was going through his mind when he launched an assault to play one of the greatest innings ever seen in on Indian soil, Dhoni said: "It was important to play some shots. If you have those extra catching fielders, you might make one mistake and end your innings. I had to play a few shots to try and spread the field."

He noted that the partnerships between Tendulkar and Pujara and Tendulkar and Kohli in particular as being crucial to lay the platform for India's massive total.

"Ashwin bowled brilliantly. In the second innings, he was well supported by Bhajji. Ashwin stuck with his offspinners, which was good. He was willing to bowl in one area, and that's a big positive," he said of Ashwin's matchwinning performance of 12 for 198.

Dhoni felt it was important to be focussed especially what happened against England when they won the first Test but lost the series.

"At the same time it is important that the bowlers take some time off now," he said.

But India's World Cup winning captain was modest when asked whether he ever dreamt of scoring a double hundred.

"I had never even dreamt of playing for the country. Let's just keep it simple," said Dhoni.
MORNING SESSION

Pattinson hurtled down a maiden over to Tendulkar.

Sachin Tendulkar delighted the crowd by whacking two sixes to long on off the first two balls he faced from Lyon as India are racing to victory.

Sehwag is gone for 19 off 23 balls with three boundaries caught by Clarke at slip off Lyon.

Sehwag has driven an overpitched delivery from Peter Siddle straight down the ground for his third boundary.

Sehwag has slashed a widish delivery from Pattinson over the slip cordon for another boundary to third man.

Pattinson strikes as Murali Vijay drives uppishly for Henriques at mid off to take a well judged overhead catch.

Vijay departs for 6 off 12 balls having hit a six.

Sehwag has deliberately edged Pattinson past slips to third man for his first boundary.

Murali Vijay has stepped down the track and blasted Lyon for a six.

Nathan Lyon opens the attack from the other end and Virender Sehwag flicks the first delivery off his pads for a single.

Murali Vijay does well to avoid a snorter from James Pattinson first ball which runs for four byes as India beging chasing the target of 50.

HENRIQUES DELAYS INDIA'S VICTORY BID

Australia are all out for 241 after 93 overs continuing from their overnight 232-9 on the fifth day in their second innings enjoying a lead of 49 in the first Test against India at MA Chidambaram Stadium on Tuesday.

Jadeja strikes in the ninth over of the fifth morning having Lyon caught by Murali Vijay at short leg as Australia are dismissed for 241 leaving India a target of 50 to win the first Test.

Henriques remained unbeaten on 81 off 148 balls hitting six boundaries and two sixes.

Lyon made 11 off 77 balls with boundaries and more significantly added 66 runs in 27.1 overs which helped Australia avert the ignominy of an innings defeat.

Ravindra Jadeja opens with a maiden to Henriques while Ashwin also bowls a maiden to Nathan Lyon.

Jadeja finished with figures of three for 72, Harbhajan two for 55 and Ashwin five for 95 and a match bag of 12 for 198.

A defiant unbeaten half century by debutant Moises Henriques (75) during an unbroken last wicket stand of 57 with Nathan Lyon has delayed India's victory charge.
"I thought Nathan did a fantastic job and if he can keep batting like that and I can squeeze out a few more tomorrow, 100, 150, 200, we won't be stopping or setting targets," Henriques told reporters.

The deadly wicket didn't make things any easier for Henriques.

"It's a very tough wicket to start on, especially against quality spin bowling. I had a couple of balls hit my glove early on.

"I was just lucky that those balls went straight to ground. It did get easier the more time you spent out there, but the ball does misbehave out of the rough."


Follow Emirates 24|7 on Google News.