India vs New Zealand 1st Test, Day 1: Kiwis eye big total after McCullum, Williamson tons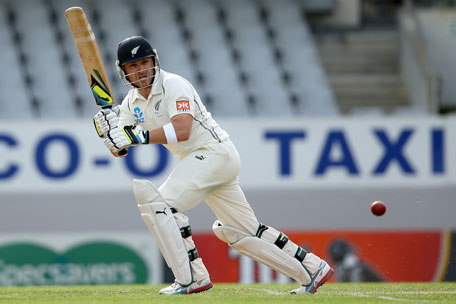 Captain Brendon McCullum and Kane Williamson scored centuries to resurrect New Zealand's innings after they lost three early wickets to put them in a strong position on 329 for four at the end of the first day of the first Test at Eden Park on Thursday.

McCullum was 143 not out at the close of play, his eighth Test century, while Williamson was dismissed after tea for 113, his fifth Test hundred.

The pair combined for a 221-run partnership after the hosts had been reduced to 30 for three early in the first session when India captain Mahendra Singh Dhoni had won his sixth successive toss on tour and put New Zealand into bat.

All-rounder Corey Anderson (42) was with McCullum at the close of play with Ishant Sharma and Zaheer Khan taking two wickets each.
"It was pretty tricky early on for the openers so to get through that period and kick on in partnership with Brendon was fantastic," Williamson told RadioSport.

"It's nice to put the score on the board ... but the most pleasing thing was getting the innings back on track.

"It's a very good batting track so we need to keep batting ... and make sure that we have a really good innings to bowl at."

EARLY BREAKTHROUGHS

Dhoni's three-pronged pace attack of Mohammed Shami, Zaheer Khan and Ishant Sharma exploited the green drop-in pitch and cool, overcast conditions to knock the top off New Zealand's batting and expose their middle order before the break.

Sharma had Hamish Rutherford well caught by a diving Ajinkya Rahane in the gully for six then Zaheer trapped Peter Fulton in front for 13 before Sharma had Ross Taylor caught by Ravindra Jadeja for three.

Taylor's dismissal put the hosts in a spot of bother before Williamson and McCullum consolidated, adding another 24 runs before lunch.

India's bowlers were unable to sustain their disciplined line and length after lunch and were punished for bowling too short or too full, while their fielding, especially catching, was sub-standard.

The New Zealand pair seized on the inconsistency and while the 23-year-old Williamson was dropped on 32 by Murali Vijay at first slip off Shami shortly after lunch, their counter-attacking style wore down the threadbare Indian attack.

The pair scored 125 runs in 27 overs in the middle session as Dhoni became more defensive in his field placings, pushing fielders deeper and wider, which allowed New Zealand to keep the scoreboard ticking over with easy singles.

They appeared to be in a personal race after tea to reach their century first with virtually identical strike rates before McCullum pulled away in the 90s and belted the first six of his innings to bring up the milestone off 135 balls.

Williamson accumulated through the 90s before he punched Ravindra Jadeja through extra cover for two runs to bring up his century and continue a golden run of form.

The right-hander has scored 817 runs at an average of 54.46 in the 10 test matches in the past 12 months with two centuries and seven half centuries.

He was eventually dismissed when he glanced an innocuous Zaheer delivery to Dhoni down the leg side before McCullum and Anderson put on an unbroken 78-run partnership with the hosts looking well set to push on to a first innings total in excess of 400 on Friday.

"It's an outstanding position, we just have to make sure that we push on," McCullum told Sky Television.

"Kane was brilliant today, he's such a mature guy for someone so young. He was outstanding to bat with and took a lot of pressure off me."

EVENING SESSION

Brendon McCullum and Kane Williamson scored centuries to ensure New Zealand finished day one on a superb 329 for four in 90 overs of the first Test in Auckland.

India after putting the hosts to bat were in command early in the day when Ishant Sharma and Zaheer Khan toppled the top three wickets.

But McCullum scored 143 not out while Williamson hit 113 as the duo shared a 221-run stand to give New Zealand the first day honours.

Both Ishant and Zaheer finished with two-wicket hauls.

Partnership between McCullum and Anderson crosses 50 as New Zealand cross the 300-run mark. New Zealand looks to be in commanding position. NZ 306-4 in 84 overs.

McCullum at his aggressive best. Gets his second six to reach 125. He has taken just 177 balls for his innings. NZ 278-4 in 76 overs.

Zaheer Khan provides the break. A rather timid way to get out for Williamson after a great knock. He has put New Zealand in a fine position. NZ 251-4 in 68.1 overs.

K Williamson c Dhoni b Khan 113 (172b 10x4 2x6)

New Zealand cross 250 with still both the batsmen going strong. Their partnership already has reached 221 runs. NZ 251-3 in 68 overs

A splendid innings from Williamson. Both he and McCullum have added 203 runs for the fourth wicket. NZ 233-3 in 60 overs.

A stunning knock from McCullum as he celebrates a brilliant century. What a way to reach his century/ Huge six/ It came when Kiwis needed the most after an early morning collapse. NZ 225-3 in 58 overs.

Williamson on 79 while Brendon McCullum on 71 as the duo added 149 runs for the fourth wicket to ensure New Zealand reached a superb 179-3 in 51 overs.

After the early three wickets, the Indian bowlers have finding it tough to penetrate through the Kiwis batsmen.

AFTERNOON SESSION

Shami is not happy there. A fine edge of his bowling and its dropped by Vijay at the slips. NZ 78-3 in 29 overs.

No surprises immediately after lunch. McCullum and Williamson are going fine at the moment. NZ 74-3 in 28 overs.

MORNING SESSION

New Zealand lost three quick wickets to reach 54 in 24 overs at lunch after they were asked to bat on the first day of the first Test against India.

Fast bowler Ishant Sharma claimed two wickets while Zaheer picked the other.

Kane Williamson is batting on 22 while Brendon McCullum is on five not out.

Dhoni brings in the spinner. Jadeja prepares to bowl. NZ 54-3 in 24 overs.

Brendon McCullum in the middle. He will be looking to push for some quick runs though he needs to be cautious. NZ 40-3 in 20 overs.

Ishant Sharma takes his second. It's the big wicket of Ross Taylor. India clearly in the driving seat here. Great comeback from the visitors after the ODI drubbing. NZ 34-3 in 18 overs.

Ross Taylor c Jadeja b I Sharma 3 (15b 0x4 0x6)

New Zealand is scoring at just less than two runs an over. It's been brilliant bowling from the fast bowlers as they continue to keep up the pressure. NZ 29-2 in 16 overs.

Zaheer strikes and Fulton this time is gone trapped in front. Brilliant stuff from India. NZ 23-2 in 12.1 overs.

P Fulton lbw b Khan 13 (35b 2x4 0x6) SR: 37.14

Ishant Sharma gets the first wicket. It was coming as the Indian pacers were generating a good bounce on a lively wicket. A great catch at the slips. NZ 19-1 in 10 overs.

H Rutherford c Rahane b I Sharma 6 (30b 1x4 0x6)

There is lot of bounce and pace but the Kiwi openers have been very cautious. NZ 12-0 in 5 overs.

Zaheer's first ball takes the edge of Fulton and it's dropped in the slips by Dhawan. That's terrible for India.

Zaheer takes charge

It will be a real test of patience for the New Zealand batsmen as the wicket certainly looks to favour the pacers. Shami bowled a good first over. NZ 1-0 in 1 over.

Shami opens the attack for India as Fulton and Rutherford start New Zealand innings.

Action should begin in about five minute.

Playing XI:

New Zealand: Corey Anderson, Trent Boult, Peter Fulton, Brendon McCullum, Hamish Rutherford, Ish Sodhi, Tim Southee, Ross Taylor, Neil Wagner, Bradely-John Watling, Kane Williamson

India: Shikar Dhawan, Mahendra Singh Dhoni, Ravindra Jadeja, Zaheer Khan, Virat Kohli, Mohammed Shami, Cheteshwar Pujara, Ajinkya Rahane, Ishant Sharma, Rohit Sharma, Murali Vijay

Good news coming in. They have removed the covers and toss can be expected in a while.

PREVIEW

India would seek a turnaround in fortunes when they take on a buoyant New Zealand in the opening match of a two-Test series starting on Thursday.

After suffering an embarassing 4-0 rout in the one-day series and surrendering their top-ranked ODI status, India will aim to bounce back in the Test series.

But New Zealand are unlikely to let up and continue to attack India with short-pitched stuff.

India have not won any of their last away Tests, losing to South Africa in their last outing.

Pace bowler Zaheer Khan and batsmen Murali Vijay and Cheteshwar Pujara are likely to be the only new faces in the Tests.

Pujara, boasting an impressive average of 66.25 from his 28 Test innings, will add much needed solidity to the batting line up.

New Zealand captain Brendon McCullum was unfazed by the huge gulf in the rankings between the two sides, where India are second to New Zealand's lowly eighth.

"We know how tough a challenge it is but we've got a quiet confidence that if we continue to bowl and field as well as we have done this summer then we can expose some of the not-so-strong aspects of their game," he said.
Follow Emirates 24|7 on Google News.