India vs New Zealand 3rd ODI: Jadeja helps India pull off dramatic tie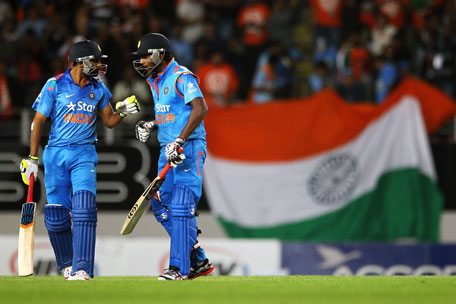 Ravindra Jadeja kept India's one-day series against New Zealand alive as the tourists took 17 off the final over to tie an epic third match in the series at Eden Park Saturday.

New Zealand were on the verge of sealing an historic series win over the world champions, after making 314 and then removing the cream of India's batting talent to have the tourists at 184-6 with less than 15 overs remaining.

But Jadeja, who finished unbeaten on 66, and Ravi Ashwin who posted a career-best 65, ensured India stayed in the game.

Between them they put on 85 runs in 55 balls for the seventh wicket before Ashwin fell to a spectacular catch by New Zealand century-maker Martin Guptill, leaving Jadeja to get India to the end as the tail-end batsmen fell around him.

Despite Jadeja's heroics, India captain Mahendra Singh Dhoni felt his side wasted an opportunity to seal a victory.

"You're supposed to pick situations where we could have closed the game quite comprehensively. Those were the situations that we didn't grab and there were a few of our batsmen who could have done that so that's a bit disappointing," he said.

"But (it's also a) good result because it keeps us alive in the series. We can't win it but we can go for a draw."

New Zealand, who won the first two matches, need to win one more to claim the series victory, while India need to win the remaining two matches to draw.

All-rounder Corey Anderson, who finished with five for 63, had the role of bowling the final over to India and could not contain Jadeja who belted two fours, a six and a single to go with two wides.

Three overs from the end, New Zealand believed they had Jadeja caught behind but umpire Rod Tucker turned down the appeal even though replays indicated the ball touched the bat.

New Zealand, who lost the toss for the third time, were sent into bat on a fast-paced wicket and were all out for 314 on the last ball of an innings built around Guptill's 111.

Guptill and Kane Williamson featured in a 153-run stand for the second wicket and when it was broken in the 33rd over with the removal of Williamson (65) New Zealand felt confident enough to promote big-hitting Anderson up the order.

But the move did not pay off. Anderson went for eight and was quickly followed by Guptill, then Brendon McCullum (nought) and New Zealand were 230 for five.

Ross Taylor (17) and Luke Ronchi (38) staged a minor recovery but when Taylor was run out it sparked a collapse in which New Zealand lost four wickets over 18 runs.

At 288-9 it was left to some lusty hitting by Tim Southee to get New Zealand over the 300 mark before he was run out on the last ball.

India had a scare at the start of their reply when Rohit Sharma was dropped by Jesse Ryder at second slip before they comfortably progressed to 64 without loss after nine overs.

However, the momentum switched with a bowling change which saw Anderson remove Shikhar Dhawan (28) and Sharma (39) while Hamish Bennett, back in the New Zealand side after a three-year absence, removed Virat Kohli for six.

Suresh Raina (31) and Dhoni (50) carried India through to 184 at the start of the batting power play.

With the removal of Dhoni there was reason for New Zealand to sense they were in command, but Jadeja with his 66 of 45 deliveries, including four sixes and five fours, kept India in the game.

INDIA INNINGS

Ravindra Jadeja played an amazing knock to ensure India managed to tie the third ODI with New Zealand to keep the ODI series hopes alive.

India needed 18 runs off the last over with just one wicket remaining. Jadeja scored a two boundaries and a six but could manage just a single in the last ball to ensure a tie.

Earlier, Ravichandran Ashwin scored a fine 65 while skipper Mahendra Singh Dhoni hit 50.

For New Zealand Corey Anderson picked five wickets while Hamish Bennett took two.

Shami is out as Anderson picks up his fifth wicket. Brilliant bowling as India stare at another loss. Ind 286-9 in 47.5 overs.

Mohammed Shami c Williamson b Anderson 2 (7b 0x4 0x6)

India are 284-8 in 47 overs.

India lose one more as Kumar is out. It's only Jadeja now. Ind 275-8 in 45.4 overs.

Bhuvneshwar Kumar c N McCullum b Bennett 4 (3b 1x4 0x6)

Good thinking from Guptill in the deep as he manages to pull off a stunning catch. Ashwin goes as India are 269-7 in 44.5 overs.

Ravichandran Ashwin c Guptill b N McCullum 65 (46b 8x4 1x6)

Ashwin on 57 and Jadeja on 32. Ind 261-6 in 44 overs.

India are 254-6 in 43 overs.

Partnership between the two reaches 65. India's hope relies on this pair. Ind 249-6 in 42 overs.

A fine boundary takes Ashwin to half century. A timely knock and he has to stay there till the end. Ind 239-6 in 41 overs.

Jadeja and Ashwin share a 47-run partnership and are looking good. Ashwin is already on 45 while Jadeja is batting on 18. Ind 231-6 in 40 overs.

A brilliant catch from Southee and India are in serious trouble. Dhoni is gone. Ind 186-6 in 36 overs.

MS Dhoni c Southee b Anderson 50 (60b 2x4 3x6)

Batting powerplay taken. India should hope to make good use of this five overs. Ind 177-5 in 35 overs.

India need another 146 runs from 102 balls. Dhoni is battling it out at 43 while Ashwin is providing him support on 11. Ind 169-5 in 33 overs.

India lose an important wicket of Raina. This can put them in trouble with only Dhoni having left to fight the battle. Ind 148-5 in 28 overs.

Suresh Raina c Ronchi b Southee 31 (39b 3x4 0x6)

Dhoni is showing great form as he smashes his second six to race to 25 off 24 balls. Ind 123-4 in 24 overs.

India need 212 from 29 overs. This partnership between Raina and Dhoni will be crucial. Ind 103-4 in 21 overs.

India in trouble here. Rahane goes in similar fashion as Anderson picks his third wicket. Ind 79-4 in 17.4 overs.

Ajinkya Rahane c Ronchi b Anderson 3 (14b 0x4 0x6)

That's the big wicket for the Kiwis. Kohli is gone. He does not look happy there but there was a clear sound. Ind 74-3 in 14.5 overs.

Virat Kohli c Ronchi b Bennett 6 (20b 1x4 0x6)

With runs not coming, Sharma goes for big shots and does not succeed. Offers an easy catch at third man to Bennett. Ind 72-2 in 13.1 overs.

Rohit Sharma c Bennett b Anderson 39 (38b 1x4 4x6)

India need another 243 to win from 37 overs. Ind 72-1 in 13 overs.

India lose their first wicket. Top catch from Guptill in the deep as Dhawan returns. Ind 64-1 in 9.2 overs.

Shikhar Dhawan c Guptill b Anderson 28 (25b 4x4 1x6)

Sharma continues to attack the Kiwis bowlers. He already has hit four sixes to reach 36. Ind 55-0 in 8 overs.

Two sixes from Sharma and India race to 38-0 in 6 overs.

Sharma gets a reprieve early in the innings. The ball takes an edge and travels too fast to the slips. Ind 3-0 in 1 over.

Rohit Sharma and Shikar Dhawan prepare to bat as Southee bowls.

NEW ZEALAND INNINGS

Opener Martin Guptill hammered a brilliant century while Kane Williamson scored a gritty 65 as New Zealand scored a huge 314 in 50 overs.

India have a big task on hand as they are in a must-win situation if they have to save the series.

Luke Ronchi (38) and Tim Southee (27) were the other quick contributors.

For India, Mohammad Shami and Ravindra Jadeja took two each.

Southee falls in the final ball of the innings, but not before doing a fantastic job to give Kiwis a superb score. NZ 315 all out in 50 overs.

Tim Southee run out 27 (23b 1x4 3x6)

Shami picks his second wicket and McClenaghan goes without much fuss. NZ 295-9 in 48 overs.

Mathew McClenaghan c Jadeja b Mohammed Shami 3 (6b 0x4 0x6)

India take another and this time the dangerman is gone. Jadeja picks up the wicket of Ronchi. NZ 280-8 in 44 overs.

Luke Ronchi c Rahane b Jadeja 38 (20b 3x4 3x6)

Another run out and McCullum has to walk back for just one. Good work from Jadeja. NZ 280-7 in 43.5 overs.

Nathan McCullum run out 1 (3b 0x4 0x6)

India finally get a direct hit to the stumps and a wicket as well. A brilliant throw from Rahane meant Taylor is caught short of crease. On the other side, Ronchi is unstoppable as he continues to hammer the Indian bowlers. He is on 36 from only 17 balls. NZ 277-6 in 43 overs.

Ross Taylor run out 17 (18b 2x4 0x6)

Ronchi takes on Aaron to smash three boundaries. A great over for New Zealand. NZ 249-5 in 41 overs.

Brendon McCullum is gone and India looks to be taking control. NZ 231-5 in 39 overs.

Brendon McCullum c Ashwin b Aaron 0 (3b 0x4 0x6)

A brilliant catch from Rahane in the deep and Guptill is gone. He was scoring at ease after his century. NZ 224-4 in 37.2 overs.

Martin Guptill c Rahane b Jadeja 111 (129b 12x4 2x6)

Guptill gets his century from 123 balls that includes 11 boundaries and a six. NZ 210-3 in 36 overs.

Two boundaries from Guptill takes him to 99. NZ 209-3 in 35 overs.

Ashwin gives another quick one for India as dangerman Anderson goes. Again a bowled. NZ 198-3 in 34 overs.

Corey Anderson b Ashwin 8 (5b 0x4 1x6)

A fine partnership comes to an end as Shami removes Williamson. NZ 190-2 in 33 overs.

Kane Williamson b Mohammed Shami 65 (74b 4x4 1x6)

Eventful over. Williamson is dropped by Raina at silly mid-on. Guptill hammers a six and a boundary. NZ 180-1 in 31 overs.

Partnership reaches 129 for Guptill and Williamson. It's been a big one for New Zealand who are looking strong for a huge total. NZ 165-1 in 30 overs.

Williamson reaches to his well earned half century. NZ 153-1 in 28 overs.

Two boundaries from Guptill as he reaches 64 from 90 deliveries. NZ 150-1 in 27 overs.

Guptill gets to his half century with a fine boundary. NZ 131-1 in 25 overs.

Guptill on 40 while Williamson reaches 29. NZ 107-1 in 21 overs.

Jadeja has conceded only 19 runs from his five overs while Ashwin at the other end has given away 13 from his three overs. NZ 96-1 in 19 overs.

Partnership crosses 50 after Williamson gets a boundary. NZ 92-1 in 18 overs.

Spinners doing a good job for India. NZ 81-1 in 16 overs.

Solid start from Ashwin. Just two runs in his first over. NZ 75-1 in 14 overs.

Boundaries have dried up. Good comeback by the Indian bowlers. NZ 73-1 in 13 overs.

New Zealand 68-1 in 12 overs.

Dhoni brings in spin. Jadeja begins with a fine over. Just four runs off it. NZ 61-1 in 11 overs.

Good bowling from the Indian pacers has put pressure on the Kiwi batsmen. They are inviting trouble taking cheeky singles. NZ 57-1 in 10 overs.

Another fine over from Bhuvneshwar Kumar. Just two runs off it. NZ 53-1 in 9 overs.

Kiwis cross 50. Guptill on 13. NZ 51-1 in 8 overs

Bhuvneshwar Kumar bowling a great over. NZ 45-1 in 7 overs

Shami keeps up the good work. Indian bowlers keeping a check on the runs. NZ 43-1 in 6 overs.

Brilliant bowling from Bhuvneshwar Kumar. Gets the important wicket of Ryder, who was going in full swing. NZ 36-1 in 4.2 overs.

Jesse Ryder b Kumar 20 (12b 4x4 0x6)

Boundaries coming freely here. Couple more from Ryder off Shami as New Zealand build a strong foundation. India look for an early wicket. NZ 32-0 in 4 overs.

Another good over from Bhuvneshwar Kumar except for that lone boundary. NZ 23-0 in 3 overs.

Shami bowled a fine over but for the wide delivery that beat the wicketkeeper to the boundary. NZ 17-0 in 2 overs.

Two boundaries off the first over from Guptill and New Zealand off to a bright start. NZ 8-0 in 1 over.

Guptill and Ryder open for New Zealand as Bhuvneshwar Kumar bowls for India.

India prefer to chase in the crucial tie against New Zealand.

Playing XI:

New Zealand: Martin Guptill, Jesse Ryder, Kane Williamson, Ross Taylor, Brendon McCullum, Corey Anderson, Luke Ronchi, Nathan McCullum, Hamish Bennett, Tim Southee, MMitchell McClenaghan/

India: Shikhar Dhawan, Rohit Sharma, Virat Kohli, Suresh Raina, Ajinkya Rahane, Mahendra Singh Dhoni, Ravindra Jadeja, Ravichandran Ashwin, Bhuvneshwar Kumar, Varun Aaron, Mohammed Shami.

PREVIEW

Fired-up New Zealand are confident they can secure a third successive victory against powerful India in Auckland on Saturday and wrap up the one-day international series with two matches to spare.

The tourists arrived in New Zealand top of the world rankings but were beaten by 24 runs in the series opener in Napier and went down by 15 runs under the Duckworth-Lewis method in Hamilton.

The back-to-back losses have cost India their top ranking - taken by Australia - while a win for New Zealand in Auckland would lift the hosts above the West Indies and into seventh place.

"That's two of the best team performances we've had for a long time and to back it up game after game is what good sides do. They perform consistently and that's where we're aiming to be," said senior bowler Tim Southee.

"We've showed glimpses in the past but we needed consistency. It's not just individuals standing up, it's everyone standing up at different times. That's the sign of a good side, not relying on the same people every game."

The New Zealand blueprint calls for the team to go into the final 15 overs with seven wickets in hand.

It means Jesse Ryder and Martin Guptill can charge at the start of the innings, leaving Kane Williamson and Ross Taylor to consolidate before unleashing the big-hitting Corey Anderson, Brendon McCullum and Luke Ronchi.

The bowlers have a licence to attack, and while it may cost them runs it does produce wickets, particularly with India's senior batsmen struggling against short-pitched deliveries.

Indian captain Mahendra Singh Dhoni has said his side will not shelve the troublesome hook shot and suggested that in Wednesday's second game in Hamilton, the lack of a good start to the innings from openers Shikhar Dhawan and Rohit Sharma cost his team.

"The openers should have carried on for a bit longer, played a few more shots and scored a few more runs," he said.

Virat Kohli, coming in at first wicket down, is the danger man for India, with scores of 123 and 78 in the first two games.

"He's one of the best, if not the best one-day player going around. In the first two games he adapted to conditions quickly and we know we've got our work cut out," said Southee.

Taylor issued a simple tweet on how the New Zealanders felt about the Indian star: "Anyone got any ideas on how to get Kohli out before he gets to 50?"

Follow Emirates 24|7 on Google News.