Indian team most fragile in the world: Oz keeper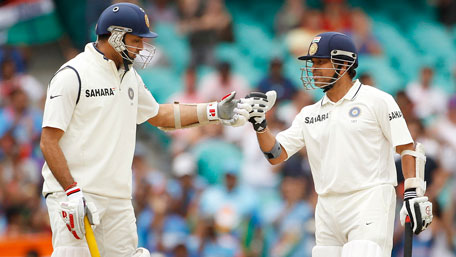 Australian vice-captain Brad Haddin has taken aim at struggling India, saying the tourists "break quicker than anyone in the world" and turn on each other when things are not going their way.
Wicketkeeper Haddin turned up the heat on India, trailing 2-0 ahead of Friday's third Test in Perth, by revealing that Australia had discussed the tourists' mental frailties.
India were crushed by an innings and 68 runs in last week's second Test in Sydney after losing the series opener in Melbourne by 122 runs.
Australian captain Michael Clarke scored 329 not out, and Ricky Ponting and Michael Hussey hit centuries as Australia kept the Indians slaving in the field for almost 11 hours in amassing 659 for four declared in Sydney.
"We spoke about a bit of that when we were batting," Haddin was quoted as saying in the Sydney Morning Herald.
"The longer we could keep them out on the field the bigger chance we had of breaking them.
"We know this side can be as fragile as any team in the world if things aren't going their way and they can turn on each other and the media turns on them pretty quick.
"We knew if we could keep them out there and put the numbers like we did on the board we knew we'd get the rewards because they break quicker than anyone in the world."
Fast bowler Ryan Harris, expected to play in Perth for the injured James Pattinson, has also said India were "down and out already" and being torn apart by internal divisions.
Former players and captains have criticised the Indian team's performance with the latest focus on senior batsman V.V.S. Laxman.
Former Indian batsman Sanjay Manjrekar believes Laxman, 37, should be dropped at the WACA ground, allowing for a Test debut for Rohit Sharma in the middle order and for Virat Kohli to retain his place.
Haddin also indicated Australia had detected a weakness in Sachin Tendulkar, whose quest for a 100th international hundred will resume in Perth.
Tendulkar has been the standout Indian batsman in the first two Tests, making 226 runs at an average of 56.5, but he is still short of that elusive milestone.
"What we have found is if we can build enough pressure on him he wants to score and he wants to feel bat on ball and he wants to get into a rhythm," Haddin said.
"We find if we can push him a little wider, make him feel for the ball a bit we can build enough pressure to get a chance and it's worked in the last two Tests."
Haddin told a radio sports programme that paceman Peter Siddle had the ability to get under Tendulkar's skin.
Siddle dismissed him twice at the MCG before Pattinson and Clarke removed the 38-year-old legend in Sydney.
"We've found he can be a bit uncomfortable in the areas Siddle's been bowling to him," Haddin said.
"I knew if we could build enough pressure we can create a chance to get him. He's a great player and it's always a privilege to play against guys like this.
"There's been a lot of talk about his hundredth hundred but from our point of view it's our job to make sure he doesn't get it this series."
Follow Emirates 24|7 on Google News.