IPL: India's Jadeja lands $2.0 million jackpot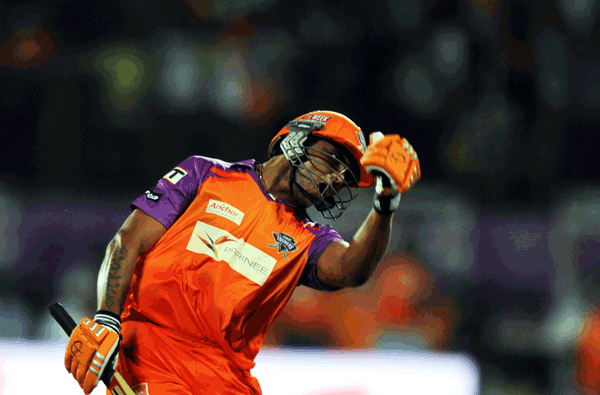 Young India all-rounder Ravindra Jadeja was sold for ê2 million at the Indian Premier League auction in Bangalore on Saturday, but a host of big-name stars missed out.
Reigning IPL champions Chennai Super Kings, owned by Indian cricket chief Narayanaswamy Srinivasan, bagged the 23-year-old Jadeja after an intense bidding war with Deccan Chargers.
Jadeja joins India colleagues Gautam Gambhir, Yusuf Pathan, Robin Uthappa and Rohit Sharma in the $2-million-a-year bracket in the money-spinning Twenty20 league.
Just 17 of the 144 foreign and Indian players who had thrown their hat in the ring found favour with the franchises in the morning session of the auction, which was restricted to players not already aligned to any team.
Among the chief gainers were Sri Lankan captain Mahela Jayawardene, bought by Delhi Daredevils for ê1.4 million, and Indian seamer Vinay Kumar, who fetched ê1.0 million from Royal Challengers Bangalore.
New Zealand wicket-keeper Brendon McCullum went to Kolkata Knight Riders for ê900,000, while 41-year-old Australian spinner Brad Hogg was picked up by Rajasthan Royals for ê180,000.
A bigger surprise, however, was the list of players who missed out.
There were no takers for England's James Anderson, Graeme Swann, Ian Bell, Matt Prior and Ravi Bopara.
Veteran Indian batsman Venkatsai Laxman, struggling to retain his place in the Indian Test team, was also unsold. Even in-form Australian fast bowler Peter Siddle was ignored.
Jadeja, Jayawardene, Kumar and McCullum belonged to the now-defunct Kochi Tuskers franchise, which played in last year's tournament before being thrown out of the IPL in September for non-payment of dues.
The franchises spent money to strengthen their line-ups ahead of the fifth edition of the IPL which will be played between April 4 and May 27.
Much depended on the availability of the players for the seven-week 76-match tournament.
England's international players will not be available for more than a month, since their tour of Sri Lanka ends on April 7 and is followed by a home series against the West Indies starting in mid-May.
The leading Australians can join the IPL only after their tour of the West Indies finishes on April 27.
The auction is being held in the shadow of the withdrawal of the Sahara group, sponsors of Team India and owners of the Pune Warriors franchise, from their association with Indian cricket earlier on Saturday.
Sahara, which cited a "one-sided emotional relationship" with the Board of Control for Cricket in India (BCCI) for their decision, did not take part in the auction.
It remained to be seen if Pune's withdrawal will leave eight teams in the fray for this year's tournament.
"It's unfortunate," said IPL chairman Rajiv Shukla of Sahara's decision, but insisted the tournament will go ahead as scheduled.
"They haven't sent us anything in writing. So I can't comment right now. But the IPL will continue. The show always goes on." AFP
Follow Emirates 24|7 on Google News.