IPL6 fixing scandal: Modi accuses Dhoni of 'cover-up', calls for life ban on Srinivasan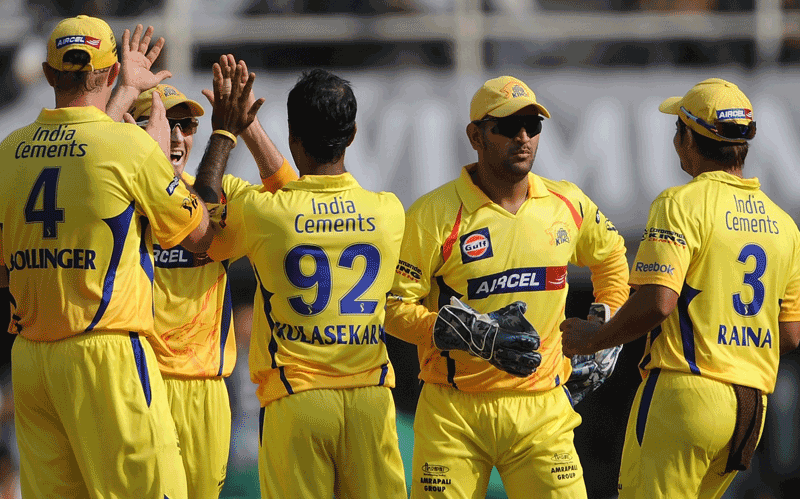 Former IPL commissioner Lalit Modi on Monday accused Chennai Super Kings (CSK) skipper MS Dhoni of being involved in the cover-up of the incidents after the Supreme Court appointed Justice Mudgal Committee indicted CSK principal Gurunath Meiyappan of illegal betting during IPL six, Times of India reported.

"Dhoni is also involved in the cover-up," Modi said during an interview with CNN-IBN from London.

Dhoni had earlier said that Meiyappan had nothing to do with cricketing affairs of CSK.

The Mudgal report indirectly slammed Dhoni for owning a stake in player agencies and being an employee of India Cements, which owns the CSK franchise.

Dhoni last year found himself courting controversy when it emerged that he had a stake in Rhiti Sports.

The company also manages Suresh Raina, Ravindra Jadeja and Pragyan Ojha, besides the Indian captain.

The firm subsequently clarified that Dhoni was a shareholder for only a brief period and currently had no stake in the company.

The report also criticised Dhoni's official position as a vice-president in India Cements, saying such hirings should be "avoided".

Besides accusing Dhoni, Modi asked for life ban of BCCI (Indian cricket board) president N Srinvasan and scrapping of CSK from IPL.

"Srinivasan has brought disrepute to the game, he should be banned from entering any sport and it's high time this man is banned from the BCCI," said Modi.

Srinivasan had defended Meiyappan, calling him merely a "cricket enthusiast".

"Glad to see that Justice Mudgal report - confirms just what I had been saying. Life ban on all connected is a must. So I guess Srini's 2 day victory as future warlord of cricket was short lived," Modi tweeted.

"Waiting to get copy of report before commenting. But if CSK owners are caught betting and fixing team needs to be annulled as per rules," he added.

His lawyer Mehmud Abdi echoed his client's sentiment. "For CSK team to underperform, it would have required direct involvement of CSK boss N Srinivasan as most of the players in CSK are employees of India Cements and under direct influence and control of Srinivasan who can also make or break their career in BCCI itself," he said.

The report says allegations of betting and passing of information against Gurunath Meiyappan, who was the Team Principal of CSK, stand proved.
CHENNAI-RAJASTHAN TIE

Meanwhile, the report has recommended that the Chennai Super Kings-Rajasthan Royals tie of May 12, 2013 at Jaipur be investigated.

The mention of this match crops up even as the probe clarifies that "no allegation of spot-fixing was made by anyone against Gurunath Meiyappan or CSK".

In course of deliberations, it says, a serious allegation of match fixing did come up pertaining to the CSK-RR fixture.
Referring to the Mumbai Police charge sheet, the Mudgal panel says that during this match, Meiyappan informed Vindu Dara Singh that CSK would score about 130-140 runs.

That day, CSK finished at 141, a last-ball boundary taking the score past the predicted total.

The report mentions how Mohammad Abdi, a Rajasthan sports administrator, who also acted as "constituted attorney" of former IPL governing council chairman Lalit Modi "developed this issue further and placed an analysis of the match in support of his contention that the match was fixed".

Abdi's findings said by May 2, 2013 it was clear CSK had already qualified.

Despite its strong batting line-up, CSK did not hit a single six that day but RR scored nine sixes.

CSK had six wickets in hand, yet their scoring hardly "surged" towards the close of the innings.

Justice Mudgal's report says: "A dispassionate analysis would reveal that at the start of the 12th over CSK was at a healthy score of around 85 for 1 wicket at a run rate of around 7.7 runs per over."

The committee discussed the match with Rahul Dravid and Anil Kumble, who said that as a rule of thumb a score at the end of the 12th over normally gets doubled at the end of the 20th.

"However, both Suresh Raina and MS Dhoni fell within a span of one over in the 12th. This slowed scoring. At the start of the 17th over, Murali Vijay lost his wicket and between the 13th and 17th over, the scoring rate slumped to about seven runs an over. Dhoni and Raina's wickets "were the prime reasons" for this.

The report says it was, therefore, necessary to examine these two dismissals.

While calling for a further probe into allegations of betting and spot-fixing against Raj Kundra, part-owner of Rajasthan Royals, the panel also sought a probe into the possible involvement of international stars, including six capped Indian players, whose names figured in conversations between bookies taped by the police.

"The allegations of betting and passing on information against Gurunath Meiyappan stand proved. However, allegation of (match) fixing require further investigation," said the panel in its report to the Supreme Court.

The committee's report came two days ahead of the auction in Bangalore for the high-profile IPL tournament this year and raises questions on the status of the CSK.

IPL AUCTION

However, the BCCI on Monday said that the IPL auction will go ahead as scheduled despite the Mudgal Committee report finding the involvement of CSK Team Principal Gurunath Meiyappan in betting during the IPL matches.

"The good that Supreme Court has done is that the IPL auction was not stopped. It will happen as planned for all the teams in Bangalore (on February 12 and 13)," said BCCI vice-president Rajeev Shukla, who is also a Union Minister and a former IPL chairman.

Shukla said it is important to wait for the Supreme Court's directive on the issue before taking any decision.

"Supreme Court is an apex court and it will give some views and we should wait for Supreme Court's views," he said.

"We should leave it to Supreme Court what decisions they take. IPL auction will continue, we need to wait for Supreme Court directive."

The report also raised dark clouds on CSK's participation in IPL tournament this year by accusing it of breaching the rules by failing to rein it Meiyappan.

"The committee is also of the opinion that the franchise owner of CSK (India Cement) is responsible for failing to ensure Meiyappan (a team official) had complied with the BCCI Anti-Corruption Code, IPL Operational Rules. IPL Regulations and hence the franchise's actions are in violation of Section 4.4.1 of the IPL Operational Rules and Clause 11.3 of the franchisee's agreement," the panel said.

It left it to the SC to decide what punishment should be imposed for these violations saying this was beyond its terms of reference.

"It is for the Supreme Court to decide what action, if any, is to be taken pursuant to this report," it told a Bench of Justices.

The inquiry panel also flagged for the SC's attention serious questions of conflict of interest raised against Srinivasan, both inside and outside the BCCI.

"While it is evident that the questions raised before us about conflict of interest are serious and may have large scale ramifications on the functioning of cricket, we do not deem it proper to pronounce our opinion on this issue as it is not directly in our terms of reference," it said.

The report, presented to the court by counsel Gautam Bharadwaj and Vidushpat Singhania, said Meiyappan indulged in betting through Vindoo Dara Singh, who in turn was in direct touch with bookies and punters like Vikram Aggarwal.

"Bets were placed by Meiyappan not only in favour of CSK but also against it," it said basing its conclusion on various evidence including telephone intercepts.

It clarified that it was for the concerned criminal courts to determine whether Meiyappan and Vindoo were guilty of the offences alleged against them by various police forces in pending cases.

However, it indicted both India Cements and CSK for distancing themselves from Meiyappan's activities when it was clearly established by the evidence that he was a team official. CSK had pleaded that the team should not be penalised for actions of Meiyappan.

"The franchisee owners (India Cement) had defended the actions of the franchisee by contending/stating that Gurunath Meiyappan was not related in any way with the franchisee. The stand taken by the Franchisee appears to be contradicting the factual position," the Committee said.

It faulted Meiyappan for flouting IPL rules as well as the IPL code of conduct for players and team officials by bringing the game of cricket into disrepute and the IPL anti-corruption code by indulging in betting.

Despite the controversies and scandals, the committee felt that IPL was a good format which required to be protected as players have benefited from it.

"However, in the interest of the league, IPL should a stand-alone commercial entity with representatives from the franchisees, BCCI, broadcasters and independent professional directors forming part of the governing body of the IPL," it said.

Other recommendations of the Committee:

· IPL governing body should be independent of BCCI.
· Players' agents should be registered and should not be allowed to travel with the players.
· Players should not have stakes in agencies involved in cricket.
· Separate law, investigating agency and courts to deal with betting and match-fixing charges.
· Law must be stringent like anti-terror and anti-drug laws.
· Iconic players like Sachin Tendulkar, Sourav Ganguly, Rahul Dravid and Anil Kumble must be involved in grooming young players to teach them ethics of game.
· Ban post-match parties where elements have free access to players.
· List of undesirable elements maintained by BCCI should be circulated among players.
Follow Emirates 24|7 on Google News.