Ireland's O'Brien eager for IPL chance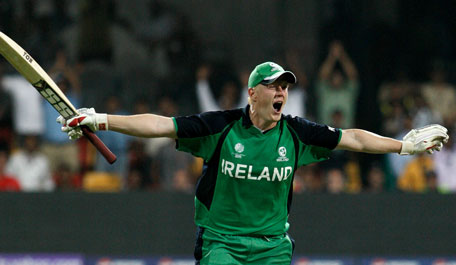 Ireland's Kevin O'Brien will hope for more good news from Bangalore when the Indian Premier League (IPL) players' auction takes place in the southern Indian city on Saturday.
It was in Bangalore last year where O'Brien scored the fastest World Cup century of all time during Ireland's sensational win over England.
O'Brien got to three figures in just 50 balls and finished with 113, including six sixes and 13 fours, in a magnificent display of clean hitting as Ireland won by three wickets with seven balls to spare.
And he proved that innings was no one-off by scoring a 44-ball hundred for Gloucestershire against Middlesex in a Twenty20 match - the same format as used in the lucrative IPL.
Having not registered in the auction for last year's IPL only to find out Kochi were interested in having him in their side, O'Brien made sure his name was on the list for the fifth edition.
"It's an exciting time, waiting for Saturday," O'Brien told AFP on Wednesday.
Understandably, the memory of his stunning hundred is still vivid for the 27-year-old, also a useful medium-pacer, and O'Brien hopes it has also remained fresh for this weekend's bidders as well.
"It's still close to the front of my mind," he said. "Hopefully, with the auction being in Bangalore, it will help other people remember it too."
O'Brien is one of 144 cricketers from around the world hoping for an IPL contract in the 2012 IPL, which takes place from April 4 to May 27.
While his base price of $50,000, could make him a tempting target in an auction where the likes of New Zealand's Brendon McCullum and England's Graeme Swann have reserves of $400,000, O'Brien was keen to stress that he'd improved as a player since his World Cup heroics.
"My five months with Gloucestershire were tremendously important. I think I am a better cricketer now and I'm physically much fitter now than I was.
"The IPL is a great tournament. For six weeks, you get to play with and against the best players in the world.
"As an Irishman, coming from a country with a small pool of players, that's very special," added O'Brien, whose wicketkeeper brother Niall is also involved in the auction.
Ireland's performances at the last two World Cups - they famously knocked Pakistan out of the 2007 tournament in the Caribbean - have raised the profile of the sport in O'Brien's homeland.
And with Cricket Ireland chief executive Warren Deutrom recently outlining a plan to achieve Test status by 2020, O'Brien believes Irish cricket can only improve in the coming years.
"The last four or five years have been great and the team will only get stronger in the next four or five years and last week you had Warren Deutrom saying he wanted Ireland to be a Test nation by 2020," O'Brien said.
"These are exciting times for Irish cricket."

Follow Emirates 24|7 on Google News.