Is India-Pakistan cricket battle heading for UAE grounds?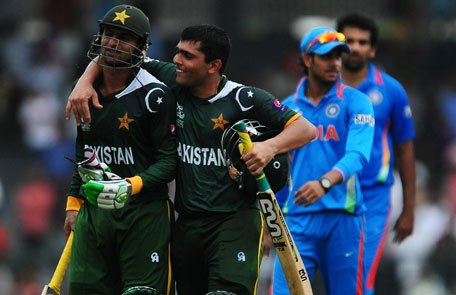 Will the mother of all cricket battles be played in the UAE – yet again? Going by the reports coming from India, one can believe that the next mega battle will be fought on the UAE shores between the two Southeast Asian rivals.
Indian media reported that Board for Cricket Control of India (BCCI) is willing to send team to the UAE – Dubai and Abu Dhabi – to play a series against Pakistan.
Pakistan has been playing its home series in the UAE over the last few years due to security concerns in the country. Pakistan recently played home series against South Africa and Sri Lanka in the UAE. It will most probably play its upcoming series against Australia, New Zealand and Zimbabwe also in the UAE in the second half of 2014.
Indian daily Mumbai Mirror today, January 24th, reported that BCCI is willing to send team to any neutral country – including the UAE.
The daily said that the decision was taken after a BCCI meeting held in Chennai.
The release specifically mentioning Pakistan's name suggests that the cricketing ice is melting between the two countries and people of the two countries will get to watch the high-adrenaline matches.
BCCI Secretary Sanjay Patel told Mumbai Mirror that India's schedule is pretty tight and a full-fledged series is not possible but a short tour can be squeezed in if Pakistan Cricket Board (PCB) proposed.
PCB chief Zaka Ashraf reportedly welcome the BCCI move.
India-Pakistan hockey series 'likely'

A senior Pakistani hockey official Friday said India have agreed to a three-match series, subject to clearance from New Delhi, hoping it will revive bilateral contests halted in the wake of the 2008 Mumbai attacks.
"The series is likely to be played in March this year," a Pakistan Hockey Federation (PHF) statement quoted its secretary Rana Mujahid as saying.
Mujahid spoke to his Indian counterpart Narinder Batra, who said India would be willing to play three matches in Pakistan in March and April, subject to clearance from the New Delhi, the statement said.
The series will take place over the last week of March and the first week of April in Karachi, Faisalabad and Lahore, it added.
India had stalled bilateral sporting relations with Pakistan in the aftermath of the 2008 attacks on Mumbai, which New Delhi blamed on militants based in Pakistan.
A hockey series with three matches each in both countries was cancelled in April last year after the Indian government refused permission.
Pakistan and India last played a bilateral hockey series in 2006 -- three matches in each country -- with Pakistan winning three and losing one while the remaining two were drawn.
Pakistan and India are both struggling in hockey at an international level should benefit from playing each other as they seek to counter European dominance in the game.
Pakistan finished a poor seventh in the London Olympics in 2012 while India finished 12th and last.
Both had ruled the hockey world in the past, with India winning eight Olympic golds while Pakistan won three.

Follow Emirates 24|7 on Google News.