Jayawardene smashes record century in easy Sri Lanka win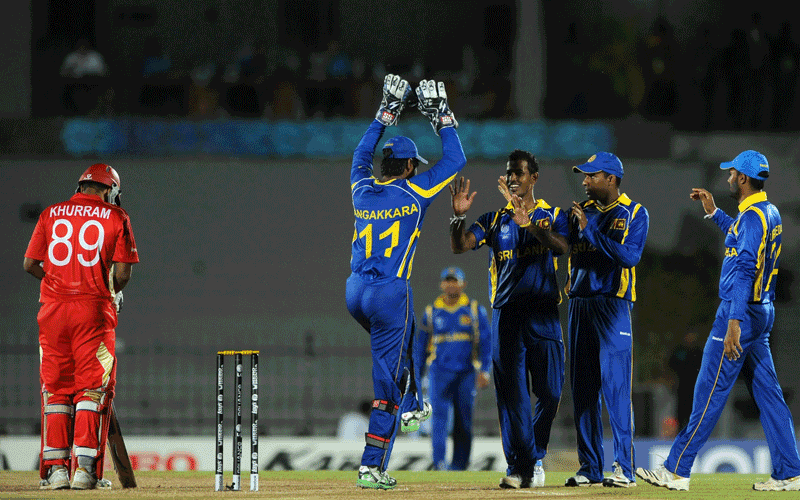 Mahela Jayawardene smashed an 81-ball century, the fastest by a Sri Lankan in the World Cup, to set up a 210-run victory over Canada on Sunday in Group A.
Jayawardene blasted a six and nine fours in his 100 to set up a hefty 332-7 after Sri Lanka won the toss and batted first. He was joined for a 179-run third-wicket partnership by Kumar Sangakkara who was out eight runs short of his century.
In response, Canada lost wickets steadily although some lusty hitting by Rizwan Cheema (37) including two big sixes helped take them past three figures to their eventual 122 all out.
Jayawardene's quickfire knock surpassed the previous Sri Lankan quickest in the competition, 85 balls by Sanath Jayasuriya.
Scoreboard
Sri Lanka
U. Tharanga run out 19
T. Dilshan c Davison b Cheema 50
K. Sangakkara c and b Davison 92
M. Jayawardene c Rao b Davison 100
T. Perera run out 11
A. Mathews c & b Baidwan 21
C. Kapugedera c sub (Kumar) b Baidwan 2
T. Samaraweera not out 18
N. Kulasekara not out 7
Extras (lb3, nb1, w8) 12
Total (for seven wkts, 50 overs) 332
Fall of wickets: 1-63 (Tharanga), 2-88 (Dilshan), 3-267 (Sangakkara), 4-276 (Jayawardene), 5-284 (Prera), 6-295 (Kapugedera), 7-314 (Mathews)
Bowling: Chohan 8-0-62-0, Osinde 2.1-0-10-0 (nb1, w2), Baidwan 8.5-0-59-2 (w2), Hansra 9-0-47-0 (w2), Cheema 7-0-47-1, Rao 7-0-48-0, Davison 8-0-56-2 (w2)
Canada
A. Gunasekera c Dilshan b Kulasekara 1
J. Davison b Perera 0
Z. Surkari lbw b Perera 6
A. Hansra st Sangakkara b Samaraweera 9
A. Bagai c Sangakkara b Prera 22
Rizwan Cheema c Jayawardene b Muralitharan 37
T. Gordon c Sangakkara b Kulasekara 4
Khurram Chohan c Sangakkara b Kulasekara 4
H. Baidwan not out 16
B. Rao c Tharanga b Muralitharan 6
H. Osinde b Mendis 4
Extras: (lb8, nb1, w4) 13
Total: (all out, 36.5 overs) 122
Fall of wickets: 1-0 (Davison), 2-8 (Gunasekera), 3-12 (Surkari), 4-42 (Hansra), 5-53 (Bagai), 6-66 (Gordon), 7-74 (Chohan), 8-103 (Cheema), 9-111 (Rao), 10-122 (Osinde)
Bowling: Kulasekara 6-2-16-3, Perera 7-0-24-3, Mendis 7.5-3-18-1 (w1), Muralitharan 9-0-38-2 (nb1, w3), Dilshan 5-0-14-0, Samaraweera 2-0-4-1
Result: Sri Lanka won by 210 runs
Toss: Sri Lanka
Umpires: Ian Gould (ENG), Shahvir Tarapore (IND)
TV umpire: Tony Hill (NZL)
Match referee: Chris Broad (ENG)
Follow Emirates 24|7 on Google News.