Kallis passes 13,000 Test runs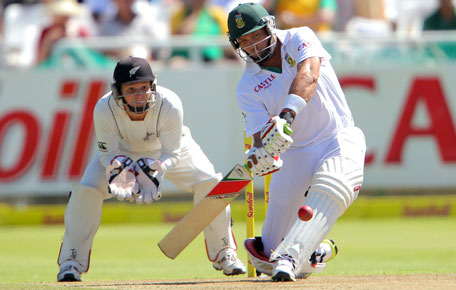 All-rounder Jacques Kallis became the fourth player and first South African to score 13,000 Test runs on an eventful opening day of the first Test against New Zealand on Wednesday.
The hosts dismissed New Zealand for 45 in the morning session, the touring side's third lowest total, and Kallis reached his personal milestone after tea when he reached 20 with a four through backward point off seamer Doug Bracewell.
"I love playing at Newlands so it was nice that I could get that achievement here. The public have been fantastic to me. To get an ovation like that certainly means a lot to me, and these are very special moments that will live with me forever," said a delighted Kallis.
The home crowd continued to be entertained as Kallis brought up his 57th Test half-century before falling to Trent Boult for 60 late in the final session.
The 37-year-old, who has also taken 282 Test wickets, lies fourth behind Indian Sachin Tendulkar (15,645), Australian Ricky Ponting (13,378) and India's Rahul Dravid (13,288) on the list of all-time run scorers.
Kallis, now on 13,040 runs, may struggle to overtake Tendulkar who is also still playing Test cricket but with no signs of his fitness failing, he will be confident of passing the retired Ponting and Dravid before his career ends.
"The only thing I think about a little bit more now is management, perhaps missing a few of the one day games to prolong my Test career and to try get to the next World Cup," he said after reaching the milestone in just 159 Tests.
"So those are the goals I've set myself, but I certainly haven't thought anywhere near retirement yet.
"I'm probably batting as well as I've ever batted in my career, and hopefully I can carry on with that form for a little while longer and help win games of cricket for South Africa - or any team I play for."
"When I feel that I'm not contributing to the team in the way that I think I should be, or holding some youngster up, then I'll definitely start thinking about it (retirement)," he added. "But that's certainly the furthest thing from my mind at the moment."
Leading run-scorers in Test cricket after South Africa's Jacques Kallis became the fourth player to pass 13,000 in the first Test against New Zealand in Cape Town on Wednesday.
Player
Matches
Runs
HS
Ave
100
50
SR Tendulkar (India)
194
15,645
248*
54.32
51
66
RT Ponting (Aus)
168
13,378
257
51.85
41
62
R Dravid (India)
164
13,288
270
52.31
36
63
JH Kallis (SA)
159
13,040
224
56.94
44
57
BC Lara (WI)
131
11,953
400*
52.88
34
48
AR Border (Aus)
156
11,174
205
50.56
27
63
SR Waugh (Aus)
168
10,927
200
51.06
32
50
S Chanderpaul (WI)
146
10,696
203*
51.67
27
61
DPM Jayawardene (SL)
137
10,674
374
49.41
31
43
SM Gavaskar (India)
125
10,122
236*
51.12
34
45
Follow Emirates 24|7 on Google News.