Kohli accuses Aussies of 'really low' sledging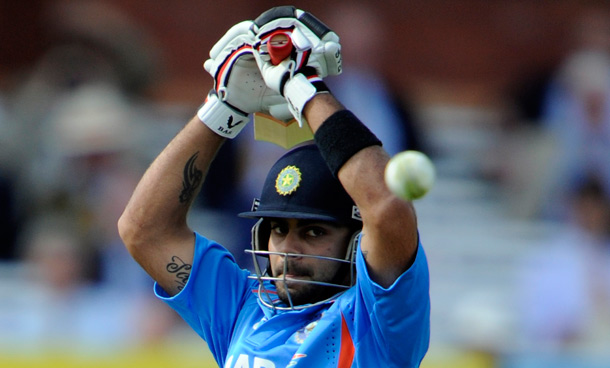 Virat Kohli accused Australia of "really low" sledging and criticised the boisterous Adelaide crowd after he scored a maiden Test century on Thursday as India again struggled with the bat.
The rising star defied Australia's bowlers to reach a century as wickets tumbled around him on a day which saw the hosts build an imposing 382-run lead to take control of the fourth Test.
But Kohli, whose performances have improved during the series while those of his celebrated senior teammates have waned, lashed out at the Australian players for their sledges as he neared his ton.
He was almost run out on 99 as he frantically searched for the clinching run to raise triple figures and had to be restrained by Ricky Ponting after comments were exchanged with other Australian players.
"(Ben) Hilfenhaus said something to me that was totally unnecessary out of the blue, he wasn't even bowling or anything," Kohli said.
"I survived that run out and he said something I can't repeat, I gave it back to him, saying 'you didn't even have anything to do with it, why would you say that?'
"Then Ishant (Sharma) and me both started saying stuff to them and they got really pissed, I guess. I like to play my cricket like that. I like to give it back."
Kohli claimed the Australian players were trying to put him off his game through their sledging.
"They sledge when they get frustrated, and obviously it was hot out there, and they were sledging us to ruin our concentration and during that partnership, they were really, really low," he said.
Kohli also criticised the behaviour of the boisterous 35,000 crowd on the Australia Day national holiday.
"In Sydney, they were after me because I hadn't scored any runs, and today they were pissed because I got a hundred. It hasn't changed but the reason has," he said.
Kohli was fined 50 percent of his match fee after making a finger gesture to the crowd during the second Sydney Test over the New Year period.
"It is really, really frustrating at times, they say things which shouldn't be said on a cricket field.
"If they come here to enjoy a game of cricket, they should do that and not get drunk and abuse cricket players. It's not fair, if the players say anything they're fined and banned."
Kohli said he hoped his breakthrough century was the start of a long Test career for India.
"When I got the 100th run, I was on cloud nine," he said.
"When you are a young kid you always dream about achieving a Test century and the first one is always more special... I always wanted to be a successful Test cricketer for India and hopefully this is the start for me."
Kohli also defended his big-name batting teammates amid criticism of their poor scores on the tour.
"I don't know why everyone has forgotten the last 15 to 20 years. They are not panicking about it, I don't know why anybody else is," he said.
Follow Emirates 24|7 on Google News.