Kohli-inspired India win by four wickets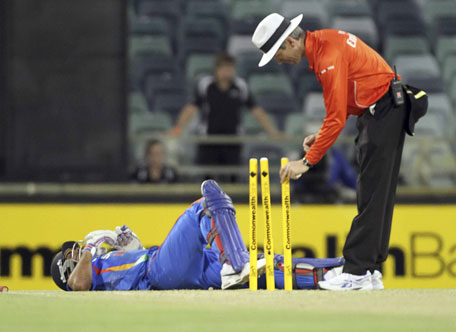 Youngster Virat Kohli steered India to a four-wicket victory over Sri Lanka in their tri-series one-day international in Perth on Wednesday before losing his wicket in dramatic fashion.

Although Sachin Tendulkar again failed in his quest to score his long-awaited 100th international century, Kohli's impressive 77 ensured the Indians notched a comfortable win.
Sri Lanka made 233-8 after winning the toss and electing to bat, but India replied with 234-6, reaching the victory target with 20 balls to spare.
Kohli, the only Indian centurion during the tourists' dismal 4-0 Test series loss to Australia, again upstaged his more celebrated team-mates, until he ran himself out and seemed to suffer a hamstring injury in doing so.
The 23-year-old was run out by a direct hit from Lasith Malinga at mid-on.
He had appeared to be suffering cramp late in his innings and had to be assisted from the ground after a despairing dive.
He faced 94 balls, hitting eight boundaries and one six, and Indian captain M.S. Dhoni said he was hopeful it wasn't a hamstring strain.
"He just got cramp, so I don't think it is very serious," said Dhoni, adding that he couldn't recall previously seeing a batsman have to be helped from the field after a dismissal.
"Maybe somebody got hit and fell on the wickets, but I have never seen it."
It was the first time India and Sri Lanka had met in a one-day international since last year's World Cup final, which India again won, that time by six wickets.
The Sri Lankan total never looked quite enough on a perfect Perth batting wicket and in front of a small crowd of 6,685 dominated by Indian fans.
They were desperate to see Tendulkar, the 'Little Master', reach his long-awaited milestone and he appeared to be cruising towards his half-century.
But on 48 he dragged an Angelo Mathews delivery onto his stumps to make it 27 Test and one-day innings since his last century, last March at the World Cup.
India looked shaky at 181-6 when Kohli departed, but man-of-the-match Ravi Ashwin (30 not out) and Ravindra Jadeja (24 not out) guided them home.
Dhoni praised the all-round performance of Ashwin, who also picked up three wickets in the Sri Lankan innings, as the difference between the sides.
Sri Lankan captain Mahela Jayawardene said his batsmen simply didn't score enough runs.
"Losing wickets after small partnerships held us back," he said.
"We were probably 30 or 40 runs short of our target."
Dinesh Chandimal's polished knock of 64 from 81 balls was the mainstay of the Sri Lankan innings and at least helped them post a competitive total.
Several of the Sri Lankan batsmen squandered promising starts, including opener Tillakaratne Dilshan (48) and veteran Kumar Sangakkara (26), but the 22-year-old Chandimal was the only one to reach 50.
However, he fell just as the Sri Lankans were trying to boost their run rate late in the innings, beaten in flight by the spin of Ashwin and comprehensively stumped by Dhoni in the 44th over.
Dhoni and Ashwin combined twice for stumpings, also removing Thisara Perera.
Ashwin, dropped from the Indian side for the third Test at the same venue last month, was the pick of the Indian bowlers with 3-32 from his 10 overs, while recalled paceman Zaheer Khan picked up 2-44 from 10 overs.
The loss continued a dismal record for Sri Lanka at the WACA, with just two one-day international wins in 16 matches.
The next match sees them face Australia at the same venue on Friday.
SCOREBOARD
Sri Lanka won toss and decided to bat first.
Sri Lanka:
U. Tharanga c Tendulkar b Khan 4
T. Dilshan c Kohli b Jadeja 48
K. Sangakkara c Dhoni b Khan 26
D. Chandimal st Dhoni b Ashwin 64
M. Jayawardene c Sharma b Ashwin 23
T. Perera st Dhoni b Ashwin 7
A. Mathews not out 33
L. Thirimanne run out 7
N. Kulasekara c Sharma b V Kumar 7
L. Malinga not out 1
Extras (lb-6, w-7) 13
Total (For eight wickets; 50 overs) 233
Did not bat: D. Prasad.
Fall of wickets: 1-12 2-74 3-100 4-152 5-172 6-189 7-204 8-224.
Bowling: Zaheer Khan 10-1-44-2, Praveen Kumar 10-0-54-0(w-2), Vinay Kumar 10-1-56-1(w-2), Ravindra Jadeja 10-0-41-1, Ravichandran Ashwin 10-1-32-3(w-2).
India:
V. Sehwag c Kulasekara b Malinga 10
S. Tendulkar b Mathews 48
V. Kohli run out 77
R. Sharma c Dilshan b Perera 10
S. Raina c sub b Mathews 24
M.S. Dhoni c Malinga b Prasad 4
R. Jadeja not out 24
R. Ashwin not out 30
Extras (lb-5, w-2) 7
Total (for six wickets; 46.4 overs) 234
Fall of wickets: 1-14 2-89 3-122 4-157 5-167 6-181.
Did not bat: R. Vinay Kumar, P. Kumar, Z Khan.
Bowling: Malinga 9-0-49-1 (w-1), Kulasekara 8-0-38-0, Prasad 10-0-47-1, Mathews 9.4-1-31-2, Perera 5-0-37-1 (w-1), Dilshan 5-0-27-0.
Follow Emirates 24|7 on Google News.