Kohli vows 'positive' India under his leadership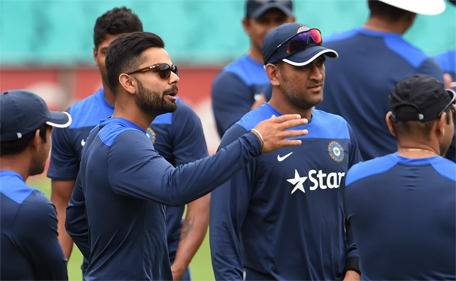 New India skipper Virat Kohli says he will encourage his team to play positively and not back down against Australia in the final Test in Sydney, which begins on Tuesday.

Kohli has been thrust into the captaincy following the shock Test retirement of Mahendra Singh Dhoni following last week's drawn third Test in Melbourne.

India's premier batsman said India will continue to stand up to the Australians, who have already reclaimed the Border-Gavaskar Trophy with an unassailable 2-0 lead in the four-match series.

"It's important for the players to know that we need to be in a positive frame of mind, a line doesn't need to be crossed," Kohli told reporters Monday.

"But we are not here to back down from any sort of confrontation or any sort of battle.

"You will still see positive cricket and the same aggressive intent."

Kohli, who led India in the first Test in Adelaide while Dhoni was recovering from a fractured thumb, has been his side's leading batsman in the series, averaging 83.16 with three centuries and a fifty.

Kohli has been at the forefront of on-field confrontations with Australian players, notably Mitchell Johnson, Brad Haddin and David Warner and his style of leadership will be under scrutiny in the wake of Dhoni's sudden exit.

"We were all taken aback by his decision because it was so sudden," Kohli said of Dhoni.

"We had no clue. We never saw it coming, so it was pretty shocking.

"There's so much to learn from him, especially in tough situations: his composure, his decision-making at important times.

"These are the things which are priceless. Any captain would love to have them. I hope I can be as calm as him, but everyone has different styles."

Kohli said since the Melbourne Test he has been thinking about areas to improve the India team, who have won only one of their last 22 Tests overseas and have been successful in only one of their 10 Tests at the Sydney Cricket Ground.

"There were quite a few things that I sat down and analysed in Adelaide that can be improved on and I've thought about them in the past few days," Kohli said.

"What are the things that I can correct from Adelaide, the mistakes I made in that game?

"Hopefully, I'll get those right and try to make the right decisions in every situation out there in the middle."

Change

Australia have made one change for the fourth and final Test against India on Tuesday, confirming that injured bowler Mitchell Johnson has been replaced by Mitchell Starc.

Skipper Steve Smith said Monday that paceman Johnson, who has a hamstring strain, would "probably" have played at the Sydney Cricket Ground match beginning Tuesday had the four-Test series been in the balance.

"I think there's no secret there's a pretty big summer coming up," Smith said.

"We want him to be fresh for the one-dayers and World Cup coming up. We don't want to risk him."

Johnson, 33, who bowled long spells during the first three Tests against India, had some right hamstring soreness during the Boxing Day Test and had not fully recovered since then, CA physiotherapist Alex Kountouris said on Sunday.

Starc's confirmation in the team puts him ahead of Peter Siddle and Ashton Agar who had been included in the squad.

Australia regained the Border-Gavaskar Trophy last week after India hung on for a tense draw in the third Test in Melbourne.

Australia won the first two Tests in Adelaide and Brisbane.


Follow Emirates 24|7 on Google News.