Lanka may play three specialist spinners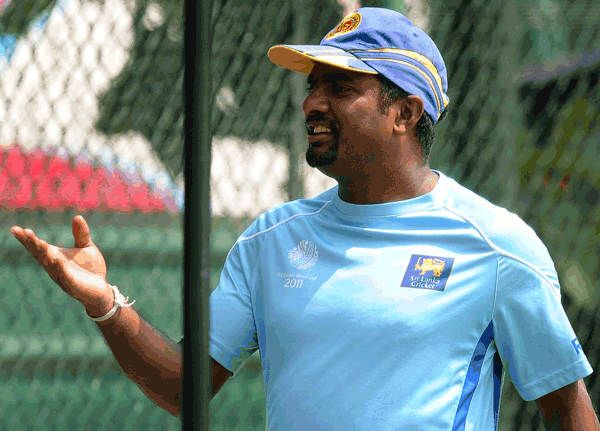 Sri Lanka may exploit a pitch used three days earlier and employ three specialist spinners for the second match in a row in Tuesday's World Cup semifinal against New Zealand in Colombo.
To New Zealand captain Daniel Vettori's consternation, the match will be played on the pitch used in last Saturday's quarter-final against England.
"They told us we are playing on the same one as England which is very surprising for us," Vettori told a news conference on Monday. "We would have thought it is mandatory to prepare a fresh wicket, but obviously not."
Sri Lanka captain Kumar Sangakkara said pace bowler Nuwan Kulasekara, who did not play against England, had performed well against New Zealand.
"Playing three spinners is a question we have to ask ourselves today. Nuwan Kulasekara has done exceptionally well against New Zealand every single time he has gone out there so he is a strong contender to play," he said.
"But the role of spinners seems to overshadow the role of pacers due to the matches being played in pitches where a lot of matches have been already played."
New Zealand have a good overall one-day record against Sri Lanka, due primarily to their home matches where green pitches and cool weather provide alien conditions for Asian teams.
The reverse will apply on Tuesday with heat, stifling humidity and a low, slow pitch.
To compound New Zealand's difficulties, Sri Lanka have the best-balanced attack in the tournament with Lasith Malinga's fast, slingy yorkers supplementing the spin attack.
Sri Lanka will decide in the morning whether or not to play Muttiah Muralitharan, who is suffering from knee and quadricep problems.
Sangakkara said there no question of resting Muralitharan in anticipation of a final in Mumbai on Saturday between the winners of Wednesday's clash between India and Pakistan.
But he said Sri Lanka still had plenty of spinning options if Muralitharan, who will retire from international cricket after the tournament, was not available.
New Zealand will need everything to go in their favour if they are to become the first team from their nation to advance to the final in six attempts.
Their bowling is usually disciplined, if not especially penetrative, and the fielding was exceptional in the quarter-final win over South Africa,
Vettori's main concern is his team's inconsistency.
"We need quickly to switch off from South Africa, it's obviously a tremendous result for us but Sri Lanka is a different prospect so we need a different game plan and a bigger game plan if we want to succeed here," he said.
"We have been so up and down with our performances. When we have won well, we backed it up with a poor performance.
"So, that has been the majority of talk within the team that we can't afford to be up and down in the knockout stages. We have had our up performance and we have to make sure we have another one in the bag because we know how strong Sri Lanka can be in their home conditions."
STATBOX
Head-to-head record:
New Zealand lead 35-33 (Tied: 1; NR: 4)
In the World Cups: Sri Lanka lead 5-3
In the sub-continent, Sri Lanka lead 16-5 (NR: 2)
Results in last five head-to-head ODIs
8 Sept 2009 Sri Lanka won by 97 runs in Colombo
27 Sept 2009 New Zealand won by 38 runs in Johannesburg
13 Aug 2009 Sri Lanka won by three wickets in Dambulla
19 Aug 2009 No result in Dambulla
18 March 2011 Sri Lanka won by 112 runs in Mumbai
* New Zealand have not beaten Sri Lanka in their last four World Cup encounters. Their last win in the tournament over the co-hosts was in 1992.
* Sri Lanka (WWW, NR, WLW) have romped into the semifinals. Besides a slip against Pakistan when they lost by 11 runs and a washout against Australia, they have easily won their other games, including a 10-wicket quarter-final thrashing of England.
* Tillakaratne Dilshan seems to be Sri Lanka's talisman. He is the second highest scorer in the tournament with 394 runs at a strike rate of 96.33. He has so far scored two centuries, one fifty and taken six wickets at an economy of 3.66.
* With 363 runs apiece, Kumar Sangakkara and Upul Tharanga are also flying high. They have a formidable spin and pace duo in Muttiah Muralitharan (13 wickets at an economy of 3.96) and Lasith Malinga (eight wickets) along with Ajantha Mendis' miserly bowling at an economy of 3.01.
* The only chink in their armour potentially is the untested middle order. The only time they were tested was against Pakistan and they came unstuck.
* New Zealand (WLWWWLW) have vanquished the lesser teams such as Kenya, Zimbabwe and Canada but lost to Australia and Sri Lanka. However, their 110-run win over Pakistan signalled the return to form of their key players, Ross Taylor and Jacob Oram.
* An upset win against South Africa by 49 runs in the quarter-finals is likely to provide an edge to the mental fortitude of New Zealand.
* Tim Southee (15 wickets) is one of the leading pacemen in this tournament, ably supported by Oram (12 wickets) and the very tenacious Nathan McCullum (eight wickets).
* Taylor's wicket (288 runs with 14 sixes) and Brendon McCullum (243 runs) at the top of the order will be key to New Zealand's chances.
Follow Emirates 24|7 on Google News.