Meet the man who has cricket's most dangerous job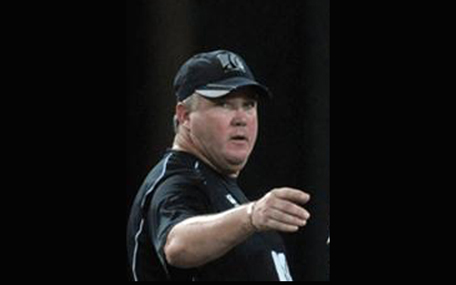 From stalwart batsman in the English county championship to being holed-up in a Kabul hotel room, no-one can accuse Afghanistan coach Andy Moles of ducking a challenge.

The no-nonsense 54-year-old, whose playing career was spent as a solid, reliable opener with Warwickshire where he made more than 13,000 runs, is one of cricket's globetrotters.

Now, he can lay claim to being the holder of possibly the sport's most dangerous job -- coach of war-weary Afghanistan who will make their debut in the World Cup on Wednesday when they face Bangladesh in Canberra.

Moles took over at Afghanistan in September last year, succeeding Kabir Khan who had taken the team to a maiden World Cup.

"When I'm in Kabul, I literally don't go out. I stay in the hotel, go from the hotel to the office, go back to the hotel, lock the door and then stay there until the next day," Moles told Britain's Independent newspaper.

"I take as much sensible care as I can to make sure I don't expose myself. I would be pretty surprised if the Taliban targeted Andy Moles the cricket coach."

Moles has endured a roller-coaster coaching career.

After his playing career finished in 1997, he took charge at Griqualand West in South Africa before going on to coach Kenya in 2003.

Exhausted by the internal struggles and infighting of a team which famously reached the 2003 World Cup semi-finals, he left in 2005.

His next port of call was Scotland, who are also playing at this World Cup. Moles led them to the ICC Trophy but he was on his way again after falling out with players.

Northern Districts in New Zealand was next on his CV before the Black Caps signed him up to replace John Bracewell as coach in 2008. That too didn't last long, with Moles leaving within a year.

He admits that his family had their doubts when he took over as Afghanistan coach although he was no stranger to the team set-up having already worked as batting coach alongside Kabir.

Moles says he remains vigilant when he is in the Afghanistan capital, wary that his players have direct, sobering experience of the ongoing insurgency inside the country.

"Of course, the danger is being in the wrong place at the wrong time and being the victim of a suicide bomber who is targeting the security forces," he added.

"I only go out when I have to and I stagger my times so there's no real pattern to my movements. I just try and be sensible, really.

"I spoke to one of the players who was late to our last camp about a month ago. I asked him the reason why and he turned round and told me that he had to go to the funeral of his cousin, who was shot dead.

"Other players have had members of their family kidnapped for ransom. These guys certainly haven't had it easy."
Follow us on Twitter @E247Sports for exclusive coverage of all the action from Down Under https://twitter.com/E247Sports
Follow Emirates 24|7 on Google News.