Pakistan accused desperate to play again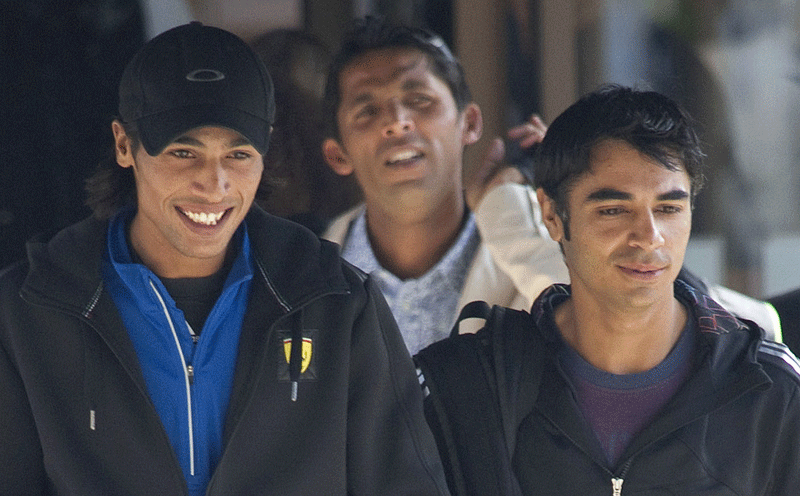 Pakistan cricketers Salman Butt and Mohammad Aamer on Wednesday voiced confidence they would again play for their country ahead of a make-or-break anti-corruption tribunal in Doha.
The pair, along with Mohammad Asif, face the hearing on Thursday on charges of spot-fixing during Pakistan's tour of England last year in a scandal that rocked the sport.
It is alleged that they conspired in the bowling of deliberate no-balls - claims they all deny.
Butt, the Pakistan captain, told AFP he was desperate to play top-level cricket again and said the scandal had taught him some harsh lessons.
"I have always played the game for the love of it and have never been involved in any wrongdoing," he said.
"I am confident that I will soon be playing for my country. I have been practising all through this difficult phase of my life so that whenever I am cleared I am able to play.
"This phase has taught me a lot of lessons and I hope I will learn from them."
All three were provisionally suspended by the International Cricket Council (ICC) in October, with the world governing body's code of conduct carrying a minimum five-year ban if corruption charges are proved.
The maximum punishment is life out of the game.
Their suspension came after reports in the British newspaper News of the World, which claimed several Pakistani players - including the trio - obeyed orders from an alleged bookmaker during the Lord's Test in August.
The newspaper said it paid Mazhar Majeed, an agent for several Pakistan players, £150,000 ($230,000) in return for advance knowledge of pre-arranged no-balls which could then be bet upon.
Butt and pace bowlers Aamer and Asif were named by the newspaper as the players involved.
Police raided the team's hotel in London and questioned the three men, along with bowler Wahab Riaz, but they have yet to level any charges.
The three-man independent hearing starts on Thursday and is scheduled to conclude on January 11, led by code of conduct commissioner, and leading lawyer, Michael Beloff, aided by Justice Albie Sachs from South Africa and Kenyan Sharad Rao.
Aamer said he was hopeful of a positive outcome.
"This is the toughest phase of my life," he said.
"My elders tell me that such phases come in the life of a professional, so I am bravely facing this situation and will hopefully come out of it to play for Pakistan.
"I have been watching matches and felt disappointed at not being part of the team, but I hope it's a temporary phase and I will soon be playing for my country."
His lawyer Shahid Karim said the incident had hurt the player emotionally.
"One of the mitigating factors is age and the other mitigating factor is Amir's previously unblemished record," he told AFP.
"Emotionally he is drained, he's been affected badly by it, but he's coping as best he can and above all he is very confident that he will come out of this clean."
The hearing should be taking place in Dubai, where the ICC is headquartered, but was shifted to Doha as Asif is barred from entering the United Arab Emirates after being deported in 2008 on possession of banned drugs.
He was not immediately available for comment ahead of the hearing.
The scandal is seen as the worst in cricket since that of South Africa's Hansie Cronje.
A decade ago the former South Africa captain, who died in a mysterious plane crash in 2002, was revealed to have accepted money from bookmakers in a bid to influence the course of games as well as trying to corrupt his team-mates.
Follow Emirates 24|7 on Google News.