Pakistan aim greater heights after England rout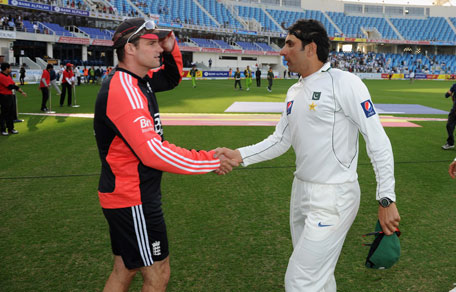 Pakistan's cricket team put its numerous problems behind them through consistent performances as they wiped out the world's best team England 3-0 with captain Misbah-ul Haq aiming to move on to further heights.
Bedevilled by the spot-fixing scandal of 2010, which ended in lengthy bans and ultimately jail terms for three of its key players - Salman Butt, Mohammad Asif and Mohammad Aamer - Pakistan registered their first-ever whitewash over England on Monday.
The victory, Misbah believes, will help Pakistan move on.
"It's a wonderful win but the most important thing in any sport or life is that whatever you achieve it goes in the past. If you stuck with it you can't move ahead and improve," said Misbah after beating England by 71 runs in the third Test.
Pakistan's resurgence is not only surprising but praiseworthy as they have not lost a Test series, winning nine of the 15 Tests, with one defeat and five draws - all under Misbah.
Moreover, there have been no problems off the field, something which have consistently derailed Pakistan's on-field progress.
Former Pakistan captain Ramiz Raja showered huge praise on the players.
"The current players have become the latest pin-up boys of world cricket," Raja told AFP. "It's a dramatic turn-around for Pakistan and hats off to their discipline, consistency and distinction.
"Sky is the limit for them because this wasn't an easy series. Now this win will help this team build in confidence," said Raja, who warned against complacency.
"I would still call it a work in progress, the beginning of something special," said Raja, now a widely travelled commentator.
"We have got to beat South Africa and Australia on their grounds and I am sure this team can achieve that."
Misbah acknowledges the challenge of playing well on away tours.
"That's another challenge, this team loves challenges and that challenge is in our minds and everybody is just focusing to prove themselves outside Pakistan, so we are looking forward. If we just go to South Africa and Australia, we just want to do well there."
Misbah, a veteran at 37, said the current team is a blend of youth and experience.
"Only time will tell what you can achieve or what you can do. We just want to do well and that's what we are aiming for and youngsters are coming up, Azhar Ali, Asad Shafiq, Mohammad Hafeez are doing well and seniors are supporting them," said Misbah.
Another former captain and coach Waqar Younis praised Misbah.
"He (Misbah) has been tremendous leader of a young and transformed team," said Waqar, also here as a commentator.
"His cool and calming influence is good for the team and credit to the management for keeping discipline in the team," said Waqar, who quit as coach in September last year after developing health problems.
And the win Misbah said will force other nations to take Pakistan seriously.
"This England win will send a strong message to the cricket world, and that is that we are a strong and powerful cricketing nation and deserve respect and more international matches," said Misbah.
"We have been ignored for quite some time, but our performance will help us get better scheduling and respect," said Misbah.

Follow Emirates 24|7 on Google News.