Pakistan calls Bangladesh decision 'inappropriate'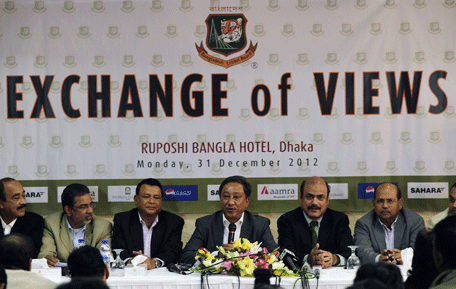 Pakistan on Tuesday criticised Bangladesh's decision to abandon a planned cricket tour over security fears and threatened to bar its own players from playing in a Bangladeshi league.
The two nations were scheduled to play a Twenty20 and a one-day international in Lahore this month, albeit pending security clearance.
But on Monday Bangladesh shelved what would have been the first international cricket tour of Pakistan since militants wounded seven members of the Sri Lankan team and their assistant coach in Lahore in 2009.
Bangladesh Cricket Board (BCB) president Nazmul Hassan said the decision had been taken over fears for players' safety, following protests by Bangladeshis and a Facebook campaign against the tour.
But Pakistan Cricket Board (PCB) chairman Zaka Ashraf told AFP that the decision was "inappropriate".
"The decision to tour was up to the BCB," Ashraf told AFP from New Delhi.
"We never forced Bangladesh, but to say that the security situation was not conducive is inappropriate because their own delegation was satisfied with the arrangements."
Ashraf said the Pakistani government had promised top-level security.
"We had promised the best security arrangements and were hosting matches in Lahore, which is very safe," said Ashraf. "An international eleven last year played matches in Karachi and there were no problems."
Pakistan hosted two limited-overs matches in Karachi with players from South Africa, Sri Lanka and the West Indies in October 2012.
In a statement, the PCB said it "would only be proper" for the BCB president to read the report from his security delegation before commenting on Pakistan's current situation.
It warned that it may now bar Pakistani players from the second edition of the Bangladesh Premier League, starting January 17.
The BPL is the Bangladeshi answer to the Indian Premier League -- the hugely popular Twenty20 tournament which has fused cricket with showbusiness.
In 2012 20 Pakistanis featured in the tournament, with all-rounder Shahid Afridi fetching $700,000 in an auction of stars -- the highest amount bid. More than 50 Pakistanis have already been bought at an auction for the second edition.
"Now for the 2013 edition of BPL, we have to see the engagements of our players before releasing them for the tournament," the statement said.
Bangladesh was also due to tour Pakistan last April, but the tour was blocked by the Dhaka high court on security grounds.
Anti-Pakistan sentiment still runs strong in the country, which was part of Pakistan until 1971 when it won independence after a nine-month war.
Follow Emirates 24|7 on Google News.