Pakistan clinch quarter-final place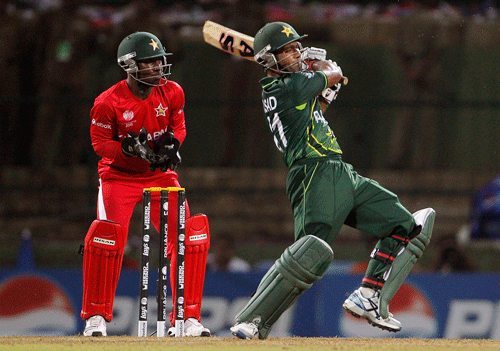 Pakistan sealed their place in the World Cup quarter-finals after sinking Zimbabwe by seven wickets in a rain-shortened match on Monday.
Chasing a Duckworth/Lewis target of 162 off 38 overs, a half-century from Asad Shafiq (78 not out) and a solid knock by Mohammad Hafeez (49) steered Pakistan to an easy win with 23 balls to spare (164-3).
The result meant the 1992 champions joined Australia, New Zealand and Sri Lanka from Group A in the knock out stages of the competition.
With the exception of Craig Ervine (52) and captain Elton Chigumbura (32 not out), the Zimbabwean batsmen struggled to come to terms with the stop-start nature of the contest due to three rain delays.
They finished on 151-7 after 39.4 overs but the victory target was adjusted according to the projected score the Africans would have reached had they been able to bat out their full quota of overs.
Scorecard
Zimbabwe innings
B. Taylor c Kamran Akmal b Abdul Razzaq 4
R. Chakabva lbw b Umar Gul 0
T. Taibu c Shahid Afridi b Wahab Riaz 19
V. Sibanda c Misbah-ul-Haq b Umar Gul 5
C. Ervine b Mohammad Hafeez 52
G. Lamb c & b Shahid Afridi 16
E. Chigumbura not out 32
P. Utseya c Kamran Akmal b Umar Gul 18
Extras (lb 2 w 2 nb 1) 5
Total (for seven wickets; 39.4 overs) 151
Fall of wickets: 1-5 2-5 3-13 4-43 5-84 6-103 7-151
Did not bat: G. Cremer, S. Masakadza, R. Price
Bowling: Abdul Razzaq 7-1-24-1 (1w), Umar Gul 7.4-1-36-3
(1nb), Wahab Riaz 6-0-21-1, Shahid Afridi 8-0-33-1, Abdur Rehman
8-1-24-0 (1w), Mohammad Hafeez 3-0-11-1
Pakistan innings
Mohammad Hafeez c Price b Utseya 49
Ahmed Shehzad st Taibu b Price 8
Asad Shafiq not out 78
Shahid Afridi b Price 3
Younus Khan not out 13
Extras (w 13) 13
Total (for three wickets; 34.1 overs) 164
Fall of wickets: 1-17 2-99 3-110
Did not bat: Misbah-ul-Haq, Abdul Razzaq, Kamran Akmal,
Abdur Rehman, Umar Gul, Wahab Riaz.
Bowling: Masakadza 6-1-44-0 (5w), Price 8-1-21-2 (3w),
Utseya 7-1-24-1, Lamb 7-0-44-0, Cremer 6.1-0-31-0 (1w)
Result: Pakistan won by seven wickets
Zimbabwe won the toss and elected to bat
Follow Emirates 24|7 on Google News.